Madagascar LIVE! – A very unusual theatre project
The Heide Park Soltau shows the animated film adaptation of "Madagascar LIVE! It's Circus Time". Adam Hall has been instrumental in the design and supply of state-of-the-art technology.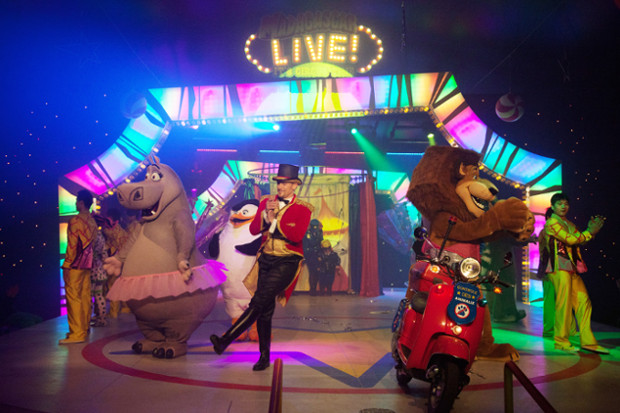 Adam Hall Ltd., named after its founder was started in 1975 in Southend-on-sea, England. 1980 saw the establishment of the German subsidiary Adam Hall GmbH in the Hessian Oberlauken. The young company quickly made a name for itself with hardware for the manufacture of flight cases and racks. In addition to a permanently growing product range, renowned products such as speakers from the American manufacturer Eminence were included in the distribution.
In 1993, Adam Hall GmBH, now in Neu-Anspach near Frankfurt am Main, took over its English parent company. With well-known proprietary brands such as LD Systems, Palmer and Cameo Light, the company is now a global player in professional audio, lighting and event technology with over 150 employees and is present in 96 countries across the world.
Adam Hall on the way to Madagascar
North Germany's largest leisure and family park in the heart of the Lüneburg Heath offers a total area of 850 000 square metres with over 50 attractions, and a show based on the computer-animated DreamWorks film comedy "Madagascar 3: Europe's Most Wanted" with three performances daily.
Adam Hall and staff member Uli Golka were instrumental in 2013 in the design and supply of stage equipment, sound equipment and lighting for the exclusive production of "Madagascar LIVE! – It's Circus Time" of the Heide Park Resort in Soltau. The stage production, which was developed in cooperation with DreamWorks, was preceded by an extended planning phase.
"It took six to nine months to do the planning and trying to put together an artistically and technically brilliant performance", says lngo Reichstein, Manager of the Entertainment Division of the Park. The location, a round tent with a 24 metre diameter and 450 seats in six rows, which needed a sound system directed at an angle of almost 270°, proved to be a special challenge for the audio installation.
Under difficult acoustic conditions such as the reflective tarpaulin made of plastic, a hard stone floor and the smooth stage surface, a uniform speech intelligibility needed to be achieved for all seats. For this, three active LD Systems DDQ12 full-range speakers with integrated digital signal processing were mounted on both tent poles, on boom arms with LD swivel brackets.
The optimal orientation was verified by technical measurement and with sound checks. Furthermore, the rows, under which two V215B subwoofers from Adam Hall's brand LD Systems were hidden for aesthetic and acoustic reasons, right and left of the stage, were also carefully inspected. The two subs are powered by a LD Systems SP4K power amplifier.
On the awning, two WX8020B external speakers from Adam Hall's distributed brand Audac and powered by a DP1600 class-H power amplifier from LD Systems DEEP2 series, create quite a sensation. The audio system of the "Madagascar" show is controlled via a Yamaha 01 V96i mixer with additional output extension MY 4DA, that the Heide Park already uses for its other stages.
All signal pathways are equipped with multicore, speaker, microphone and Cat6 cables from the Adam Hall range. For optimum sound performance in the tent, LD Systems DPA260 6-channel loudspeaker processors provide the digital signal processing for the entire system. The high speech intelligibility and perfect sound distribution on stage make a separate monitor system redundant.
The stage of the "Madagascar Live!" production is designed with many elements of the 2M brand. The special designs for the project are equipped with a coloured event floor and a 20 cm wide acrylic glass border, which can shine in all colours using DMX controlled LED strips.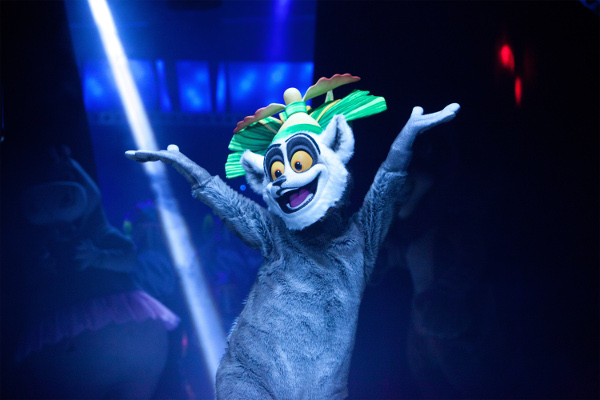 "We're especially proud of the final result that we've achieved, it's an incredible production." remarks Heide Park Entertainment Manager lngo Reichstein about the collaboration with Adam Hall.
Uli Golka, project planner at Adam Hall, is impressed with the exceptional demands of theatre production: "This project was new territory for all parties concerned: purchasing the tent for the park, for us, planning the stage with its special surface, fire-proof openings for the pyrotechnics and the LED ledge. The sound system should be unobtrusive, but effective with good speech intelligibility in all places and a punchy sound. By selecting the right products, all expectations were more than met."
In addition to audio systems, professional installation technology and stage platforms with stairs and railings, Adam Hall offers a wide range of products for theatre productions: advanced LED lighting technology from Cameo Light, truss systems, stage lifts and fabrics such as Molton or gauze. A competent team of technicians is available for information and detailed advice.
____________________________________
Source: pma, Special Issue Theatre Technology 2014: http://www.ppvmedien.de/Sound-Light/Sonderhefte/pma-Sonderheft-Theatertechnik-2014-2015: 17204.html
Here, you will find the Heide-Park Soltau:
http://www.heide-park.de/en/heide-park/
More information on Adam Hall, and the brands mentioned is available here:
http://www.adamhall.com/
http://www.ld-systems.com/en/series/ddq-series/
http://www.ld-systems.com/en/pa-power-amplifiers/sp-4k-pa-power-amplifier-2-x-1950-w-2-ohm/
http://www.ld-systems.com/en/pa-power-amplifiers/deep2-1600-pa-power-amplifier-2-x-800-w-2-ohms/
http://www.adamhall.com/en/Audac_WX_802_B_-_Wall_Speaker_black.html
http://www.adamhall.com/en/2m_Mobile_Stage_Platform_System.htm