Press: The flagship sets sail – LD Systems MAUI 44 Column PA now on sale
LD Systems active column PA systems from the MAUI series have made musicians and audiences prick up their ears. With the recently introduced MAUI 44, the new flagship of the product line is finally on the market.
The foundation is a powerful band-pass subwoofer with two 12″ neodymium drivers; the column elements with a total of sixteen 3.5″ speakers and two 1″ tweeters from Celestion in precisely matched waveguides are attached without any cables. Specially developed connectors and guide pins ensure accurate and safe installation of the Maui 44; the aluminium housing with integrated cooling fins protects the speakers from overheating.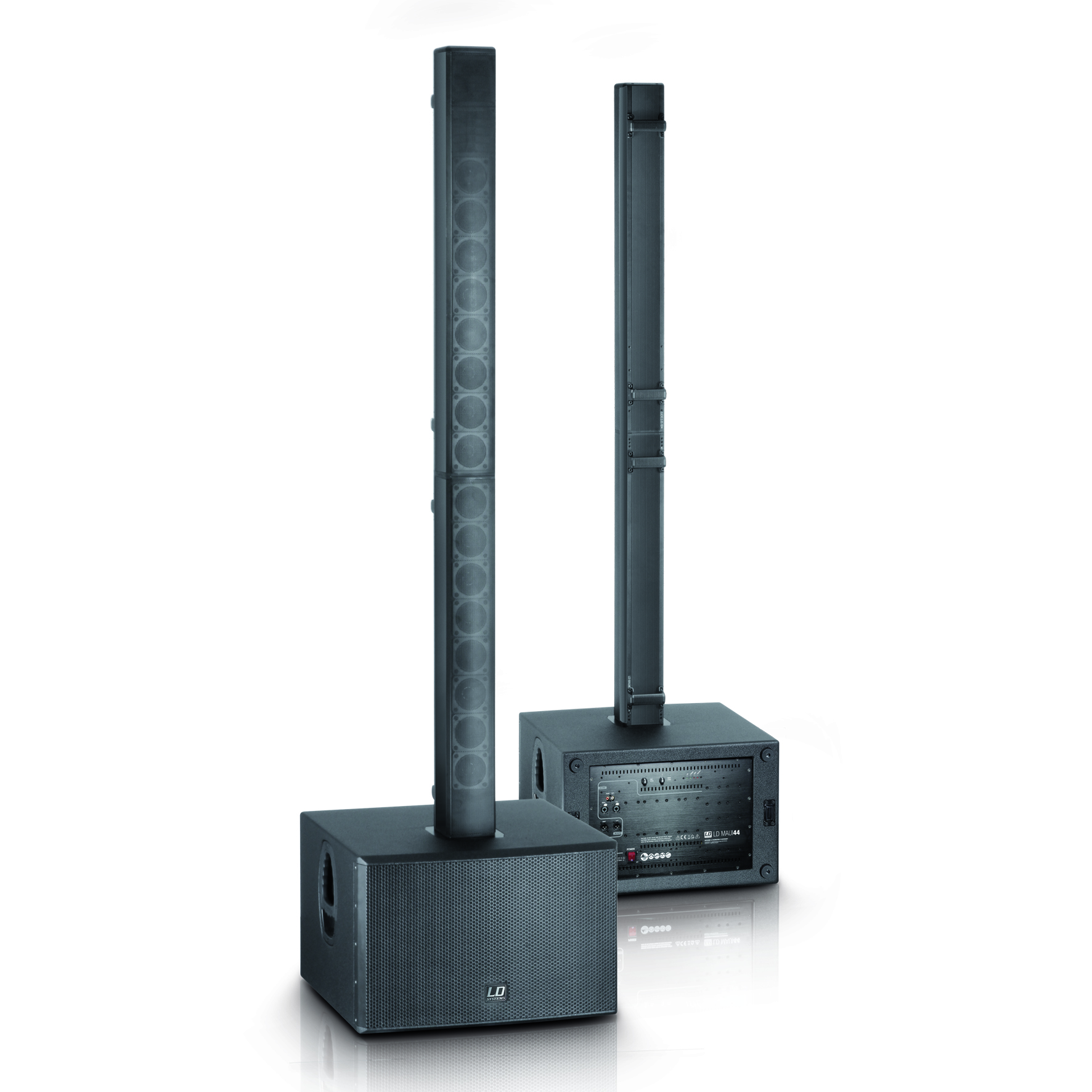 The strong overall performance of 1600 watts RMS is achieved by two Hypex UCD400 modules and four 200 Watt class D power amplifiers, which are integrated in the subwoofer and separately control the five paths of the column. The LECC digital signal processor, exclusive from LD Systems, results in natural, distortion-free reproduction even at high volume levels. Thanks to its special resistance to feedback and the 120° wide horizontal dispersion, the MAUI 44 is both a PA and monitor system.
To double the bass performance, the optional subwoofer MAUI 44 SE integrates into the system in a matter of seconds. The active extension can be operated as a slave with the system settings or used as a standalone.
With its elegant appearance and a transport-friendly weight of under 60 kg, the compact column system is well suited for mobile applications as well as for a stylish installation. Carrying cases and a castor board, which can be secured with butterfly latches onto the subwoofer of the MAUI 44 are available to facilitate transportation.
The MAUI 44 is now available at a price of € 2,399.00 RRP.
For additional information, go to:
http://www.ld-systems.com/en/series/maui-series/maui-44-column-pa-system-active/
All information on accessories can be found here:
http://www.ld-systems.com/en/series/maui-series/maui-44-cb-castor-board-for-ld-maui-44-column-active-pa-system/
Click here to download the Press Package (Press release in Word format in 4 languages + pictures and logos) !