Palmer PAN 08 – active, four-channel DI box in 19" design- a review by Production Partner
The Palmer PAN 08 stands out in our test series of DI boxes, since it is an active four-channel model in 19″ format. With a passage gain of 0 dB or if necessary by +6/12/18 dB, the PAN 08 can also be used as a secondary amplifier or for the galvanic separation of long cables. The outputs all work with transformers.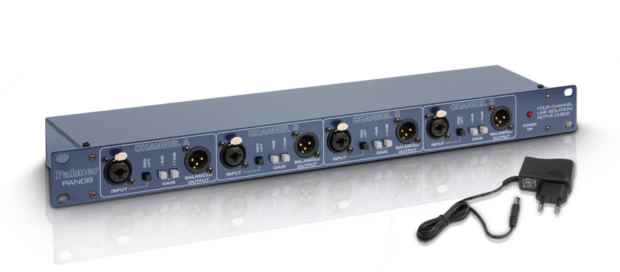 On the back, a second output with XLR connector and a -20 dB switch can be found Instead of the power supply, the PAN 08 can also be powered by a 12 V battery, which can be especially useful when used as a secondary amplifier in large venues. The clipping limit occurs at an input voltage of +22 dBu. Overall, the distortion and noise are very low.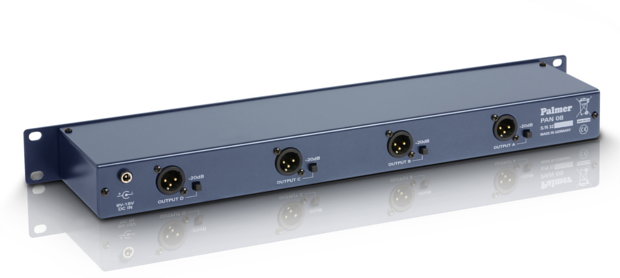 Data and Measurements:
Manufacturer: Palmer
Type: PAN 08
Distribution: Adam Hall
Price: € 335.00
Operating Mode: Active
Power Supply Unit: 9-18 V
Number of Channels: 4
Inputs: 1
Link-Out: 0
Outputs: 2
Attenuation Switch: -20, +6/+12 dB
Passage Gain: 0/-20, +6/12/18 dB
Max. in without Pad at 1 kHz, max. 0.1% THD: 22 dBu
THD at +4 dBu Input:
at 20 Hz: -65 dB
at 1 kHz: -107dB
at 10kHz: -99 dB
Noise levels at the Output (up to 20 kHz lin. ev.): -101 dBu
Author: Anselm Goertz
Source: Production Partner 09/14
More information about the Palmer PAN 08 is available here:
http://www.palmer-germany.com/pro/en/PAN-08-19-DI-Line-Isolation-Box-4-channels-active-PAN08.htm