LD Systems DAVE 15 G3 Compact 15" active system – Product review by Guitar Interactive Magazine
Is it time for your band to buy its own proper PA system? Steve Carr considers the options and checks out a lead¬ing contender for your money from Germany's LD Systems.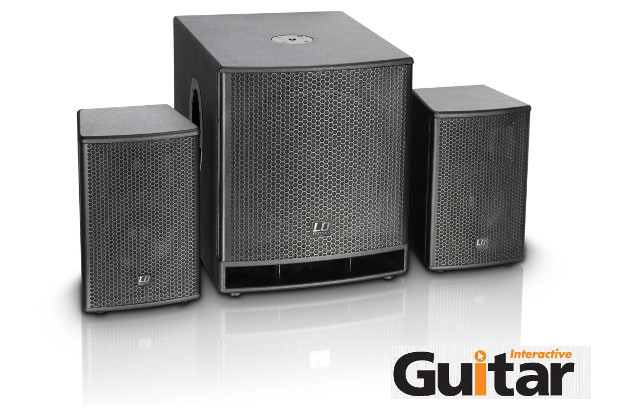 So you're in a band. You're not a sound person, you're a musician, right? But every so often you will no doubt have to roll up your sleeves and get your hands dirty where the in-house PA system or rehearsal rig is concerned. In fact some nights you'd be lucky if there was even a working system to play through at all… right? All this uncertainty hanging over your creativity will inevitably lead to one bright spark member of the band suggesting that you all save up your hard earned gig fees and buy your own PA system. Usually it's the drummer. Sounds crazy a first doesn't it? I mean why would you want to spend all that money on a PA system when there are all those lovely FX pedals out there? Why would you blow your cash on a rig when you could get another guitar for the collection?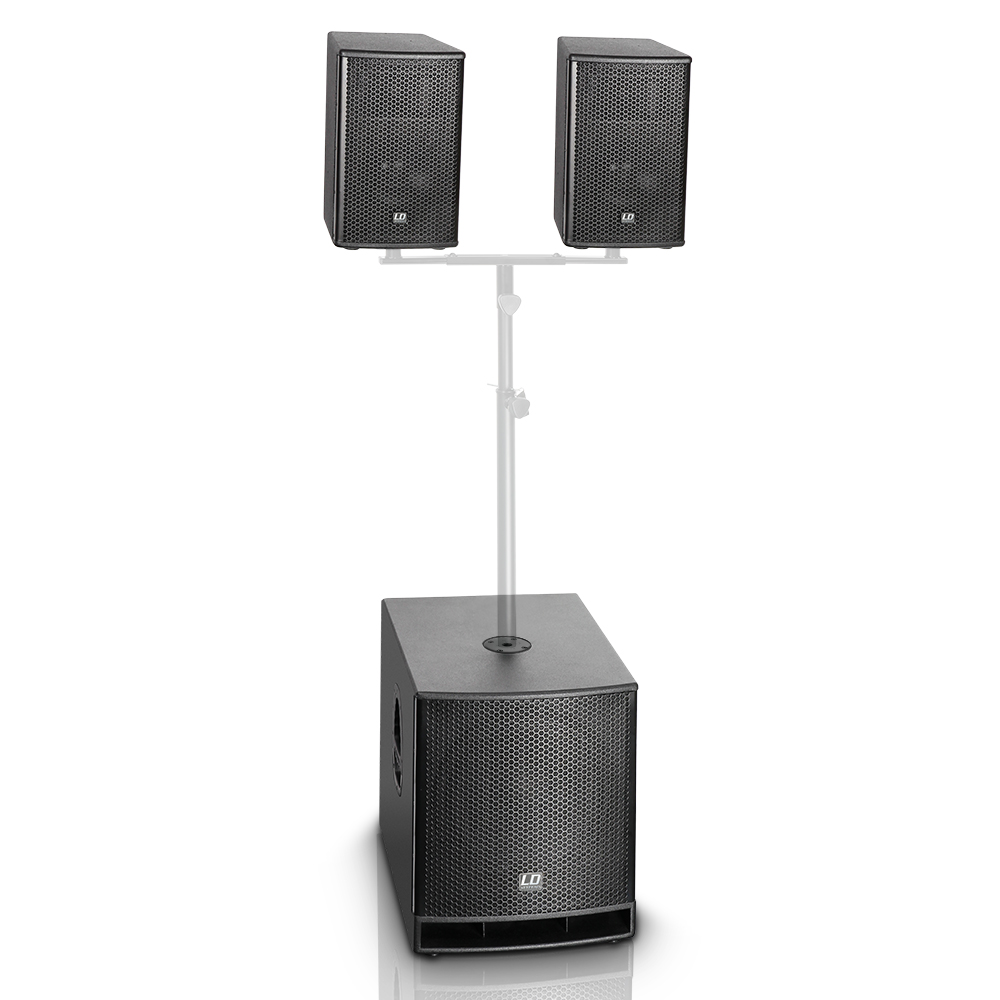 But then this bright spark (the drummer) continues to explain all the benefits of owning your own PA. For a start you could use it to rehearse with. Relying on the blown speakers down the rehearsal rooms would be a problem of the past. No more praying for the dodgy promoter at the venue to provide a half decent rig for you to perform your precious songs through. In fact you wouldn't even need a promoter! You could put on your own gigs if you had your own PA… and you could play wherever people would let you. Damn it… you could even play on the high street if you wanted to! And if that wasn't enough… to top it all off… you could charge people to hire the system from you when you weren't using it! Genius!
Most of you that play or have played in bands will know what I am talking about here. Most of you will have dabbled with mixing live sound in one form or another and for any fully fledged working function band owning their own PA system is pretty much a necessity if they want to step up to the next level and earn the proper fees. So it's starting to make sense to actually own a rig right? It makes so much sense that you all finally decide that it would be a good investment to buy a decent PA system. Now… everyone in the band needs to agree upon a few important issues before you all part with your cold hard cash.
You will find a video of the test report here:
http://www.iguitarmag.com/magazine-editions/guitar-interactive-issue-26/edition-videos/reviews_sc-ld-systems-dave-15-g3-review/
Firstly who is going to store it?! And then who is going to carry it all when you take it on the road? And then who is going to be responsible for plugging it up and making it sound good? Then it dawns on you all at once… which one do we buy?! It appears as though there are easily over a hundred semi – pro loudspeaker systems out there on the market all of which promise to have the best sound quality. It is at this moment when you need to use some common sense and this is conveniently where LD systems come in to it… Ideally you want something small and lightweight yet powerful… LD Systems' "The Dave" is just that, utilising two small 8" satellite top boxes with a single 15" woofer all weighing in at a modest 60 kg (about 132lbs) in total. The speakers and woofer run off a simple 2.1 power amp module that is built in to the sub itself and provides 700W of RMS power, 1,400W peak. You'd like it to go loud if need be. "The Dave" promises to achieve an eye watering 121db continuous 132db peak SPL (I assume at 1 metre, it doesn't say in the manual).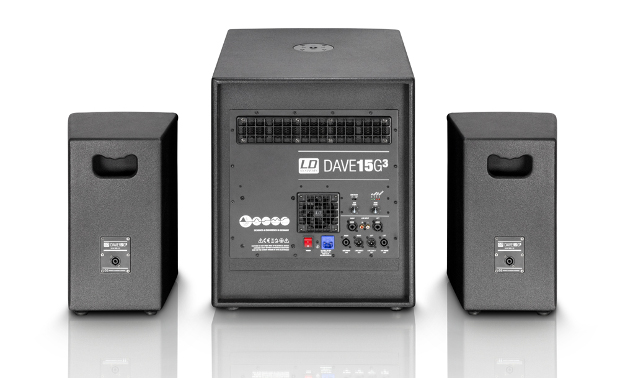 The rig must to be able to take a good pounding… Well, "The Dave" has built-in dynamic compression, limiting and EQ along with protection circuits preserving components whilst maintaining optimum sound quality at high or low levels. And you will want the system to sound good without too much hassle… The Dave's LD LECC DSP built in digital processor ensures perfectly tuned functioning of the system with separate controls of the sub and main levels for finer tuning. Finally you need it to be road worthy… The Dave's components are housed within sturdy multiplex solid ply wood cabinets with ergonomically shaped recessed "evolutive" handles and feature professional speakon compatible connectors. To put it simply…it is very solid. So it seems to have all the answers doesn't it? Well in my listening tests I was pleasantly surprised by the big sound this little system kicked out. Where it lacks sparkle it makes up for in assertiveness.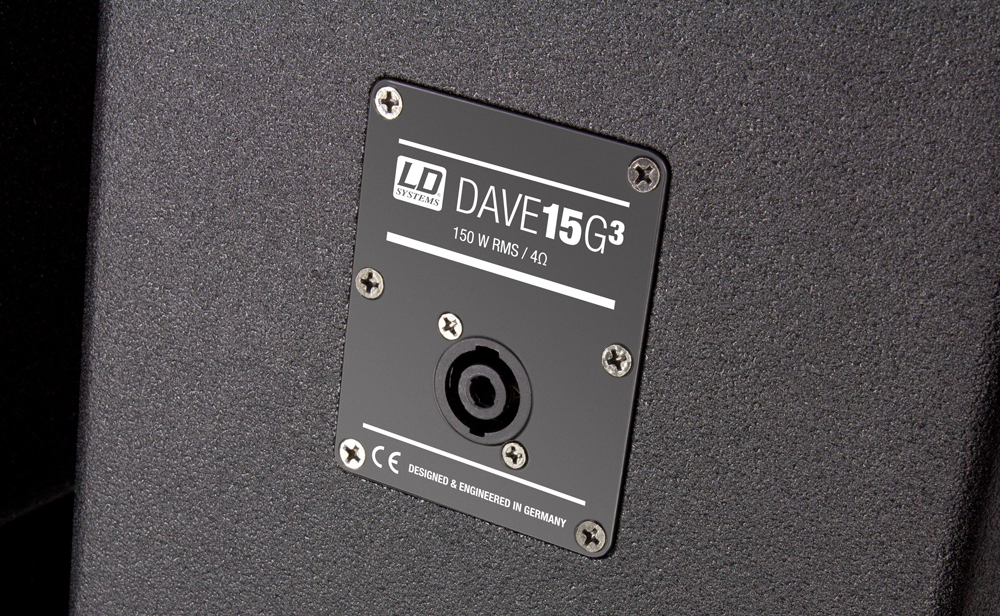 Where the sub lacks tightness it maintains a musical relationship to the tops and has plenty of punch. Although you do hear the processing working quite hard at high volumes you tend to feel that it does actually need the dynamic compression and limiting to control the lows and keep the mid range from biting too hard. It is not tiring to listen to at loud levels and it's not often I can say that about small budget priced systems! The overall frequency response and level was genuinely impressive for a system of this size and price. So here LD systems are clearly looking to help musicians and sound engineers achieve semi-pro to pro live sound results at a consumer price point and in a very small package. I can assure you this is no mean feat where loudspeaker design is concerned. True professional loudspeaker technology is reassuringly expensive and the high-end stuff is way beyond the financial means of most ordinary working musicians. The Dave is not going to set new standards for sound quality but if you are looking for a decent compact solution then it is well within financial reach and in my opinion will out punch a lot of the competition in its weight category.
Pros:
Well made
Powerful
Decent sound quality
Excellent value
Cross platform network connectivity
Rugged and roadworthy
Star Rating:


For further information about the LD Systems Dave 15 G3, please visit:
http://www.ld-systems.com/en/complete-pa-systems/dave-15-g3-compact-15-inch-active-pa-system/
Source:
http://view.ceros.com/lick-library/guitar-interactive-magazine-issue26/p/55