Press: The Other Half – Three New Eminence Guitar Speakers
If for understandable reasons, amplifiers are often called "the other half of the electric guitar", then speakers are obviously the "constant companion" of the amps. They are significantly involved in the quality of the sound, and a change often works wonders for the guitar sound. With the models CV-75, GA SC64 and Legend EM-12, the American manufacturer Eminence presents three new 12-inchers that will be met with open ears, not only by Vintage fans.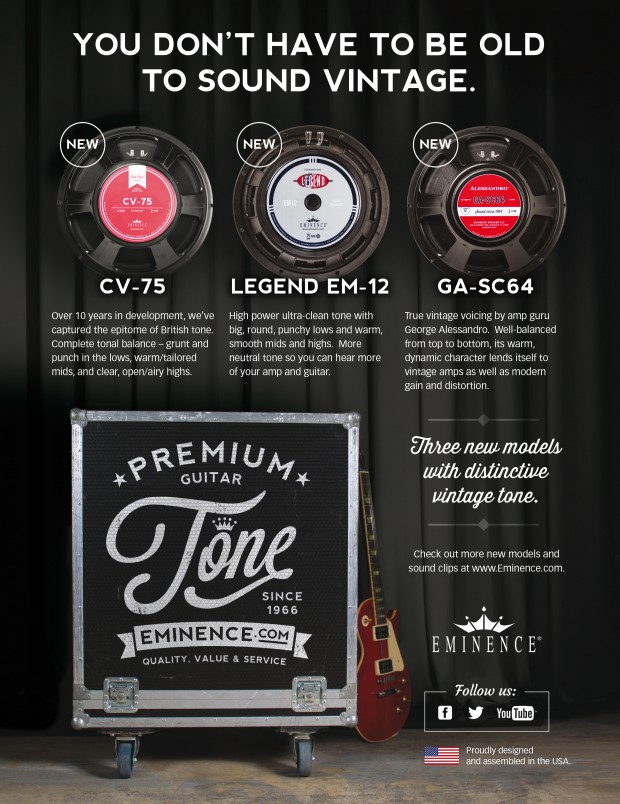 The CV-75 from the Red Coat series is equipped with a British membrane and a ceramic magnet, and was perfected over a period of 10 years. Modelled on the hand-crafted speakers of the 80s, with 75 watts of power handling and a sound pressure level of 102.2 dB, the CV-75 brings its brawling, punchy bass, detailed mids and lofty highs loudly and clearly to bear.
The resilient GA SC64 was developed with amp guru George Alessandro, who already successfully contributed to the Eric Johnson signature model. It captures the "sounds of 1964" with pronounced balance and dynamics, and is characterised by a precise, articulate bass range, warm mids, and soft, but open highs.  The George Allessandro signature model (GA-SC64) achieves a sound pressure level of 100.5 dB and with its accurate overtone reproduction, it is even suited for modern gain and distortion sounds.
The youngest member of the popular Legend series from Eminence is the EM-12. It features a cast aluminium basket, a sound pressure level of 101.1 dB and is highly resilient with 200 watts of power. For a neutral, colouration-free playback with full, strong bass and warm, optimised balanced mids and highs, the Legend EM-12 combines ultra clean or distorted sounds of the interplay between guitar and amp for an impressive performance.
As the other half and constant companion for the amp, Palmer Custom Cabinets are ideally suited, and are of course available for an individual tone with the new Eminence guitar speakers CV-75, GA SC64, and Legend EM-12.
Additional information about the products can be found at:
http://www.adamhall.com/en/Eminence_CV-75_B_-_12_Speaker_75_W_16_Ohm.html
http://www.adamhall.com/de/Eminence_George_Alessandro_A_-_12_Speaker_40_W_8_Ohm.html
http://www.adamhall.com/en/Eminence_Legend_EM_12_A_-_12_Speaker_200_W_8_Ohms_EGLEM12A.html
For more information about the Palmer speakers:
http://www.palmer-germany.com/mi/en/Guitar-Cabinets-1-x-12.htm
Click here to download the Press Package (Press release in Word format in 4 languages + pictures and logos) !