Palmer PAN 01 pro – Deluxe version of the PAN 01 – Product Review by Production Partner
PAN 01 pro is, as the name implies, a slightly improved version of the proven PAN 01, that we already tested in our 3/2013 issue. The passive DI-box is equipped with a higher quality and shielded transformer, resulting in reduced distortion especially at low frequencies.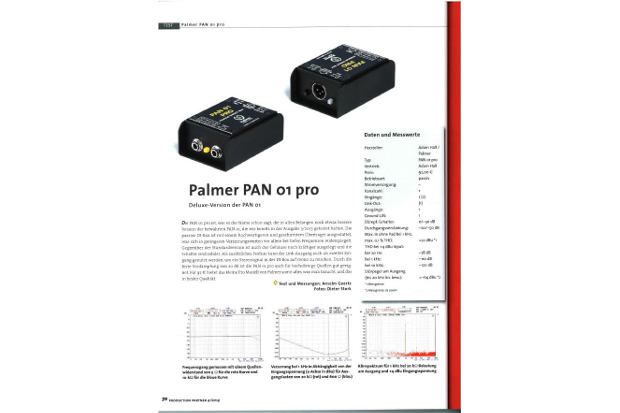 Compared to the standard version, the housing is of even stronger build and the switches are also more solid. As an additional feature, the link output can also be used as a second input to mix a stereo signal in the DI-box to mono. Thanks to the fixed preattenuation of 20 dB, the PAN 01 pro is also well suited for high-impedance sources. For € 92, the small model from Palmer thus offers everything you need, and at the best quality.
Data and Measurements
Manufacturer: Adam Hall/ Palmer
Type: PAN 01 pro
Distribution: Adam Hall
Price: € 92.00
Operating Mode: passive
Power Supply: –
Number of Channels: 1
Inputs: 1 (2)
Link Out: (1)
Outputs: 1
Ground Lift: 1
Attenuation Switch: 0/-30 dB
Passage Gain: -20/-50 dB
Max.ln without Pad at1 kHz, max.0.1% THD: >22 dBu*l
THD at +4 dBu input:
at 20 Hz: -78 dB
at 1 kHz: -110 dB
at 10 kHz: -120 dB
noise level at the output (up to 20 kHz line rating): <-114 dBu*2
*1 minimum signal level, *2 minimum signal level since passive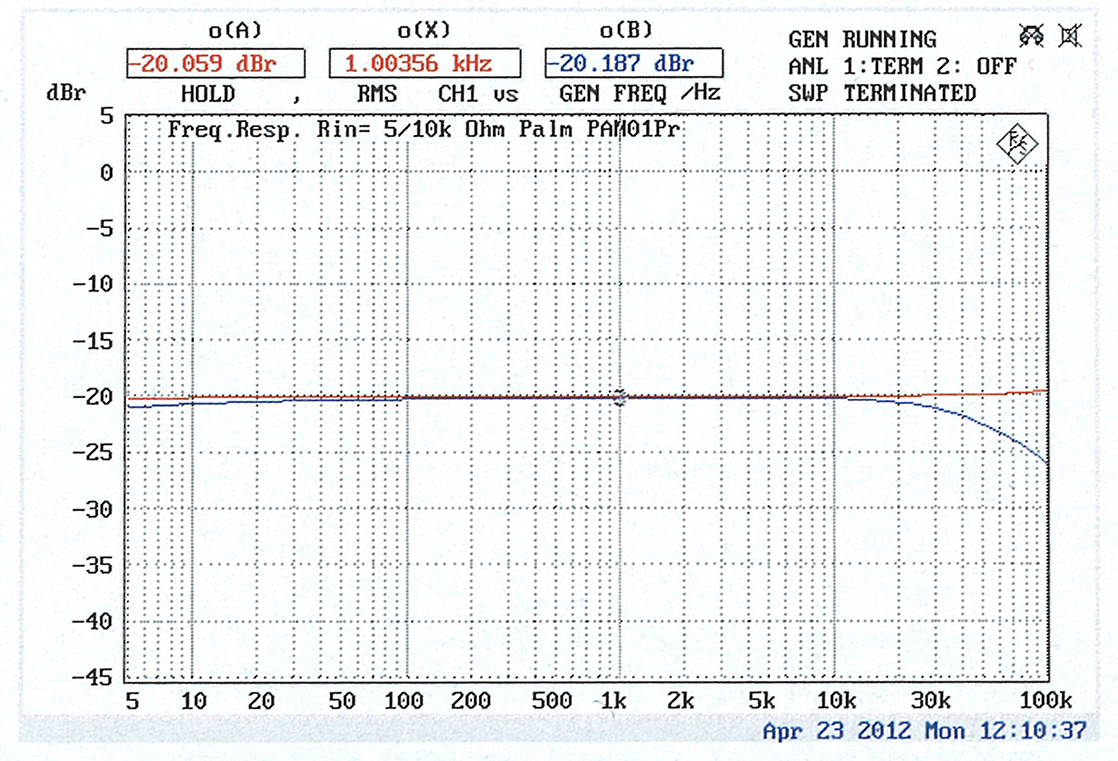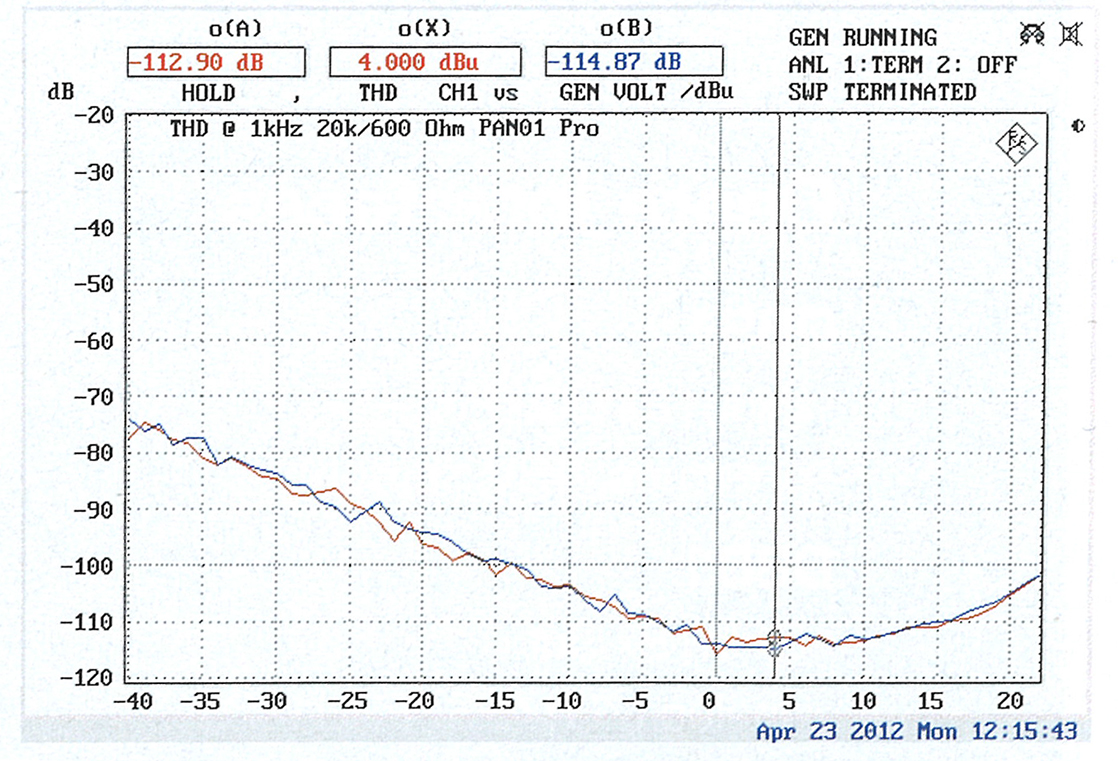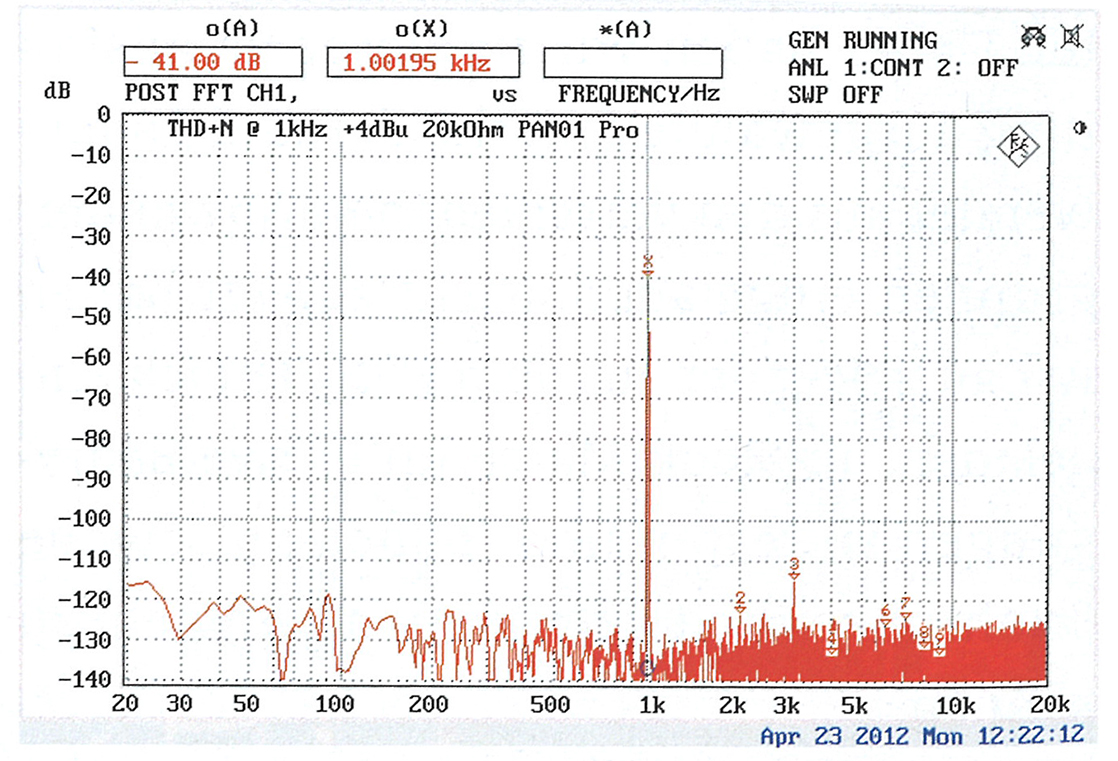 For more information about this product: 
http://www.palmer-germany.com/pro/en/PAN-01-DI-Box-passive-PAN01.htm
Source: Production Partner, Germany, April 2014
Text and Measurements: Anselm Goertz
Photos: Dieter Stork