Cameo CLMHRGB60W – A Chameleon in Glowing Colour – Product review by sonomag.fr
One frequently encounters animals in the world of lighting technology: a hippopotamus among the media servers, a frog among the mixers. Now here comes a chameleon in the form of a spotlight. The Cameo brand emerged from product diversification at Adam Hall and is a newcomer to the lighting technology universe, with products that are situated in the low and mid-range price segment.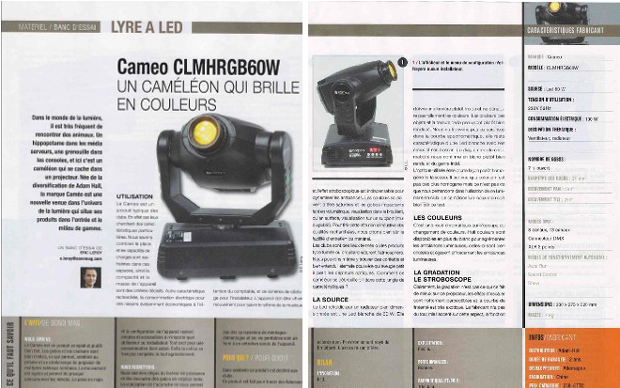 APPLICATION
The Cameo is a typical product for clubs. Environments of this kind call for equipment with special features. There are frequently severe limitations in terms of available space and electrical power, meaning that compact size and low weight become decisive criteria when choosing equipment. Moreover, in the interest of economy, the equipment must also consume a modicum of power and be easy to install. It should be capable of adapting to the rhythm of the music and have a strobe function, which is indispensible for establishing a dynamic atmosphere in a room.
In addition, the colours must be rich and the gobos must be effective both in terms of size (visibility in fog) as well as with reference to their surface (visibility on a background, on walls indoors or outdoors). The list of features could go on forever. First, however, let us consider ease of maintenance. Clubs are enclosed spaces in which smoke or fog forms and saturates the air. Sometimes confetti gets tossed, and of course there is always the ever present that gradually covers the optical sensors to contend with. How does this chameleon succeed in making a positive impression in this jungle of demands?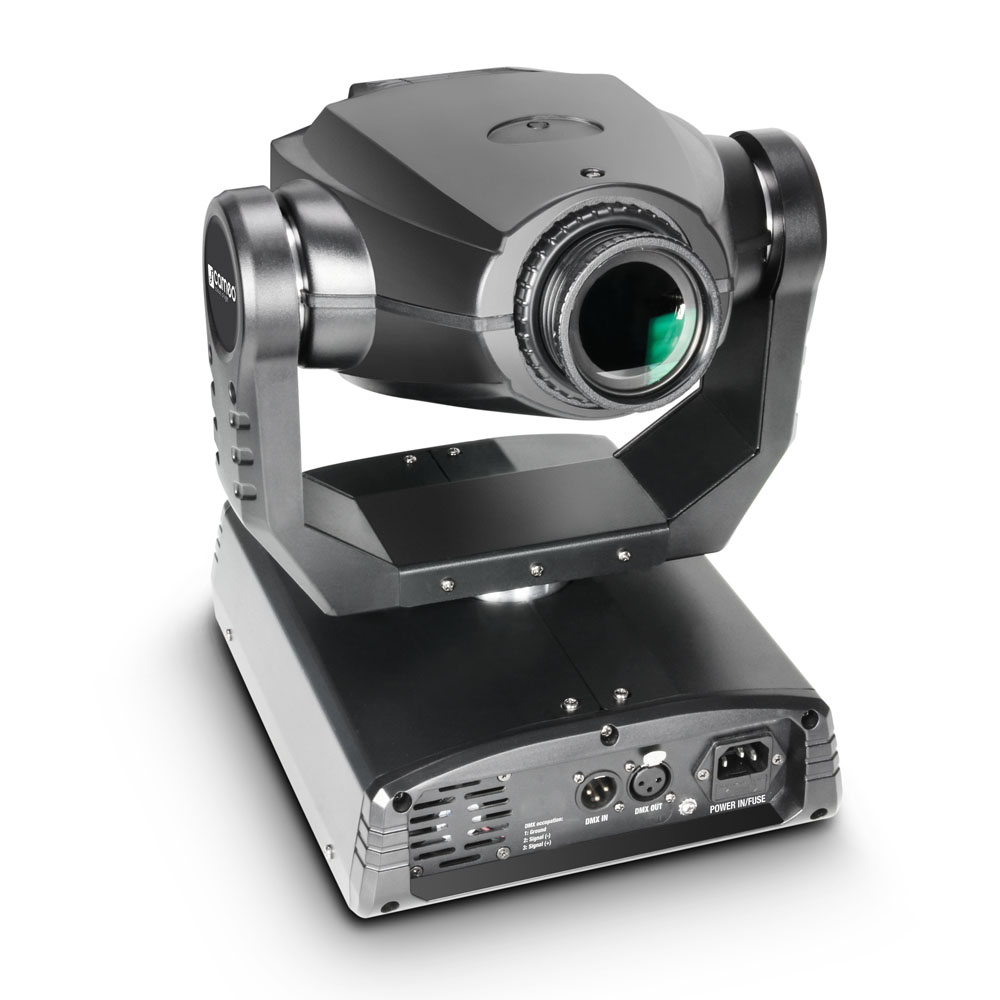 THE LIGHT SOURCE
The 60W white LED is cooled by an appropriately sized cooler. The light is a little on the cool side, too, although the colours are essentially undistorted. The colours of objects and the texture of skin are reproduced well. The spectrometric curve holds no surprises; its highs and lows are characteristic for a white LED. The colour value diagram confirms the good colour reproduction of white and that the light is of the cold type. The optics used diffuse the light very evenly. While the homogeneity is not optimal, we also don't expect that from club lighting. On the whole, the glowing chameleon scores well in this test.
THE COLOURS
This unit has a colour wheel for producing various colours. In addition to white, eight other colours are available for designing a pleasant lighting environment. These colours have been selected well and can really make a space light up.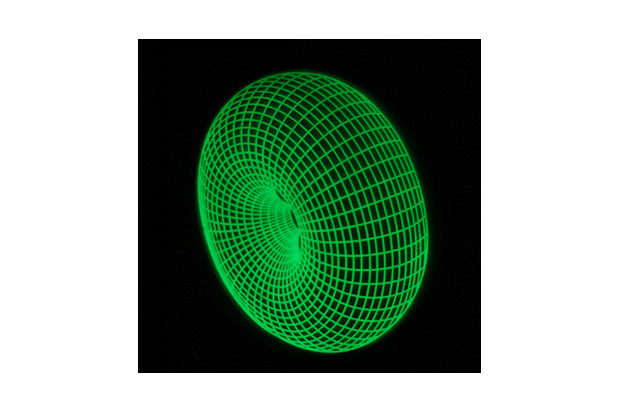 STROBE GRADATION
The gradation of this spotlight is clearly not one of its strengths. The gradation effect is more or less unnoticeable and the linearity curve seems highly exotic. The manufacturer didn't attach any importance to this aspect. There is even no dimmer function at all in Channel B mode! The strobe function itself, however, is very effective and we enjoyed using it. Of course, it must also be remembered that the strobe effect can have detrimental health effects.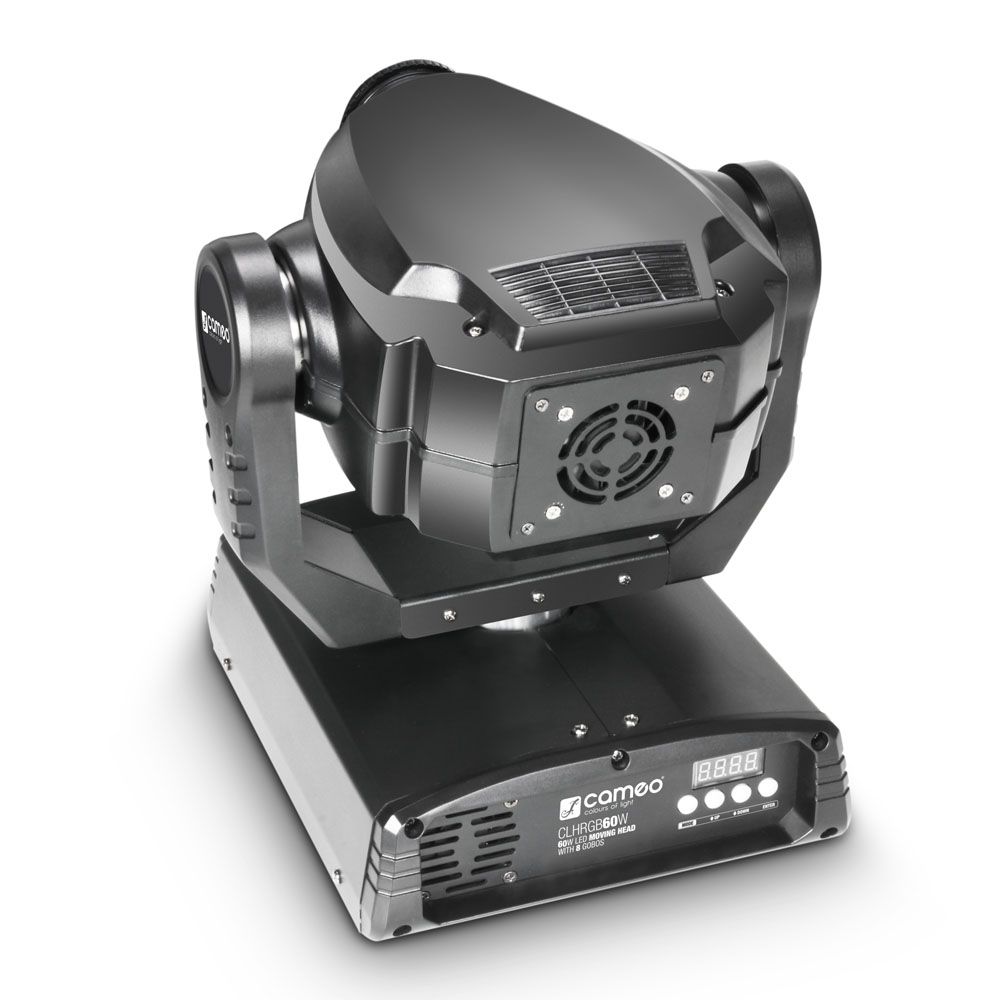 COOLING/NOISE LEVEL/LED SERVICE LIFE
The heat generated is dissipated by an appropriately sized cooler. However, the fan is unregulated and so constantly runs at full speed regardless of the momentary light intensity. Nevertheless, this does not worry us for two reasons. First, the fan is relatively quiet. At full speed, we measured 39 dB(A) in an environment with 35 dB(A). Second, this product was developed for clubs and discos, where the noise produced by the unit is inaudible anyway. Ultimately, the fan and cooler ensure long LED service life.
Indeed, we did measure a very slight variation in values,
as seen in the diagram of the long-term development of the light source. Two thumbs up for this very quiet chameleon, whose LED impresses with long service life.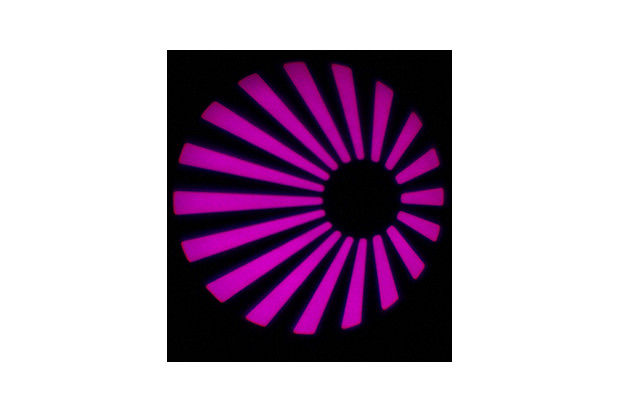 THE MOUNTING SYSTEM
It seems odd that the Chameleon's mounting system, of all things, turns out to be one of its weak points. That's no problem on the ground, since the unit is stabilised by four bars. In order to suspend the unit, however, it is necessary to attach an omega hook with bolts and washers. Regrettably without retainers or captive screws. And this although every user knows: "Anything that can get lost, will get lost." This is probably not going to make rental companies and service providers happy. If the device is to be installed permanently, however, then this ceases to be a disadvantage. The mounting system is very robust and the omega hook suspension has been unparalleled for a long time now.
The product manager's opinion
Who and what is it for?
This spotlight is at home with rental companies and in permanent installations. It can be used to light live events, installed permanently, or entirely according to a very wide range of requirements and wishes in terms of lighting technology.
One of the major strengths of this reference product is its extremely high-performance, 60 W LED Cree.
The focus mode, which is controllable via DMX, and the prism function make the Cameo CLMHRGB60W so special. Sascha vom Scheidt, Adam Hall – Cameo Product Manager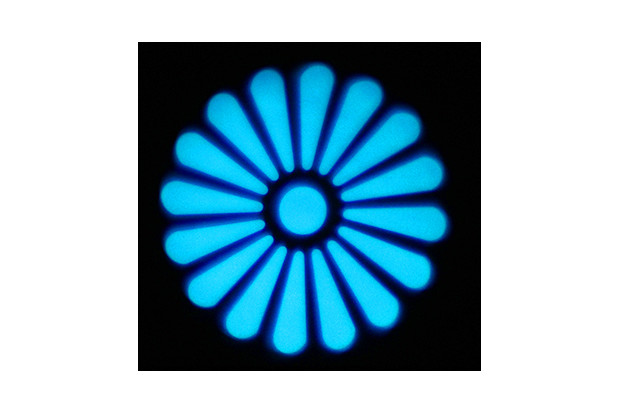 POWER CONSUMPTION AND PERFORMANCE FACTOR
Our enthusiasm in this area is limited. With a stated maximum watt rating of 100 and a measured 70 W, the power consumption is reasonable. However, the performance factor, which does not exceed 0.6, is disappointing. In our opinion, a performance factor approaching 1 is an absolute necessity for a high-quality electrical installation.


GOBOS/PRISM
The Chameleon consists of seven rotatable and tiltable gobos. The rotation of the gobos becomes more imprecise at low speed. We observed a notch effect. For our projector patterns, we use the gobo shake effect to make them vibrate, as well as the famous complete rotation of the gobo wheel. In terms of graphics, we enjoy the versatility that enables us to use the voluminous and flat shapes effectively. Playing around with the gobos is fun: The "toroidal" gobo in conjunction with a colour makes for a very nice effect. The "mosaic" gobo generates a focused effect and creates a pleasantly cool atmosphere. All of the gobos can be combined with the prism, which diffracts the light beam into three parts. This prism is rotatable or tiltable.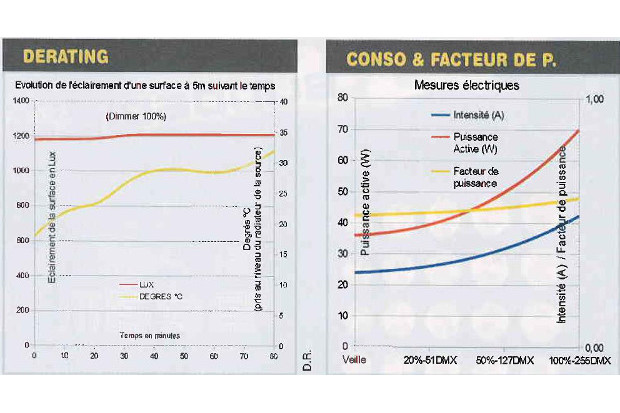 PAN/TILT SPEED
This animal moves pretty quickly. We clocked it at 2.5 seconds for a complete revolution in pan mode and 1.3 seconds in tilt mode.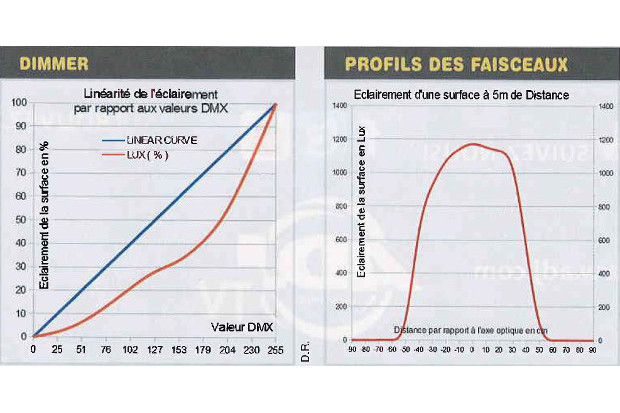 MODES/MENUS
Two DMX operating modes are available, which are adjustable via a simple display and four knobs. Eight DMX channels are used in the first mode and 13 DMX channels in the second. We recommend the second mode, especially because of the dimmer function. Even if it is imperfect, it is still indispensible for live use. The "Pan Fine" and "Tilt Fine" functions permit greater precision of movement. The menu mode also includes the controls for the sound level, automatic operating modes, and various device configurations.
MANUFACTURING AND MAINTENANCE
This is not a premium device. Nevertheless, the workmanship is good. Regrettably, it lacks captive screws and an omega hook with C-wrench for mounting. Otherwise, with a little patience, it is definitely possible to access the various components.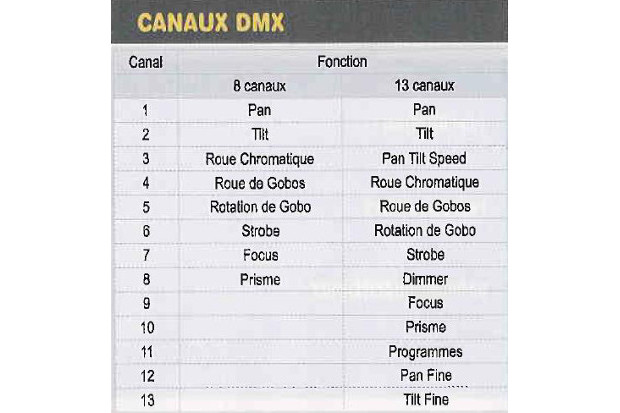 MANUFACTURER'S SPECIFICATIONS
Brand: Cameo
Model: CLMHRGB60W
Lamp: LED 60 W
Operating voltage: 230 V 50 Hz
Power consumption: 100 W
Heat dissipation: Fan, cooler
Number of gobos: 7 + more
Gobo diameter: 21 mm
Pan: 540°
Tilt: 270°
DMX modes: 8 channels, 13 channels
Connector DMX XLR (3-pole)
Stand-alone modes: Auto Run, Sound Control, Show
Dimensions: 230x 275 x 320 mm
Weight: 7 kg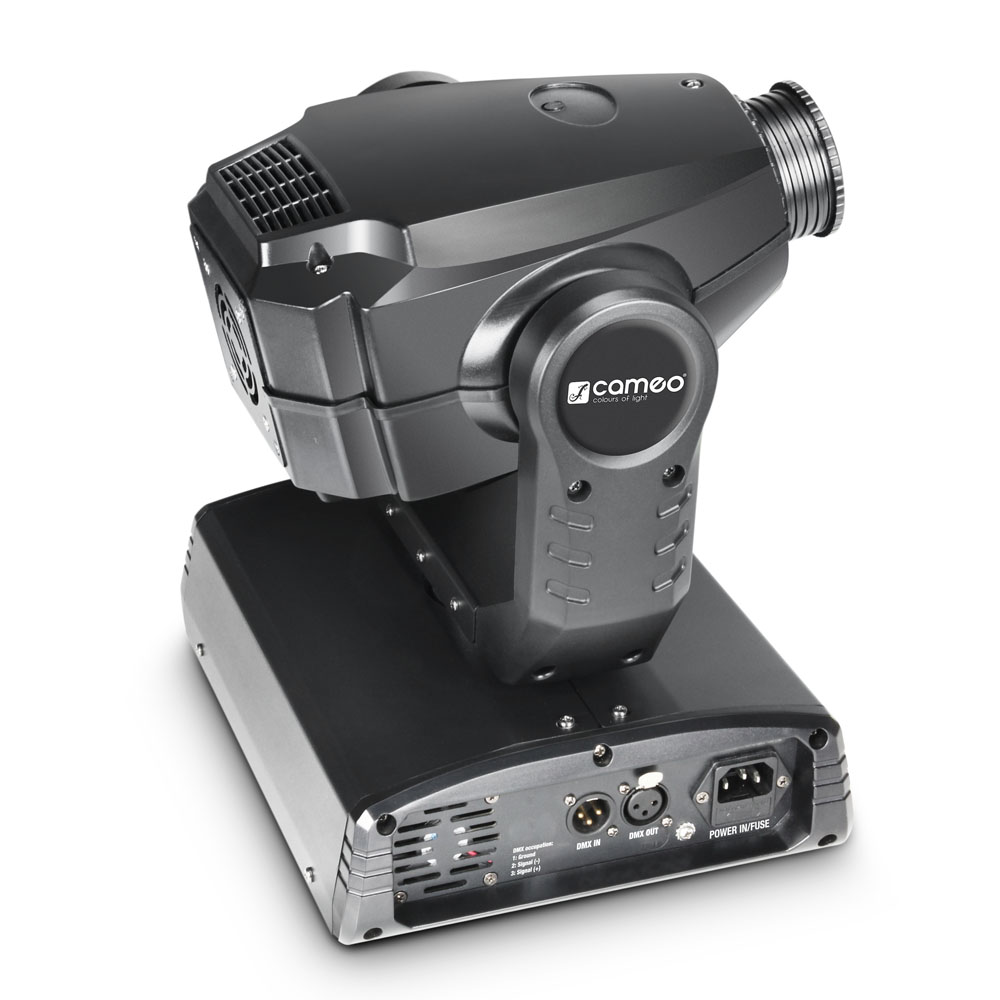 INFO/MANUFACTURER
Dealer: Adam Hall GmbH
Warranty period: 2 years
Development: Germany
Country of origin: China
Catalogue price: 758 € TTB
WHAT YOU SHOULD KNOW
Sono Mag Opinion
What pleases us:
The Cameo is a compete unit made with outstanding workmanship. The gobos and colours were chosen well and can be combined with the prism and the strobe to produce various light patterns. Movement is fast and can definitely keep pace with units with mirrors. The unit is easy to operate and configure by design, making it easy to use even for people who are not experts. All of this can be yours and very low power consumption too. The package is rounded out by the French operating instructions.
What we find lacking:
We are disappointed by the power factor and the somewhat arbitrary movement of the gobos during slow rotation. The suspension concept made mounting and unmounting impossible for us. The unsecured bolts make trouble-free maintenance difficult.
Target group Intended application
Without a doubt, this product was developed for clubs. The unit was made to cast colourful beams in a foggy environment. It is well suited to this.
CONCLUSION
Innovation: LED.
Operation: simple.
Output power: good.
Value-for-money: very good.
For additional information about the Cameo CLMHRGB60W:
http://www.cameolight.com/en/products/led-moving-heads/moving-head-60-led-moving-head-rgb-60-w/
Source: Sonomag, France, February 2014