LD Systems D1013C USB – Test report by Future Music
In the current model range from LD Systems, this handy, low-priced microphone equipped with a USB port has attracted our attention. It is uncomplicated and can be used immediately, but how does it perform in practice?
LD Systems is part of the ADAM HALL company, a European group with an excellent reputation and a very comprehensive catalogue of audio equipment and accessories. All LD Systems equipments are characterised by an excellent price-performance ratio.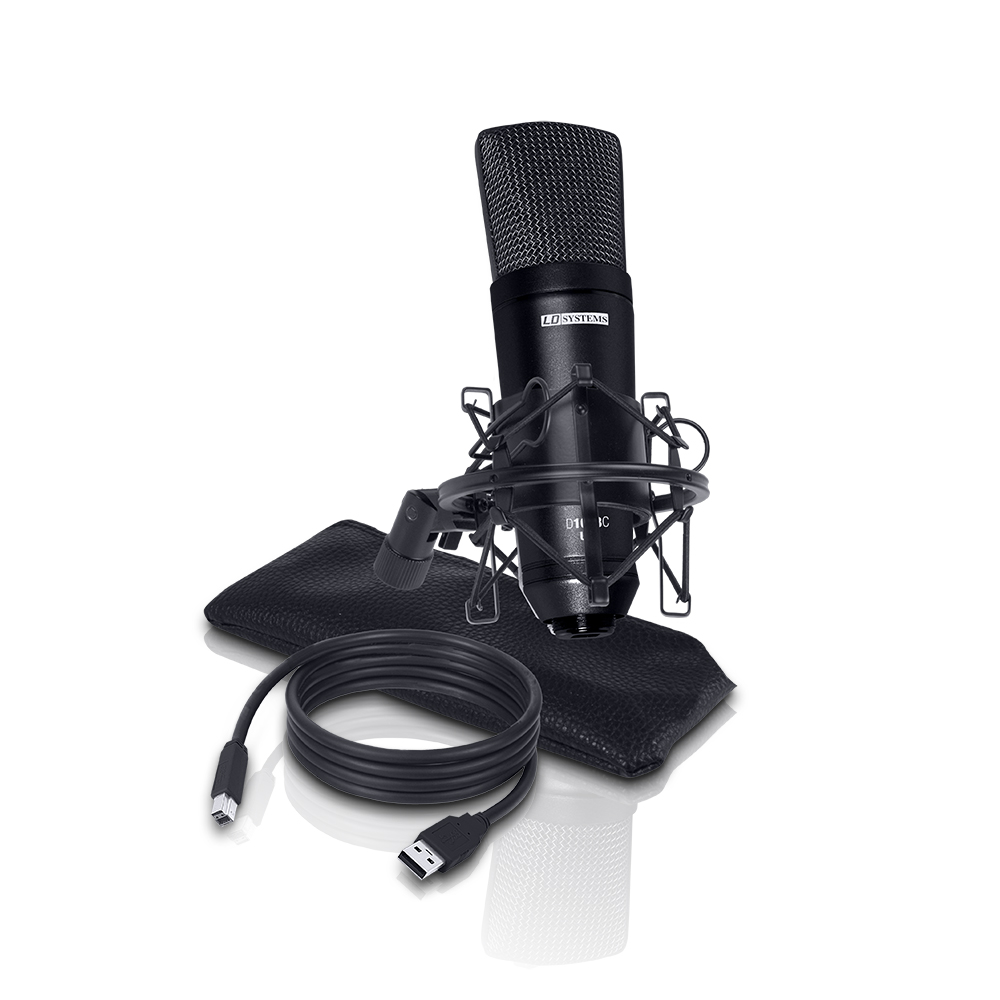 The D1013CUSB follows exactly the same philosophy – and we find it extremely attractive. It is a universal condenser microphone that can be connected to any USB input without additional drivers. Thanks to its cardioid pick-up pattern and compatibility with Windows and Mac OS X, this microphone is well suited to a broad range of applications with many different sound sources.
A sturdy device, in terms of design and performance As we opened the handy packaging of the D1013CUSB, we were pleasantly surprised to find a solidly built microphone. The quality of the full metal housing is already evident, when you hold it in your hand for the first time. Inevitably, the USB-B port attracts us: it is hidden in the bottom mounted support thread and does therefore not interrupt the clear cut lines of the microphone.
The considerable weight of the D1013CUSB (385 g) is not a real obstacle to its use. Certainly, the built-in electronics contributes to its weight: this microphone provides direct digital signals and houses both the preamplification circuitry and A/D converters. According to the information provided by LD Systems, the analog to digital converter works with 16 bit and 48 Khz. The microphone offers a frequency response of 30 Hz to 18 kHz, a maximum SPL (maximum sound pressure level of 140 dB) and a S/N ratio of 68 dB. Together with the microphone, the buyer receives an easy to use soft carrying pouch made of artificial leather with zip fastener, a USB connection cable – and I am pleased that LD Systems does not just assume that the customer has such a cable already – and another considerable surprise, namely an elastic suspension, the so-called spider, in the same high quality as the other components.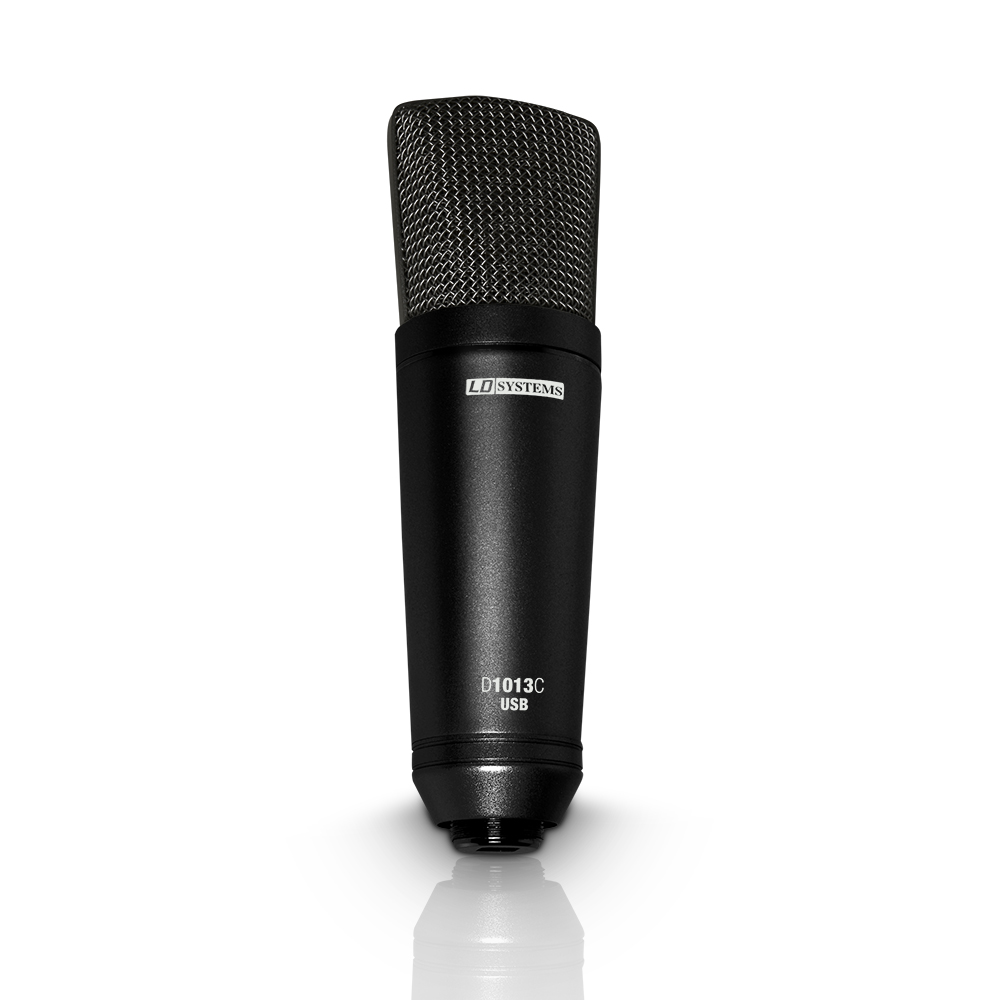 Use it wherever you want With its built-in USB port, the LD Systems D1013C is extremely flexible, both in the studio and for mobile use. In addition, it does not require any external preamp, and is therefore perfect for podcasts on the go, but also for field recordings on PC or Mac or for viewing multimedia presentations, for example. On the other hand, this microphone is an excellent choice for a home studio setup or as an additional microphone in project studios. it also offers an attractive purchase alternative for trainees in the audio field.
The transducer of the D1013C is an electret condenser and absorbs significant voltage via the USB-port for its polarisation. Inevitably, this property affects the power consumption of the connected computer. Whoever operates the microphone in the field with a laptop computer, which relies on its internal battery, should keep that in mind.
The connection of the microphone to a computer provides the user with a true Plug&Play experience: in a matter of seconds, the D1013C is recognised as a device via the USB port, and is ready to use; it can be controlled by any audio software. Incidentally, there are no power LEDs except for system messages; but in practice this is not necessarily required.
The sound quality, a crucial element The sound of the D1013CUSB is pure, clear and natural; its electronic noise is very low and the output level is acceptable. Taking into account all these features, the resulting overall quality, in our opinion, is more than enough for basic applications for a microphone of this design and price.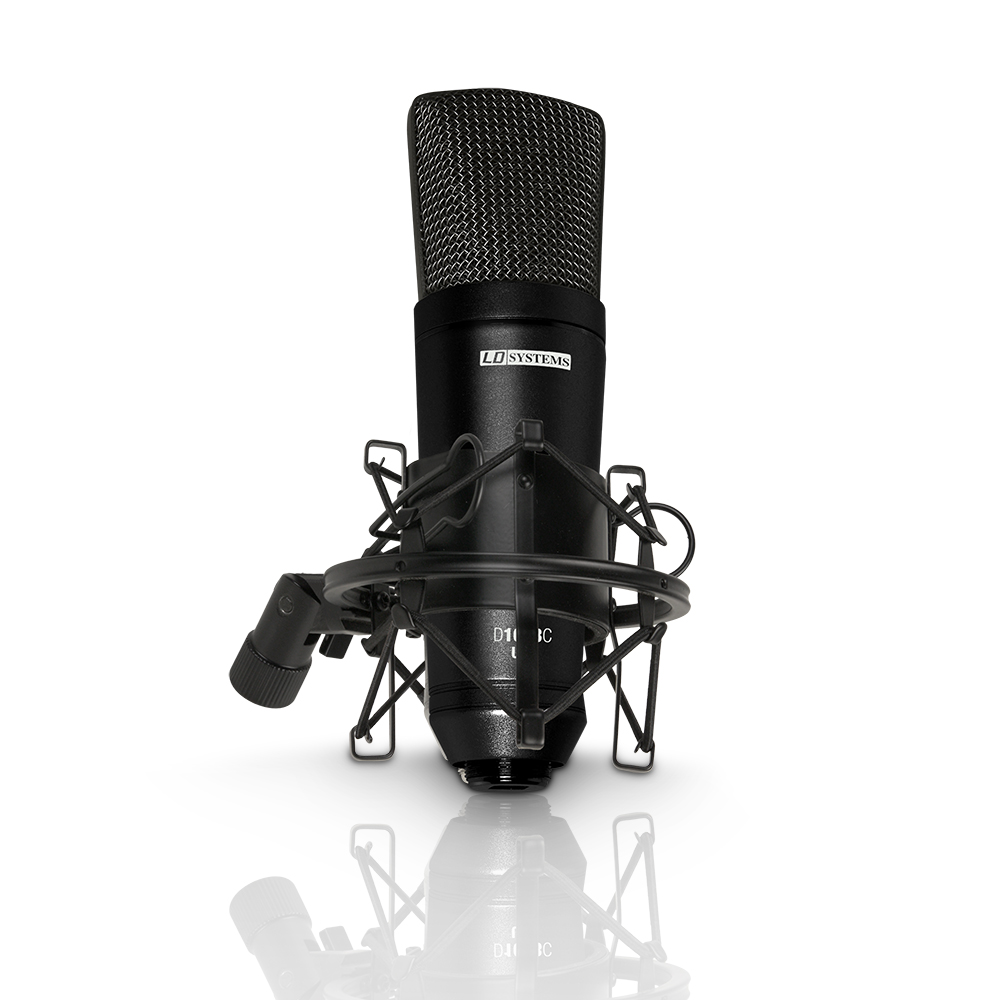 The microphone works with high dynamics signals (LD Systems announces an ambitious maximum SPL of 140 dB), however, the S/N ratio of 68 dB is mediocre. In addition, we found in our tests some sonic quality loss in the low range. These two aspects result in point deductions in the overall assessment, but do not, however, limit the suitability of this model as a versatile recording microphone.
Ultimately, the difference between devices of different price classes lies in details of this kind. The consumer should not forget when comparing microphones, that the list price of the D1013CUSB is an incredible € 89, and it is sometimes even available on sale for € 79 – a price that truly invigorates the competition, if we bear in mind what this microphone package has to offer.
An excellent deal in the entry-level If your recordings require a cardioid pick-up pattern and if a medium sound quality without exquisite details satisfies your needs, the LD Systems D1013CUSB will convince you without hesitation. Although the cardioid pick-up pattern did not allow for variations, it is widely used and is suitable for a wide range of applications. This device is also easy to use, solidly built and equipped with accessories and is therefore an excellent alternative in the category of low-cost microphones.
Price: € 95
For more information about the D1013C USB from LD Systems, please refer to
http://www.ld-systems.com/en/microphones/d-1013-c-usb-usb-studio-condenser-microphone/
Highlights
Versatility: a wide field of application in various recording situations, also a clean and natural sound, excellent ease of use with a convenient USB input and an incredible value for money.
Rating



The D1013CUSB from LD Systems is a worthy representative of the versatile and excellently designed USB microphone category with good performance. Its attractive price and fantastic user-friendliness are its two strongest assets.
Source: http://www.futuremusic-es.com/modules/news/article.php?storyid=1987