LD Systems in-ear monitoring systems for "PuderZucker" – a Hamburg pop "road movie" from and with Catharina Boutari
"PuderZucker" is a fast-paced story about life in the big city that whisks its audience away on an odyssey together with "Puder" through the City of Hamburg. It was written by bonedo author Catharina Boutari, who coincidentally was still looking for a monitoring solution for the stage production. During the five shows, all three performers used LD Systems in-ear monitoring systems.
The show stars "Puder", the alter ego of Hamburg singer, musician, and musical theatre director Catharina Boutari. The revue is a "road movie" that blurs and transcends the boundaries between pop show, musical, and performance art and is by turns both loud and contemplative, critical, poetic, and bold. The show played from 14 January until 1 February at Hamburg's St-Pauli Theatre.
Two LD Systems MEI 1000 G2 rigs and an MEI 100 G2 enabled the performers to master even wilder scenes with a lot of movement and regulate the volume of the vocals themselves with a direct, in-ear signal. According to Catharina, "I simply have more control over my voice when I can hear it loud and clear."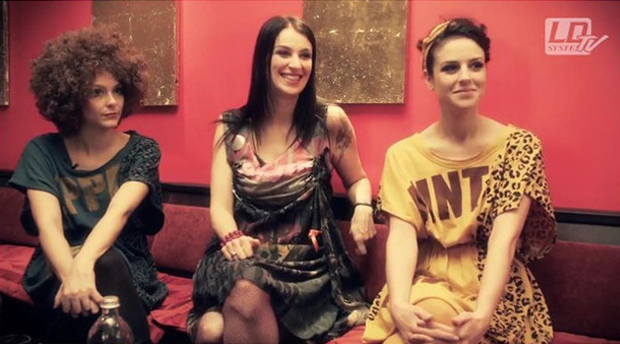 The LD Systems LDMEI100G2 und LDMEI1000G2 in-ear monitoring systems with 96 UHF channels offer outstanding audio quality with a large dynamic range in the 823 – 832 and 863 – 865 MHz. bands.
LD Systems MEI 1000 G2 Series
The system toggles between mono and stereo mode for perfect monitoring for live musicians, actors or speakers. A built-in limiter ensures even, distortion-free sound reproduction with a frequency response of 80Hz – 15 kHz and stands out because of its high signal-to-noise ratio and low total harmonic distortion. The LD MEI 100 G2 permits simultaneous operation of up to 5 systems.
LD Systems MEI 100 G2
Switchable mono, stereo, and focus monitoring modes as well as adjustable EQ and limiter functions permit natural sound reproduction for any application, with a frequency response of 60 Hz – 16 Hz, a high S/N ratio, and low THD. The LD MEI 1000 G2 permits simultaneous operation of up to 5 systems.
After an exhaustive test, Oliver Poschmann, author of the musicians' portal bonedo.de, draws the following conclusion:
"The MEI 100 G2 and MEI 1000 G2 in-ear systems by LD-Systems are well functioning and satisfactory sounding, highly affordable solutions for a wide range of applications in the area of wireless stage monitoring. Simple, intuitive operation in conjunction with the license-free radio frequencies makes both systems an ideal solution for those planning a reliable and affordable way to enter the world of in-ear monitoring. The MEI 1000 G2 has a well-deserved if slight edge in terms of audio transmission and thanks to the ability to toggle between stereo panning or dual mono mode directly at the receiver, but the less expensive MEI100G2 is nearly its equal when it comes to sound and transmission quality."
Pro
+ good, compact system, case included
+ intuitive operation
+ good transmission/reception performance
+ satisfactory audio quality
+ both systems represent outstanding value for money
+ advantage of the MEI 1000 G2, additional options: limiter, treble boost, dual mono mode, operating mode and stereo panning adjustable directly at the receiver
Contra
– Display on transmitter and receiver jumps back from channel display to frequency display very quickly
The entire bonedo.de test can be found here.
For additional information about LD Systems in-ear monitoring systems, go to: 
http://www.ld-systems.com/in-ear-monitoring-systems/