System Dave 8 Roadie – Let's hit the Road – Test Report by Soundcheck
The LD Systems Dave 8 Roadie is a compact active PA-satellite system. It is a little too large for a handbag or a bike carrier, but the central subwoofer with the entire electronic system fits easily in the boot of even the smallest car. What makes this system so attractive, however, is that you're able to use it without a mixer. This is because the device has several inputs and offers basic mixing features.

Let's begin with the stereo input channel number 3, which features two combo jacks and two RCA connectors. No matter whether RCA or XLR, it can handle any signal. Of course, if you have a mixing console with only Tiny-Telephone or Tuchel outputs, or a Gardena garden hose connection, you might be a bit clueless – obviously. Channel 2 is sensitive enough to accommodate a dynamic microphone. Be aware, however : it has a 100 Hz-high pass filter which cannot be turned off. Even wireless microphone receivers like a good microphone output. A singing pianist would be over the moon with this system!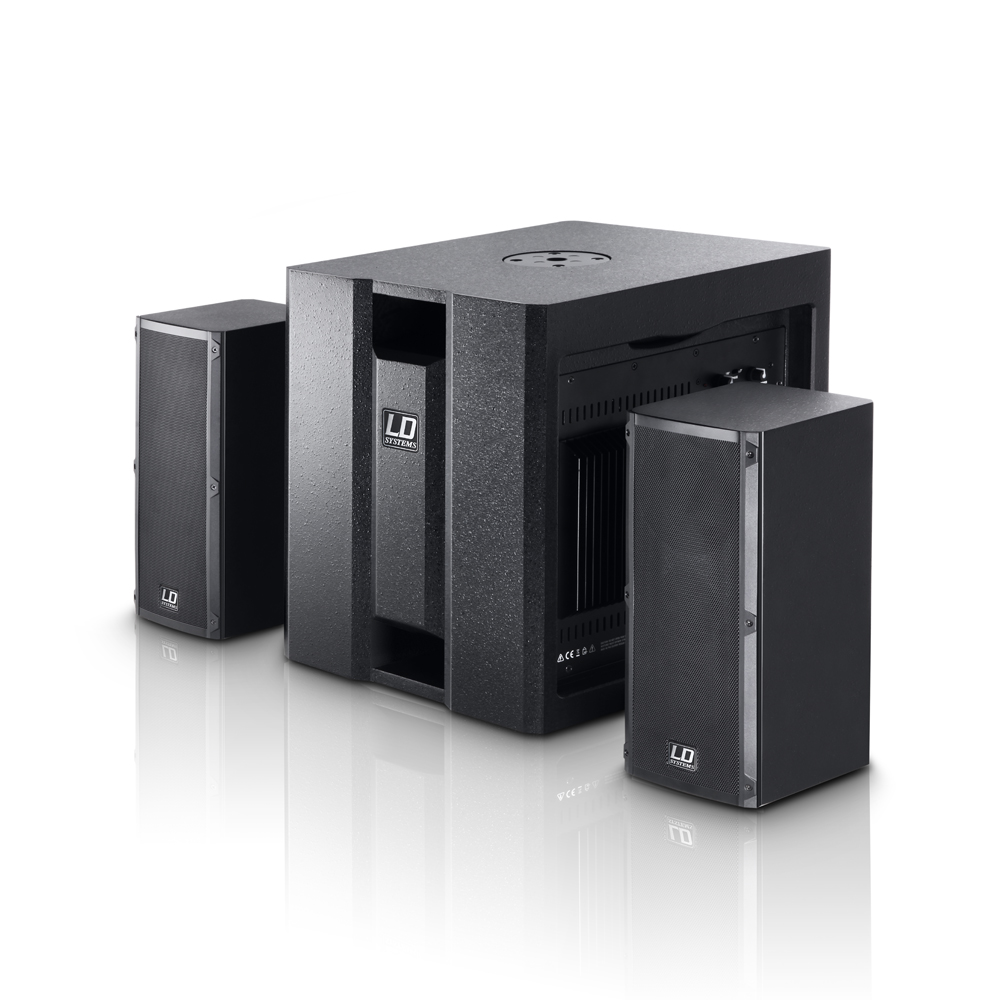 In addition, channel 1 can either accept a stereo mini jack from an MP3-player or similar for ambiance music, or even be connected to a Hi-Z jack. This allows for a guitar to be connected, for example. A musical Duo with a singer and backing music can therefore be accommodated without the need of an external mixer.
The unit doesn't posses any tone control whatsoever, and that is perfectly fine. You will only find an overall level control and a second one for the subwoofer. This is ample for a bass treble balance. There are no further controls on this PA beyond the switch toggling between Hi-Z-jack and a 3.5 mm stereo-input (channel 1), a phase switch for the subwoofer, the power switch and a level control for each channel. In addition, there are two Speakon output connections for the satellites and a power supply connection. There is no Line output.
The concept of the speaker is quite unusual – it relies entirely on closed satellite speakers. These are commonly regarded as superior for linearity and radiation when compared to the more widespread bass reflex speakers in amplification. Bass reflex speakers use a Helmholtz resonator as an amplifier of the bass range. However, in principle, this results in phase distortion. In this case, closed speakers deliver a cleaner sound. However, they are also much weaker in the bass range and the efficiency. This is why we typically find closed speakers as studio monitors or Hi-Fi-boxes.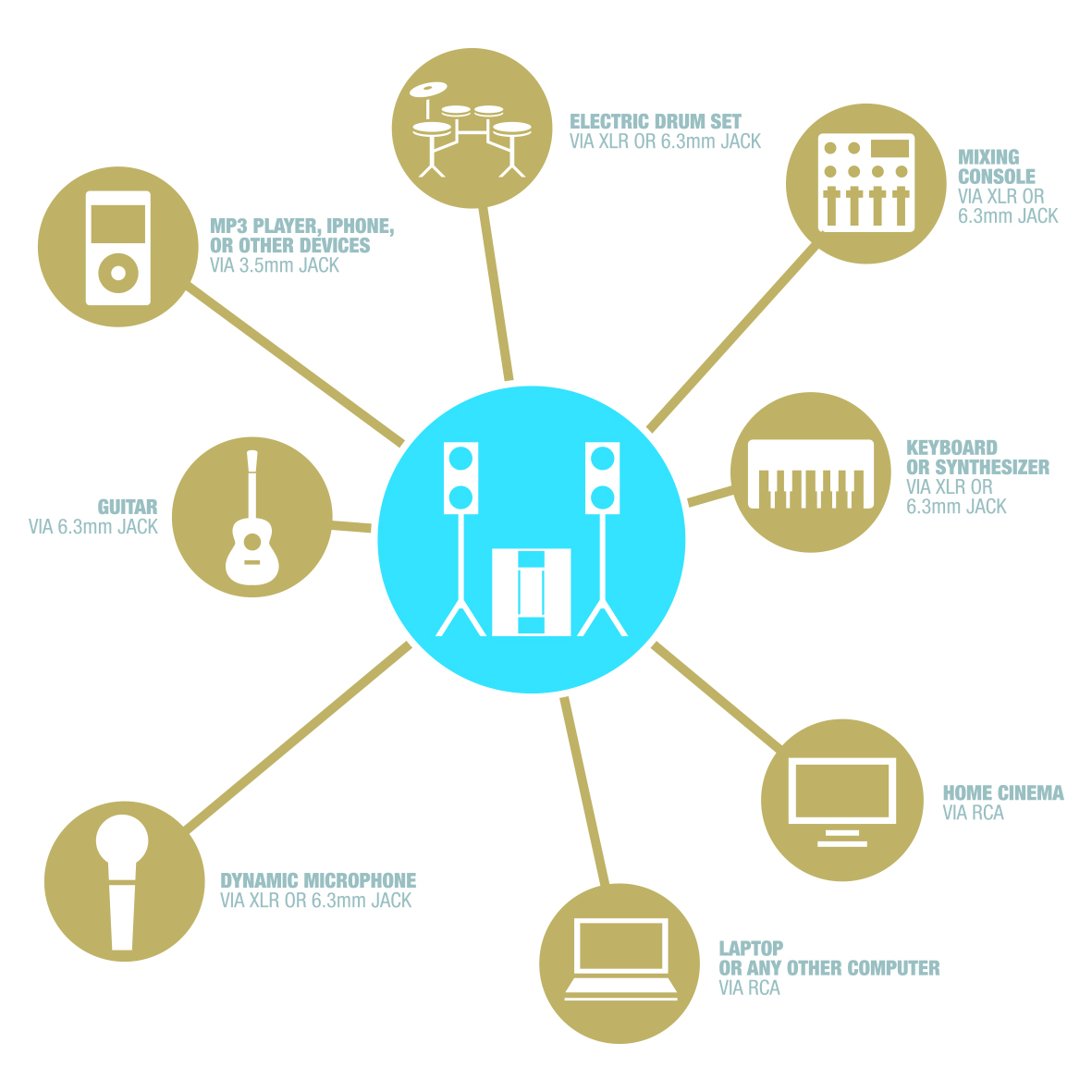 The satellites use the D'Appollito design. These speakers, named after a famous loudspeaker designer, have two equal-sized midranges framing a tweeter. The advantage of this arrangement is that the positioning of both high and midrange is identical, which allows for a particularly clear orientation. Furthermore, the vertical coverage angle is slightly narrower. Thus, ceiling reflections are avoided.
The satellites of the LD systems Dave 8 PA are equipped with two four inch midranges and a silk dome tweeter. The speakers further rely on a power amplifier with 100 Watt nominal power. In the "Roadie" variant, the satellites are protected by metal grills. The subwoofer has a band pass design with an 8″ driver and 1.5″ voice coil. The amplifier has a nominal power of 150 Watt. The crossover frequencies of the active crossover are not specified, but in such a small system, they are very high. Without the subwoofer, the bass response of the satellite speakers would be relatively weak. It is especially in the frequency range between 80 and 200 Hz that the bass speaker shows what it is capable of. As a result, you never have the impression that some bass is missing.
With compact PA systems of this size, the midrange is usually somewhat weaker. The overall sound is still extremely harmonious, since the PA was not designed for extreme sound pressure levels, but for pleasant deep and silky high sounds, which are presented in small spaces at a reasonable volume. And it is exactly in this situation that a certain loudness effect is desirable anyway, in which the bass and trebles should be preferred to the brutal midrange. This is precisely what makes this PA system pass with flying colours.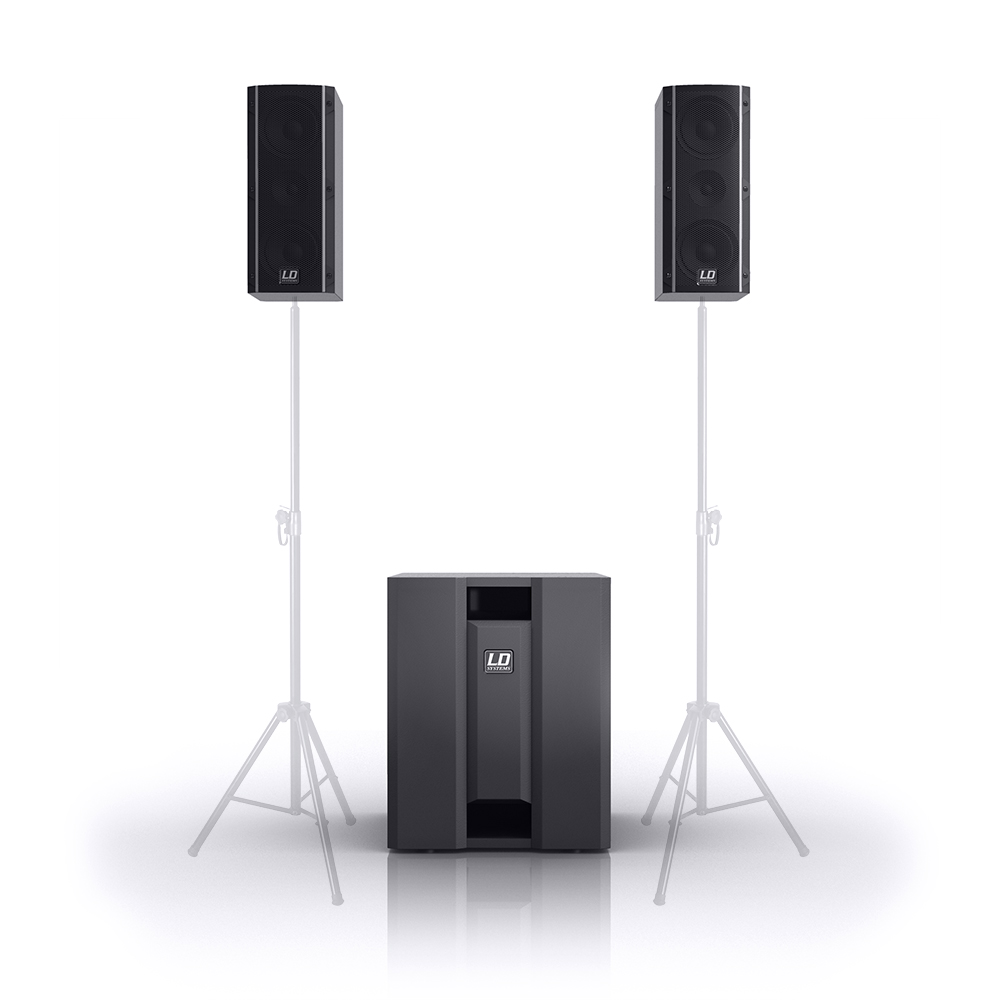 The satellites have three mounting holes, rubber feet and a small 16 mm tripod-flange for light stands. Of course, these are not necessarily found in every household. This is why there are accessory packs: such as the LD Dave 8 Set1 with a transport bag incl. casters; as well as the LD Dave 8 Set2 with two speaker stands, two Speakons and a transport bag. The satellites can also use the optional wall mounting bracket SUWMB10B. Incidentally, the subwoofer also has a tripod flange at the top. All handles and finishes are exemplary.
I have used the LD Systems Dave 8 Roadie for small gigs in cafés. High sound pressure levels were required here too. The arrangement featured a singer, a digital piano and ambiant music between the sets. The digital piano did not require any tone control because it was available on the instrument itself – however, it still wasn't needed. But when it comes to vocals, I'm too demanding to be working without a condenser microphone, compressor, reverb and EQ to compensate for the room response. The solution here was a voice processor from T.C. Electronic, which combines all these functions. The microphone input is always equipped with a 100 Hz high-pass filter with a slope of – 6dB/oct.
At a private party, the PA served as playback system for the dance floor. It all comes down to the size of the room. The mini-PA is exactly right to get 20 people on their feet dancing. However, when you push the system to its limits, unpleasant distortions are reached more quickly than with a typical PA system geared towards higher efficiency, fitted with more powerful drivers in bass reflex speakers and tweeters. As long as you're reasonable with the volume, the sound is fine.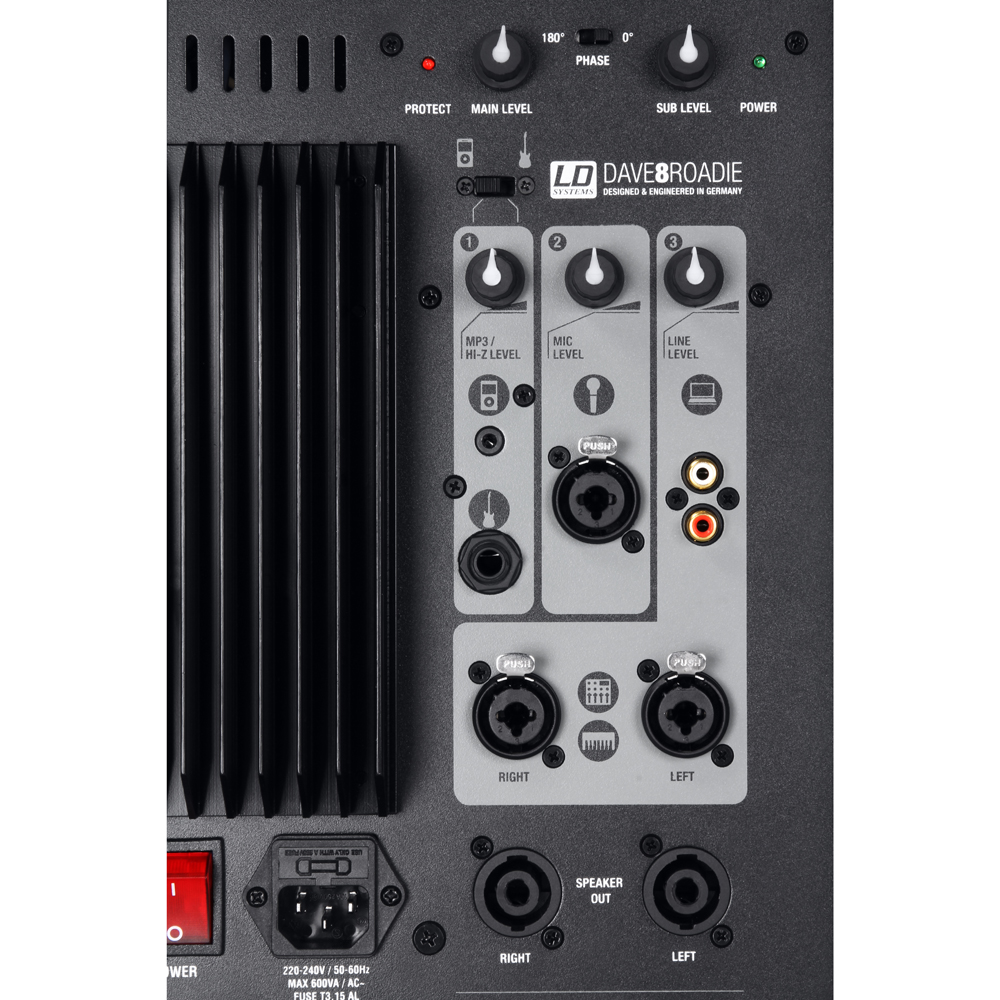 Since I enjoy exploring equipment in creative ways, I have also used the Dave 8 Roadie as bass backline, that is, as an amp for the bass guitar, in order to listen to myself in the "orchestra" so to speak. Even with a passive bass, it works very well – and even better with an active bass. You can keep up pretty well with a on-stage drum set that is not amplified. The sound is round, warm and musical.
In a stage situation with a musical band I have used a DI box in order to provide a separate output for the hall mixer, but the direct input also works just fine. A great advantage of this system is that you can direct one satellite straight to your ears while directing the second satellite to the drummer. This works superbly and is acoustically sound and space-saving – because even in this situation, sitting on the subwoofer is as comfortable as sitting on a Cajon.
The LD Systems Dave 8 Roadie focuses on small gigs, where space is at a premium for transport and for the performance itself. This compact PA is also perfectly well suited for small dance floors at family parties, where you may have been booked as a DJ or a one-man entertainer.
AT A GLANCE LD Systems Dave 8 Roadie
distribution: Adam Hall, www.ld-systems.com
Price: (RRP) LD Systems Dave 8 Roadie 469 €
LD Dave 8 Set1 (transport bags with wheels) 89 €
LD Dave 8 Set2 (tripods, Speakons and a stand bag.) 79,80 €
+ Low weight
+ compact dimensions
+ good sound quality
+ many inputs
+ sensible configuration with Mix function
+ useful accessories
For further information about the LD Systems Dave 8 Roadie, please visit:
http://www.ld-systems.com/en/series/dave-8-series/dave-8-roadie-portable-8-inch-active-multimedia-system-with-3-channel-mixer/
DAVE 8 SET 1:
http://www.ld-systems.com/en/series/dave-8-series/dave-8-set-1-transport-bags-with-wheels-for-dave-8-systems/
DAVE 8 SET 2:
http://www.ld-systems.com/en/series/dave-8-series/dave-8-set-2-2-x-speaker-stand-with-transport-bag-2-x-speaker-cable-5-m-for-dave-8-systems/
Source: Soundcheck Magazine, Germany
Author: Jan-Friedrich Conrad