Press: Cameo Light – Launch of "responsive" website + big giveaway!
The Cameo Light-website has been designed with clarity and user-friendliness in mind: www.cameolight.com new on the Internet. You can now easily find out everything you want to know about all our lighting products. Here you will find everything about lighting systems, lighting effects and PAR-projectors with LED-technology. But the new website offers greater functionality for users researching the Cameo Light brand.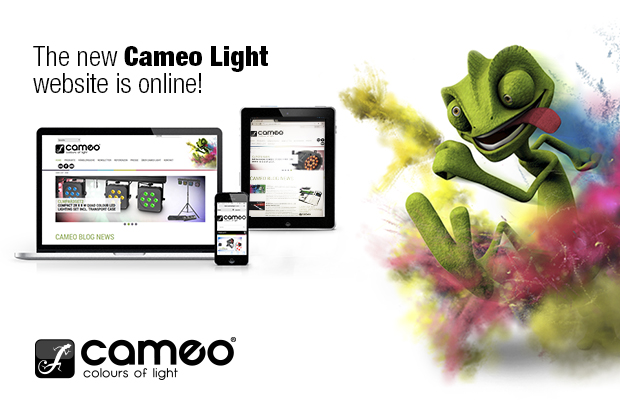 The homepage offers all kinds of information about the entire range of Cameo Light, important specifications, product images, videos and product reviews. The drop-down "Products" menu is divided into individual categories, for easy selection. With a single click, the site allows quick access to the official YouTube channel and Facebook page from Cameo Light as well as to all of the messages, press articles, and test reports in the Adam Hall-Blog.
Through the "Responsive Design", the page is optimised for viewing on a PC, laptop, tablet or smartphone, which enables you to search for products, stockists, test reports and important information on each device.
For interested customers, the "Store Locator" menu will lead you to a detailed street map of Cameo Light-retailers in your vicinity. For further searches, the button "Available at" under the product descriptions will also list all official online retailers for that specific product.
For those who always want to be in the loop, the menu item "Newsletter" will allow you to subscribe to the current Cameo Light newsletter, which will automatically enter you in an online contest by 15.01.2014.
And you could win:
1. Prize: two Cameo Light Moving Heads + a Cameo Light Fan Pack.
2. – 10. Prize:  a Cameo Light Fan Pack

Visit the new Cameo Light website at www.cameolight.com, please register for the newsletter and you could soon be one of the lucky winners!
Click here to download the Press Package (Press release in Word format in 4 languages + pictures and logos) !