Powerhouse – LD SYSTEMS "DDQ 10" – Test Report by Event Rookie
The term "screambox" comes to mind when discussing today's subject. Small, compact, light and unbelievably loud – these are the qualities which stayed with us after the first preview session.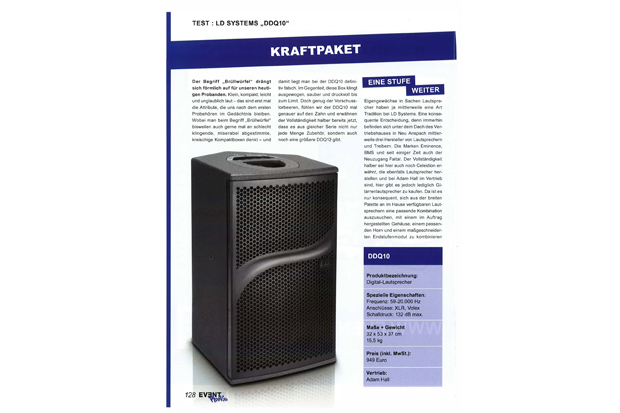 Although "screambox" has also come to be associated with bad quality, poorly tuned, screechy compact speakers, this is definitely not the case with the DDQ 10. Just the opposite, these speakers sound balanced, clean and ultra-powerful. But enough with the initial praises. Let's give the DDQ 10 a more thorough going over and mention now, for the sake of completeness, that there's not only a whole load of accessories in the same series, but also a larger DDQ 12.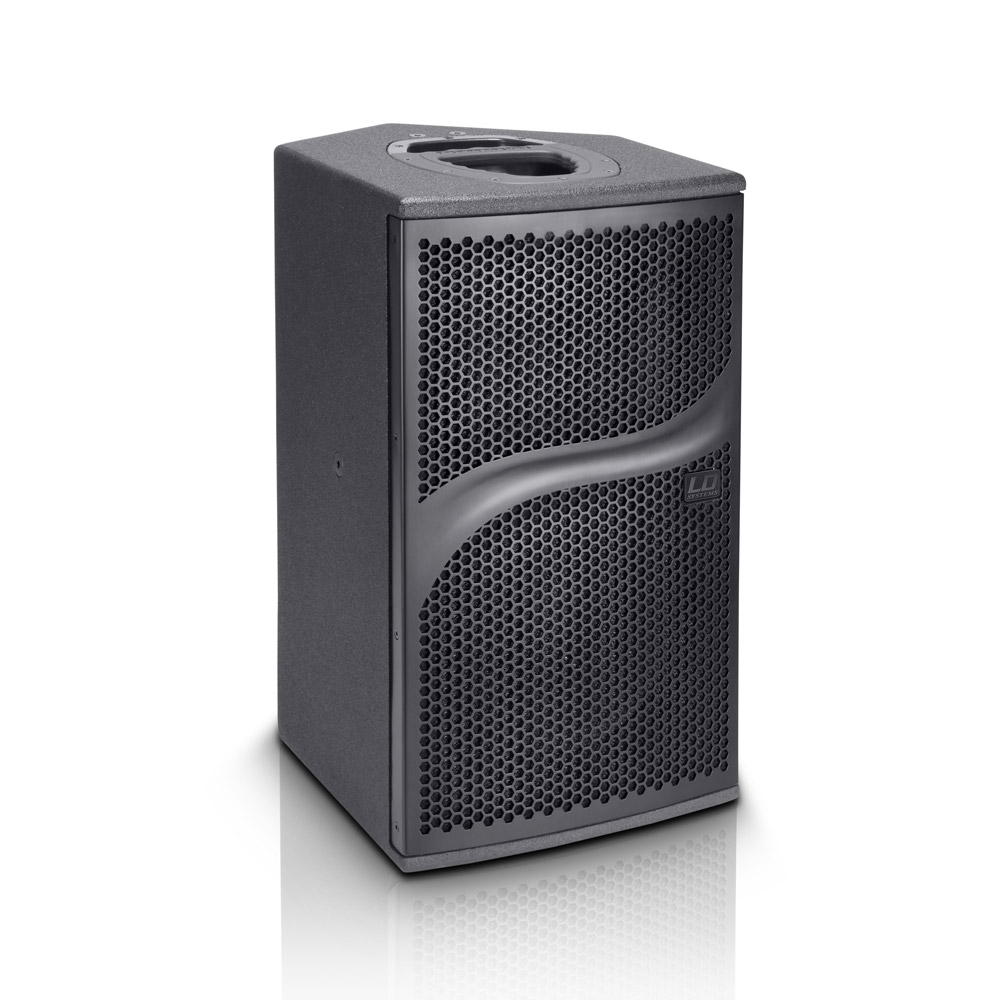 One step further
At LD Systems, home-grown speakers have become a kind of tradition. A logical decision, because, after all, three loudspeaker and driver manufacturers are now found under the umbrella of the Neu-Anspach-based distributor: the brands Eminence, BMS and, for some time now, the recent addition Faital. For the sake of completeness, we should also mention Celestion, who also manufacture speakers that are distributed by Adam Hall, although they only sell guitar speakers. It's only logical to search out a suitable combination from the wide range of speakers available within the company, with casing made to order, a suitable horn and a custom-made power amplifier, and to sell the result as their own brand in-house. The Stinger and Stinger-HP series came about in a very similar way at Adam Hall. But when it comes to the DDQ series, the Neu-Anspach-based company has taken another full step forward in terms of quality and technology.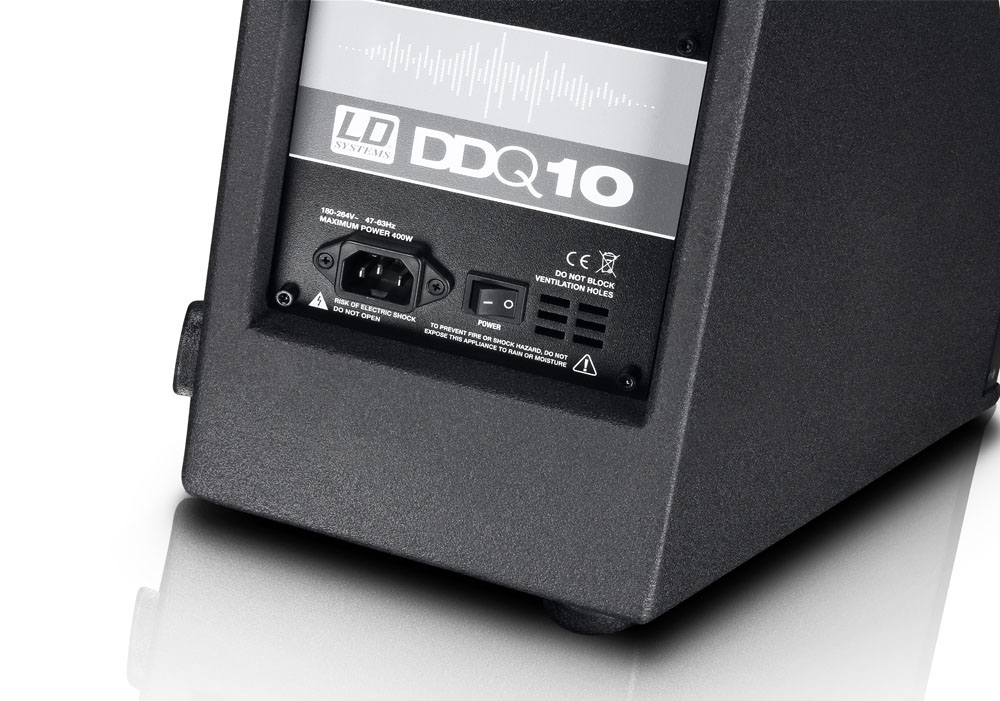 Performance and safety
This time we'll start off with the DDQ speaker's power amplifier. Here it's all digital – in terms of both the controller and the power section. The Hypex amplifier's 2 x 400 watts supply the compact speaker with a powerful kick. Another comprehensive set of converters on top provides a sensible way to keep so much energy in check. These are in the form of a SHARC DSP with 24-bit/48-kHz. What makes this DSP special is its look-ahead feature, which aims to guarantee maximum functional reliability. The limiters can – at least theoretically – predict upcoming levels and react accordingly before they damage the driver. Compared to conventional limiters, which can only ever make post-signal adjustments, this is, at first glance, a striking improvement. Of course, the look-ahead feature cannot predict the future. Instead, the signal is delayed in the DSP by a millisecond in order to allow the limiter to intercede before damage occurs. Incredibly clever and, above all, still completely inaudible during normal use. At the same time, the DDQ's SHARC DSP also handles the complete equalization and frequency distribution, and even provides a switchable low-out for an optional subwoofer. Once activated, this feature cuts out all frequencies below 100 hertz from the DDQ 10 and feeds them to a separate output, where they are handled by the subwoofer. A fine way to quickly and simply create multi-channel systems from subwoofers and satellites.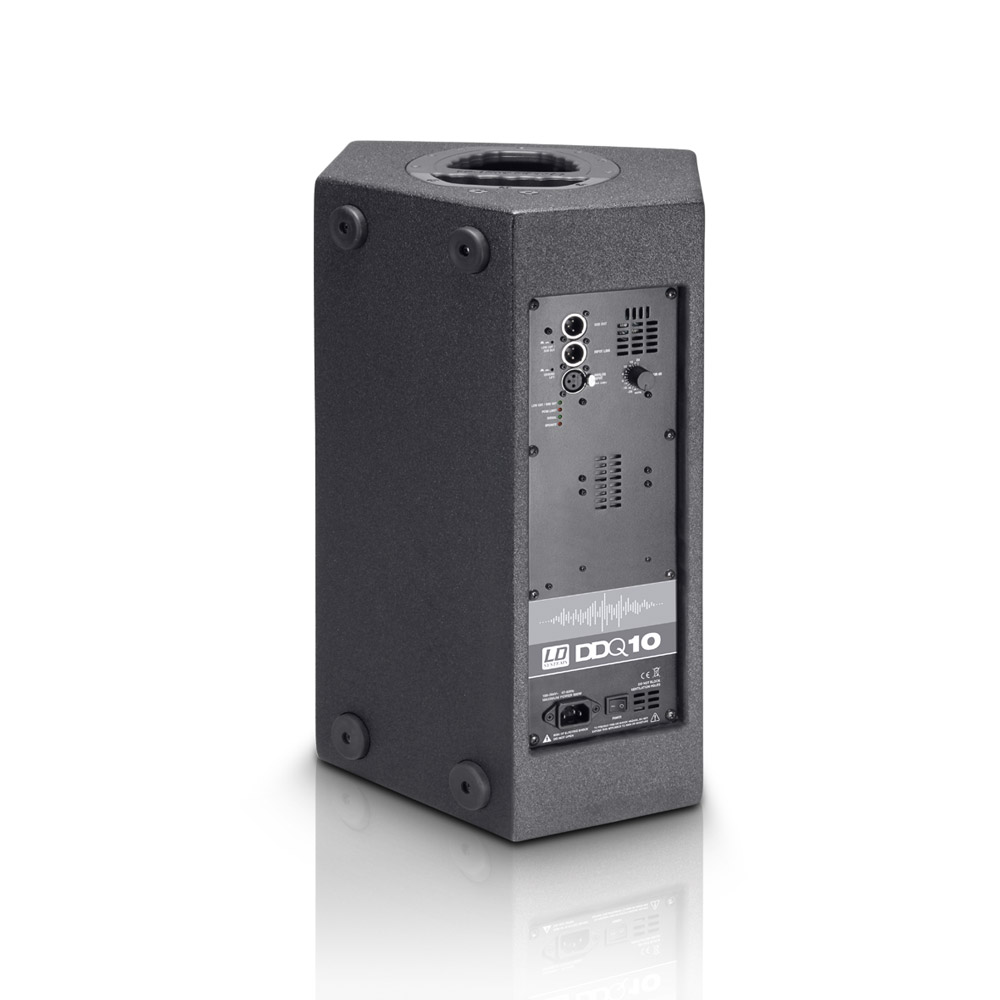 We now turn our gaze to the DDQ10's loudspeaker equipment. First, there are a few screws to turn before the both solid and stylish front grille and acoustic foam behind it can be removed. The two drivers from Faital (bass) and BMS sit cleanly flushed and fixed to the well-protected baffle. The 1″ tweeter is fitted with an adjustable, asymmetrical horn. This provides optimal sound distribution in all positions. In factory format, it provides broad distribution downwards, and narrowing distribution upwards, thereby distributing the acoustical energy over long distances just as evenly as in close proximity. For use as a monitor, Adam Hall recommends a 90° adjustment, which retains the distribution angle even in this position. Adjustment of the horn maintains the horizontal and vertical distribution properties, thereby allowing them to remain 80°x60° (HxV) even in a lying position. One annoying factor, however, is the need to always undo at least eight screws to access the baffle to turn the tweeter. Even then, it's only after another four screws that you can actually turn it. But that's not a disadvantage that's exclusive to these speakers; it's simply a problem which practically all speakers with adjustable horns have. Someone really should come up with a solution to it! And – very importantly – never turn the horn 180°, otherwise it becomes incredibly impractical as the horn's distribution is reversed.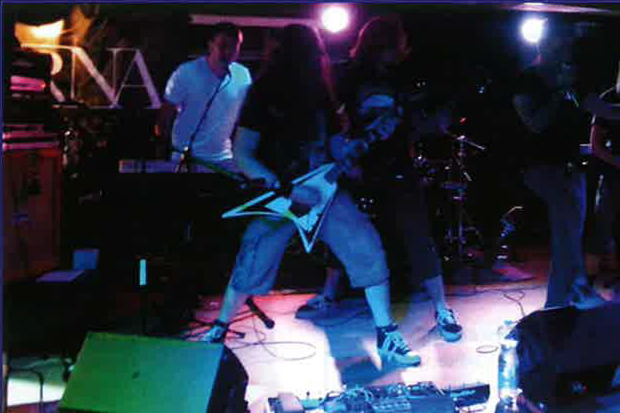 Furthermore, the DDQ 10 offers solid quality and outstanding workmanship. Cleanly designed housing, solid coating, flushed, comfortable grips and – as familiar from other LD loudspeakers – the variable flange for various tilt angles, even without the optionally available flying frame. There is also the ex works self-locking Valex mains cable as well as optional solid, tough slip covers.
Performance
The company provided us with four DDQ 10s, which practically demanded a baptism of fire as monitors. This was no sooner said than done, and as so often happens, the test subjects were put to use at Bauhaus youth centre. Used instead of the in-house 12″ wedges there was, of course, at first light head-shaking among the metal lovers present. Only after the first sounds from the very compact 10 inchers was everyone satisfied, even the bassist and drummer.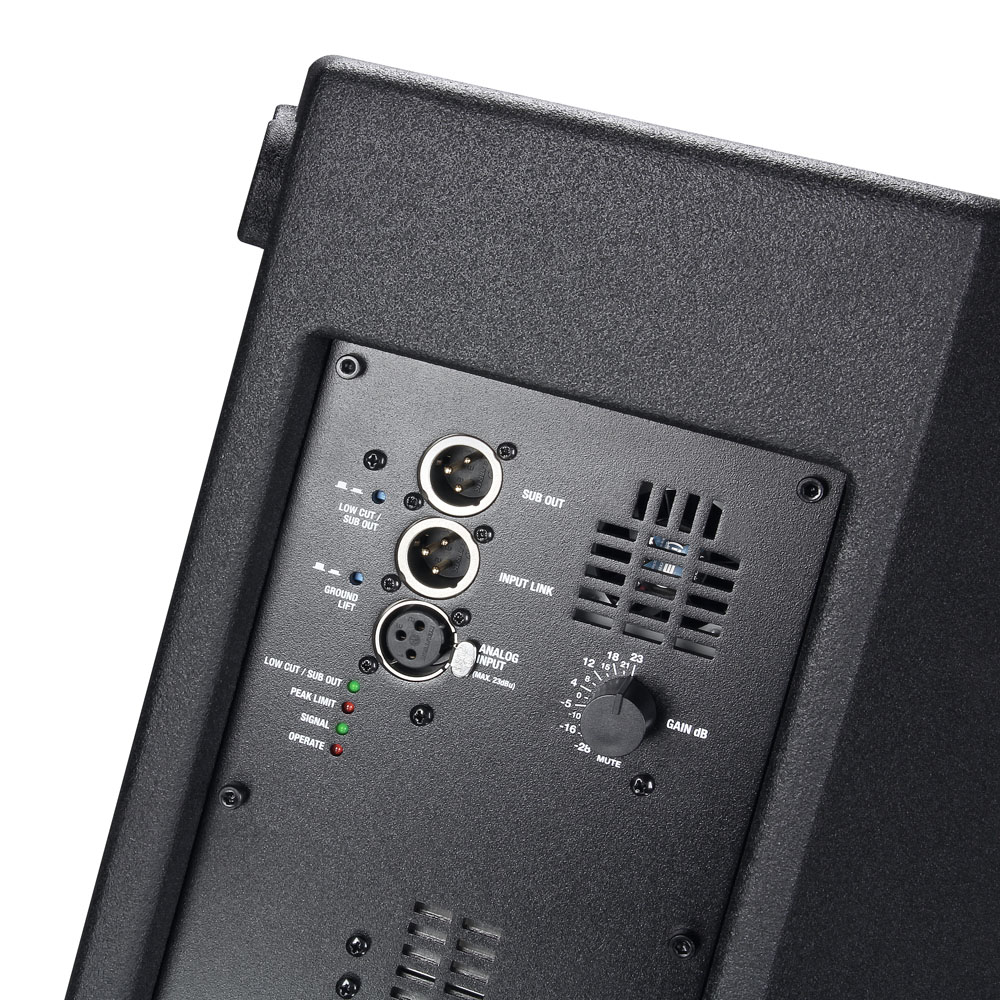 As usage as monitors naturally holds no validity as a full endorsement of the sound, we then lent two of the four speakers to a DJ friend for use at a wedding party. "Tasteful sound" in the wine cellar was requested. Not too loud, but good, was the wish of the wedding couple. Honestly, our friend still had a grin on his face when he brought them back. He didn't even unload the subwoofer he took just in case from the car. And at no point were there any complaints about the sound from the 50 guests on the dance floor.
Conclusion
Compact, powerful and tonally very appealing – we really can't think of anything to immediately fault with these loudspeakers. The small DDQ 10 is suitable for both providing audiences with sound and use as a monitor. To a certain degree, the use of a subwoofer can even be forgone when used for audiences. There will almost certainly be something coming out of the DDQ series for the low frequencies, which will optically and technically extend the frequency range downwards just right. For that, the price causes a few frowns. A whole €949 is listed as the recommended retail price, placing the DDQ 10 squarely alongside established and accepted systems. This speaker can absolutely compete with premium brands in terms of sound and performance.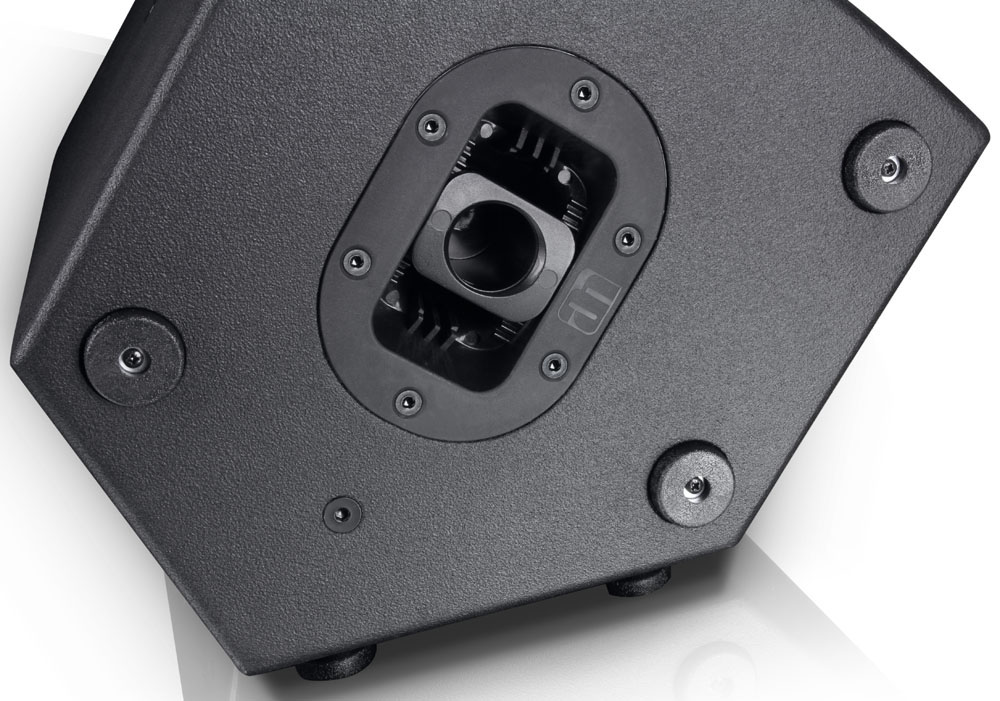 DDQ10
Product description: Digital loudspeaker
Special properties: Frequency: 59-20,000
Hz Sockets: XLR
Volex sound pressure: 132 dB max.
Dimensions + weight: 32 x 53 x 37 cm, 15.5 kg
Price (incl. VAT): € 949
Distribution: Adam Hall
Further product information:
http://www.ld-systems.com/en/series/ddq-series/ddq-10-10-inch-active-pa-speaker-with-dsp/
Source: Event Rookie, Germany, October 2013