Online now – the brand-new LD Systems website with "responsive" design
The LD Systems website is online now with a fresh, new design. At http://www.ld-systems.com/en/home/, the brand is presenting itself with easy-to-follow menus and numerous new features that enable users to find new products, dealers, test reports, and much more quickly and selectively.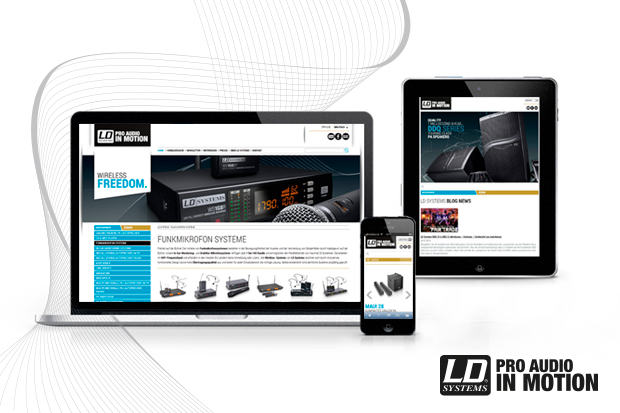 The new layout emphasises clarity and user-friendliness: the "responsive design" adjusts automatically to PC, laptop, tablet or smart phone and thus provides all visitors to the site with the same information.
One highlight is the new menu item "Dealer Search", which leads interested customers to the current official LD-Systems in their vicinity and shows how to get there on a detailed map. The dealer search is supported by the "Available at" button under all product descriptions, which displays a list of all online dealers who sell the product.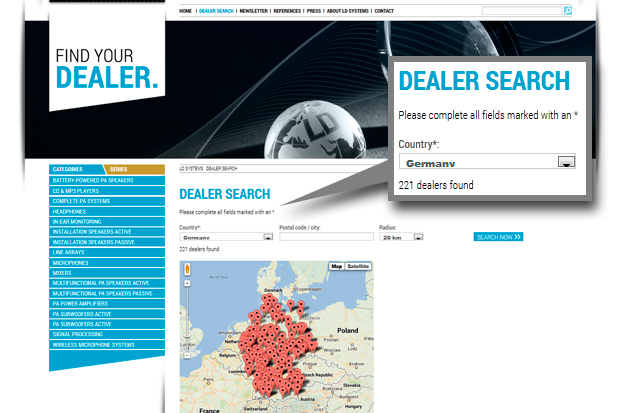 Other new features include the menu entry "References", which retrieves all reports about LD Systems in the Adam Hall blog, and the integration of the Adam Hall blog on the home page with all product news, press reports, test reports, info, and tutorials.
Products can be selected very conveniently using the colour-coded category and series buttons. The respectively available accessories are practically listed at the end of each product entry.
Filters make life easier
With just a few clicks, it is possible to limit searches so that it is incredibly easy to find the right product.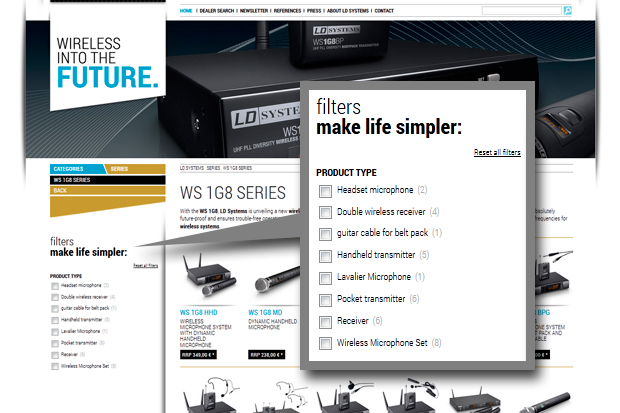 The "Downloads & Links" and "Videos" buttons list user manuals, photos, test reports, and press releases for downloading and open videos about the product that can also be selected directly via a camera icon.
See for yourself what a wealth of information is available at our new LD Systems website http://www.ld-systems.com/en/home/, how fantastically easy it is to use, and how interesting it can be to browse the online catalogue!
Click here to download the Press Package (Press release in Word format in 4 languages + pictures and logos) !