Enough to make (not just) a mother proud – Palmer's new distortion pedal – Test Report by bonedo.de
bonedo tests the Palmer Mutterstolz – While other manufacturers give their distortion pedals names like Totenschläger, Röttweiler or Pisdiyauwot, the team in Neu-Anspach, Germany was very modest indeed, and even took the opposite approach. Their latest product, a distortion pedal, answers to the name Mutterstolz (i.e., "Mother's Pride"). Maybe there is also a strategic reason for this; after all, Mutterstolz looks a lot better on a Christmas wish list than, for example, Totenschläger.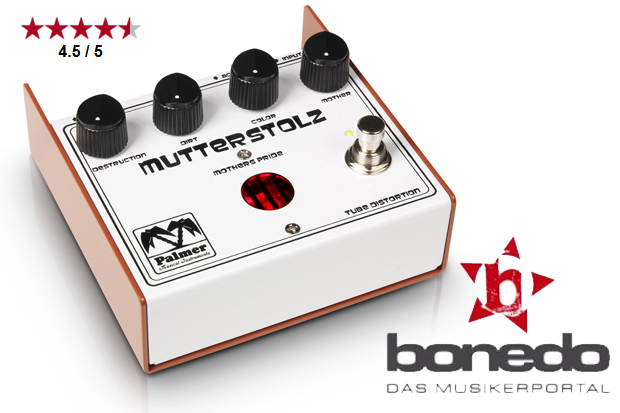 So the question is, what kind of mother would take pride in a distortion pedal like this one, and what kind of tricks can it do to make a mother a proud?
Details
Housing/looks
The Mutterstolz is made of sturdy sheet steel. Its housing consists of two nesting, U-shaped pieces fastened to one another with screws, whereby the bottom part with the sides is a little longer and protrudes at the front. This means that the pedal has a larger footprint, but this additional space is needed anyway, since that is where all of the connectors (input, output, power supply socket) are attached. The longer base plate also offers two major advantages. For one thing, there are two holes that can be used to screw down the pedal on an effects board. Moreover, the extended sides provide somewhat better protection for the plugs against rampaging fellow musicians.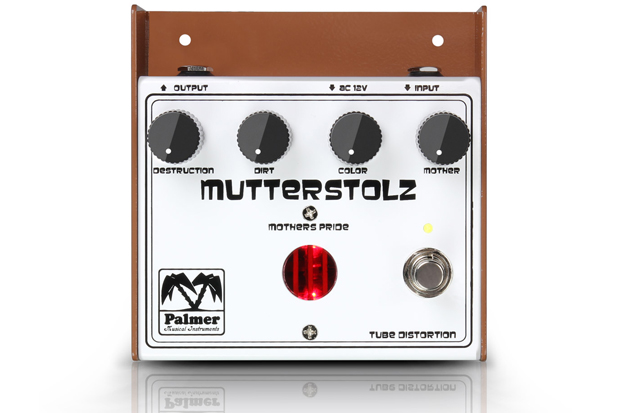 The colour scheme of the pedal is white and brown. All of the controls are on top. These include for knobs in the top row and a switch at the lower right. A small LED serves as a status indicator. It lights up red when the effect is on and green in bypass mode. While we are on the subject of bypass, it should also be noted that our candidate has true bypass circuitry, so the input signal is sent directly to the output when the distortion pedal is inactive.
The heart of the Mutterstolz is an ECC83 tube that is also accentuated optically behind a small, red Plexiglas cover. The tube circuitry requires a little more voltage; the usual 9 volts isn't enough in this case. The unit must be powered with 12V alternating current and, accordingly, also draws a lot of current for a distortion pedal, namely 370 mA. So battery power is not an option, but the manufacturer includes a matching power supply. If you plan on connecting the unit to a universal power supply on your pedal board, you should make certain beforehand that it can also deliver enough juice to this thirsty mama's boy. The pedal is certain to stay put, since the entire underside is covered with thick rubber. All of the hardware seems very solid indeed and lives up to Palmer's reputation for building rugged equipment that stands up to even the toughest live use.
Operation
For setting the distortion sound, there are four knobs labelled Destruction, Dirt, Color and Mother. Destruction and Color are pretty much self-explanatory. These are the distortion level and tone controls. Dirt controls how "dirty" the distortion sound is; at higher settings, overtone density and sustain are increased. Of course you will hear more about this in the practical part of the test. The fourth knob is a reflection of real life, since mother always has the final say. Appropriately, the Mother knob controls the ultimate volume.
Praxis
Mama's favourite is dedicated to tube sounds, and this is reflected by the available tones. If it's a gain monster with endless sustain that you're looking for, you should know right away that you are barking up the wrong tree. Instead, it offers a very broad palette of distortion sounds from light overdrive to full throttle rock. The Dirt control really shines here, which also sets the Mutterstolz apart from the "standard" distortion pedals. If you turn it all the way back, the pedal produces a clean overdrive sound and the level of distortion can be set very precisely using the Destruction control. With a low proportion of dirt, this makes it possible to attain nice blues and crunch sounds.
Things get a little more intense if you increase the amount of dirt. With maximum distortion and dirt, we are almost in fuzz pedal territory. Then the Mutterstolz sounds like an amp that really needs to have its tubes replaced. A slightly scratchy distortion that some guitarists love because of its unmistakeably rough-and-ready sound, but with no worries that the amplifier is about to give up the ghost. These two sounds – light overdrive and "hoarse tube fuzz" are the two extremes that the Mutterstolz has to offer. Everything in-between is doable, from an official AC/DC rhythm guitar sound to a dirty crunch or a lead sound with a little more gain.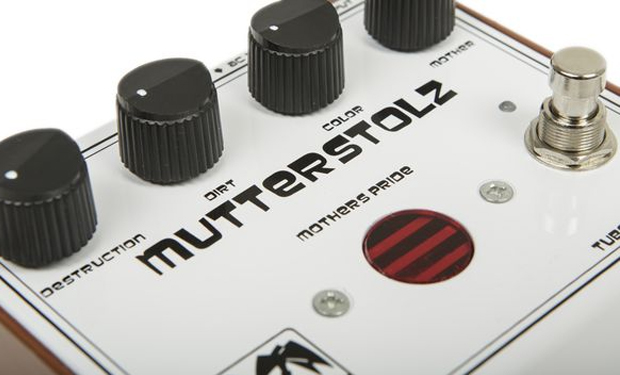 Turning up the Dirt knob makes the sound a little more compact and generates a little more sustain, but we are still generally in the upper mid-gain range. The compression behaviour is not to extreme even at higher settings. The pedal sounds airy and surprises with extremely good dynamic response. Even at high levels of distortion, it is still possible to control the intensity by varying your attack. The Color knob also offers very good tone control; the bandwidth is chosen so that the sound that comes out of the speakers is never unpleasantly spiky even when the knob is turned up all the way.
Audio samples
All controls in the middle position, first with a light attack, then hard:
http://www.bonedo.de/artikel/einzelansicht/palmer-mutterstolz-test/2.html
Conclusion
Mother can indeed be proud of her little one. He does his job well and provides the guitarist with distortion sounds that score points for tonal diversity and dynamic response. That's no accident, because the rugged little box contains tube circuitry with a built-in ECC83 and also offers the response that is typical for real tubes. The sound is controlled with the three standard controls for distortion level, tone, and volume: a knob labelled "Dirt" additionally offers a the finely adjustable, desired amount of dirtiness. So of course the Mutterstolz has an ace up its sleeve, which permits very flexible tone control. It probably is not the first choice for hi-gain and metal enthusiasts, but above all it will probably please guitarists who love crunchy tube sounds.
Pro
Workmanship
Tonal diversity with Destruction and Dirt controls
Dynamic responsiveness even with high-gain
sound
Contra
12 V connection
High power consumption for a distortion pedal
Specifications
Manufacturer: Palmer
Model: Mutterstolz
Type: Distortion effects pedal for guitar
Controls: Destruction, Dirt, Color, Mother
Tube: ECC83 Connections: Input, output
Power consumption: 370 mA
Voltage: 12V AC (power supply included)
Dimensions: 120 x 150 x 60 mm (W x D x H)
Weight: 0.84 kg
Price: EUR 128.00 RRP
Complete product information is available here:
http://www.palmer-germany.com/mi/en/MUTTERSTOLZ-Tube-Distortion-Pedal-PEMUTT.htm
Source:
www.bonedo.de, Germany
Author:
Thomas Dill