Lighting puts performances, stages and venues into a vibrant, colorful perspective whether it's just a few PAR cans in a small club or huge rigs at major events.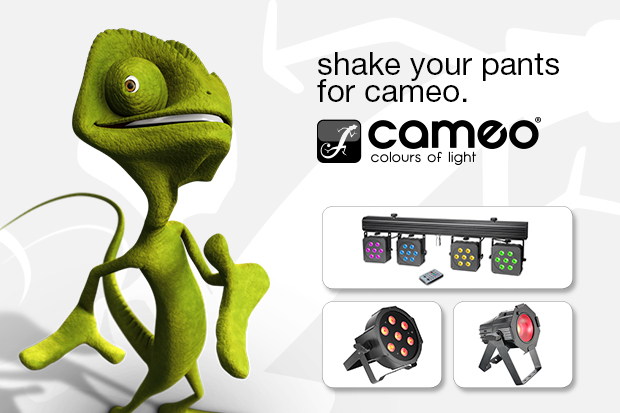 The Cameo range of products comprises a large selection of state-of-the-art LED lights and accessories for a wide variety of demanding applications. LEDs provide many advantages over conventional lighting equipment such as energy efficiency and durability, and performers appreciate them for their cool operation: LED lights generate very little heat.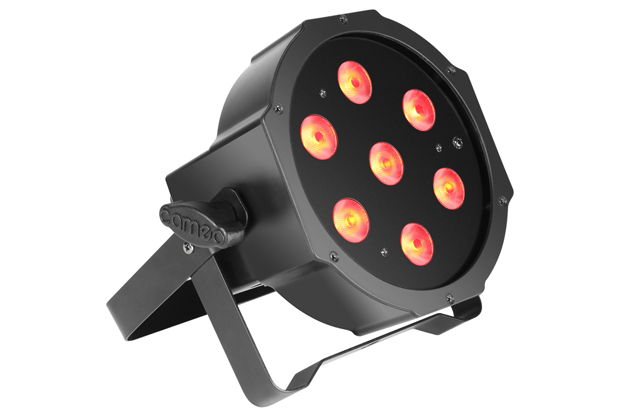 Let's take a closer look at some Cameo highlights and their noteworthy features. The CLPFLAT1TRI3W is a space-saving take on the classic PAR can featuring seven ultra high performance RGB LEDs that provide natural colors with superb luminosity and a 30° beam angle. Made from sturdy lightweight ABS end equipped with a double yoke bracket the flat design easily integrates into various environments.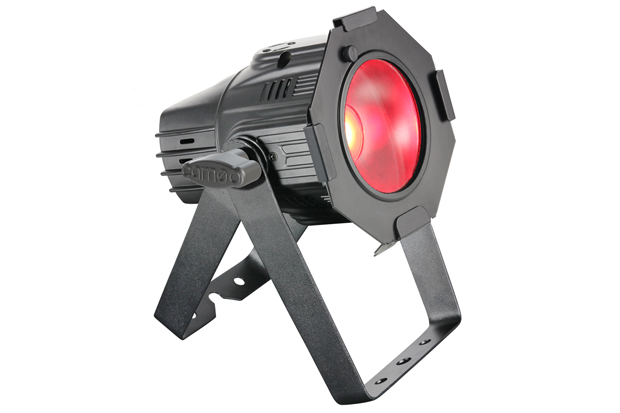 Available in black and white with easily adjustable twin brackets for truss, floor and other mounting options the CLPSTMINICOB30W is  powered by a single 30 watt COB (chip-on-board) LED. Using the RGB additive system this compact studio PAR light creates rich colors and pastel hues alike with uniform coverage and a wide 55° beam angle.
Like all Cameo products the CLPFLAT1TRI3W and CLPSTMINICOB30W fixtures feature sophisticated functionality such as DMX control in 2-channel, 3-channel 1, 3-channel 2 and 6-channel modes, sound activation to the beat of the music and eye-catching strobe effects. They are affordable additions to any lighting rig and capable of master, slave and standalone operation with uncluttered LCD displays and Mode, Enter, Value Up and Down keys providing convenient menu access.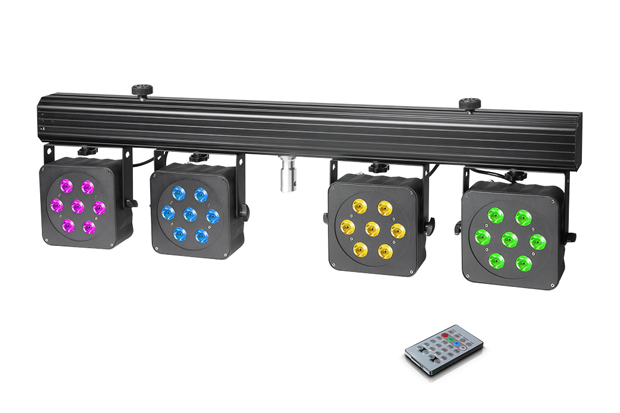 With the CLMPAR3 Cameo introduces a highly versatile, compact all-in-one rig for easy portability and professional lighting design. Mounted to a bar with integrated controls and connectors the four flat-design PAR cans feature seven high-luminosity 8 watt quad LEDs each for extremely natural RGBW colors, 25° beam angles, convection cooling and individual coverage adjustment.
The CLMPAR3 can be controlled via seven selectable DMX modes, the included IR remote, an optional footpedal, or the function keys and display combo. Incorporating newly designed software with a wealth of advanced programs and functions it is also capable of standalone operation. The addition of switchable Schuko sockets provides power to external components for extended lighting options.
For a complete overview of the Cameo range and detailed product descriptions download the catalog at www.cameolight.com.
More information about the products can be found here:
http://www.adamhall.com/en/FLAT_PAR_CAN_TRI_3W_-_7_x_3_W_TRI_Colour_FLAT_LED_PAR_Can_RGB_in_black_housing.html
or
http://www.adamhall.com/en/Cameo_Studio_Mini_PAR_COB_30W_-_30W_COB_LED_PAR_Can_RGB_in_black_housing.htm
or
http://www.adamhall.com/en/Cameo_Multi_PAR_3_-_Compact_28_x_8_W_QUAD_Colour_LED_Lighting_Set_incl._Transport_Case.htm