Palmer DREI – the power of three tubes – a test report from Delamar.de
In the Palmer Drei test report, we have an unusual concept on the test bench: it houses no less than three separate power amplifiers with different tubes. The sound of the guitar amplifier can then be mixed continuously according to your own taste – how good that sounds and what else this tube amp has to offer, you can find out here.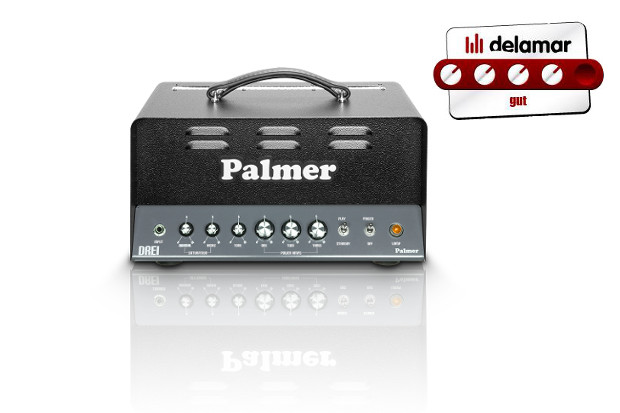 What is it?
The Palmer Drei is described as a "triple single-ended amplifier", and therefore offers three power amplifiers. Each features a single-ended tube circuit (class A) with 5 watts each, which should provide for a direct playback feeling, very dynamic response and natural sounding distortion. The amplifiers can be fitted with different tubes to produce unique sound characteristics; an EL84, 6V6 and 6L6 are provided by default. The preamp features an ECC83 tube. It can be saturated with two dials, one of which is responsible for the highs.
The housing of the top part is made of 2.5 mm thick sheet steel. It measures 39 x 25 x 23 cm and weighs only 15 kg.
The current street price is 998 euros (including VAT).
Palmer Drei test report
First Impression and Craftsmanship
The design would certainly receive a satisfied nod from Dieter Rams: simple, well-proportioned elegance and sobriety. The labelling of the front panel is very refreshing – all terms are in German. My favourite: »Lampe (lamp)«.
The craftsmanship is at the highest level, in accordance with its price: everything is solid, the materials leave nothing to be desired. Except for a minute detail, namely that the distance between the three controllers of the amplifier is quite short, due to its small size, and thus the sound control becomes a bit fiddly if you have big hands, everything is hunky-dory in terms of haptics. The carrying strap is somewhat angular for delicate fingers, but still sufficiently comfortable to grasp. I am impressed that a two metre long XLR jack cable for immediately connecting a guitar or bass is included in the package.
Nice feature: the manual in English and German contains a section where you can find the settings for the controllers, with which you can achieve the typical sounds associated with different genres. Even so, a look at the manual is highly recommended.
Details on the Palmer Drei
As mentioned above, you can put several types of tubes in the amplifiers – EL84, 6L6, 6V6, KT90, KT77 and EL34 are possible. This should provide enough room for manoeuvring, if you have a very specific sound in mind.
On the front panel, two saturation sliders are located for the outputs of the two preamps, to provide power to the tubes, whereby you can adjust the preamp in charge of the higher frequencies. This is followed by the "Klang" (sound) controller, which is similar to the tone dial on a guitar, for example, and therefore includes a low-pass filter. In conjunction with the tubes arrangements described below, this provides for a remarkable sound flexibility.
In channel one, the EL84 produces prominent highs and crunchy mids. Channel two is loaded with a 6L6 and provides warmer, thicker sounds – particularly great for blues. Channel three is fitted with a 6V6 and provides low-frequency punch, while the highs still remain present. The differences are easily audible and enable a wide sound spectrum – especially when they are used together.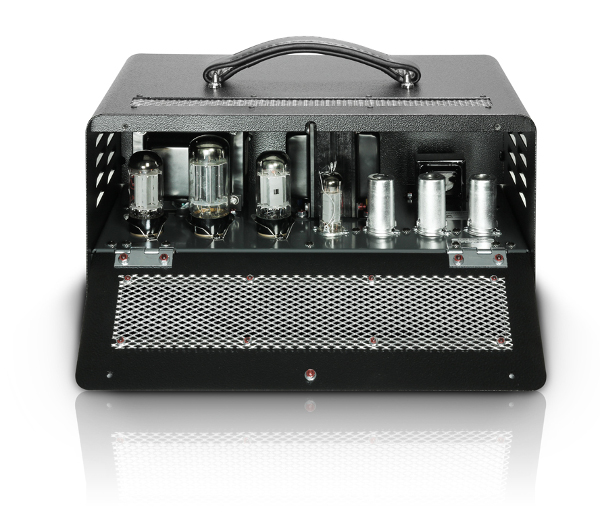 The real attraction of the Palmer Drei is the trio of master controllers for the three power amplifiers. With these, you can mix the output volume of the EL84, the 6L6 and the 6V6 continuously to create a hybrid sound according to your taste. Thanks to the different characters of these three tubes, various nuances of sound are possible, very nice!
It is a shame that no master controller has been integrated into the design of the guitar amp. A final volume setting, after the sound has been adjusted, is unfortunately not possible. This unfortunately also means that, at maximum distortion levels, the amp becomes accordingly loud. And this is clearly only possible after the room volume has been reached. Through its single-channel structure, most guitarists will use a distortion pedal, anyway.
At the back, you will find the socket for the supplied power cord, three jack outputs with an output impedance of 4.8 and 16 ohms and a small switch to change the voltage from 115 to 220 volts. It is here that I miss sockets for creating an effects loop. With a purchase price of just under 1,000 euros, it wouldn't be too much to ask, in my view – purism or no purism.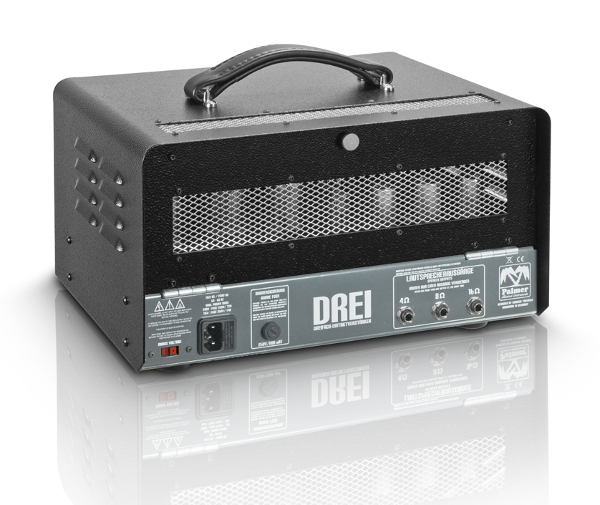 "Sound in the Palmer Drei test report" – the sound samples can be found here: http://www.delamar.de/test/palmer-drei-testbericht/2/
Pros:
+ sound mix of three tube power amplifiers
+ saturation slider for additional sound adjustments
+ high dynamic response + very well finished
Cons:
– No master control
– no effects loop
Conclusion on the Palmer Drei test report
The Palmer Drei convinces with the many nuances of sound which can be achieved thanks to three miscible tube amplifiers. And, because the tubes can be replaced by other models, you can expect a whole new level of flexibility, wonderfully complemented by the highly dynamic response of the single-ended circuits. The device is further enhanced by the two controllers for frequency-specific saturation.
For rehearsals and gigs at smaller venues, the volume is sufficient, especially if all three tubes are incorporated into the blend. For me, however, the perfect application for this amp seems to be the studio – all the sound nuances and offered playback dynamics which can be achieved, are almost too good for playback over a lousy PA system. In addition, the sound flexibility of the single-channel precludes live performances.
The craftsmanship is outstanding. All the components, the choice of materials and the composition are perfect. The design is of course a matter of taste, or at least makes a clear statement. And I like that.
It's a shame that the minimalism of this amp was taken so far, that there is no room for accommodating any effects devices. Also, a master controller for the final volume control is not integrated. In view of the purchase price, I would have really liked these features; other devices in the same segment offer more possibilities.
All in all, we have here an outstanding, highly flexible and very dynamic-sounding amp, that comes across as very purist – which has its charm for some, but is perhaps not so appealing to others. So, finally, I give the Palmer Drei four points out of five in this test review on delamar.
At a Glance
Palmer Drei test report "The combination of three tube sounds is designed mostly for studio musicians who have a precise idea of the sound they're after."
Key Features:
– guitar amplifier (top part)
– a tube preamp (1 x ECC83) – three tube amplifiers (1 x EL84, 1 x 6V6 and 1 x 6L6)
– single-ended circuits (class A)
– 3 x 5 watts
For whom: guitarist looking for pure tube sounds in all conceivable combinations and a dynamic response.
__________________________________________
Source: Delamar.de, Germany, 2013: http://www.delamar.de/test/palmer-drei-testbericht/
Author: Carlos San Segundo
Complete product information on the Palmer Drei is available here:
http://www.palmer-germany.com/mi/en/DREI-Triple-Single-Ended-Amplifier-PDREI.htm