Discover the product world of Adam Hall – come to prolight+sound 2013!
Once again, Adam Hall is set to unveil some exciting new products at its main booth in Hall 8.0 C50 (Adam Hall) and directly opposite in Hall 8.0 C48 (LD Systems).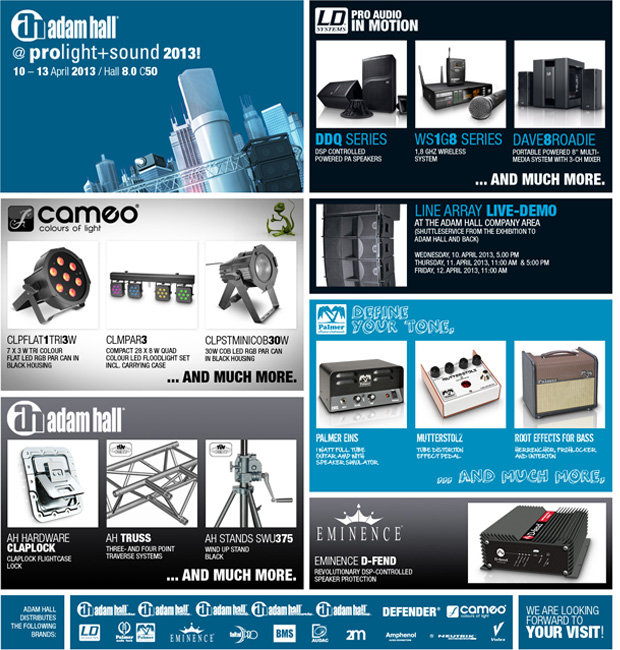 The new products branded LD Systems (Hall 8.0 Booth C48) include the new DDQ full-range active speakers. The new DDQ Series with its trendsetting technology is the new brand flagship. With the WS1G8, LD Systems is unveiling a new wireless system that makes it the second manufacturer to offer a 1.8 GHz system. LD Systems has once again realised its philosophy "pro audio in motion" with the ultra-compact DAVE 8 Roadie 2.1 system. It is extremely easy to transport and comes with impressive features.
Visitors can look forward to live music, a big prize drawing, and much more.
There are also new products to be seen at the main Adam Hall stand (Hall 8.0 C50).
With the ClapLock, ah Hardware is unveiling an innovative (patent pending) solution for locking flight cases that is not only especially practical, but also extremely elegant. The SWU375 by ah Stands is a matte-finish, professional wind-up stand that is suitable for a wide range of applications. Under the name ah Truss, Adam Hall now offers the extremely versatile three- and four-point TRI 290A and QUADRO 290A systems.
The Cameo brand also has a lot to offer this year. Take the new CLPFLAT1TRI3W, for example – an especially flat, bright PAR light with seven ultra-high-performance 3W TRI-LEDs.
Of course that's not all; there are plenty of other surprise highlights in store
– the entire Adam Hall team is looking forward to your visit!
____________________________________________________________________________
So you are interested in our line arrays? Again this year, you have the chance to participate in one of three product demonstrations being held right on our premises. A shuttle service will bring you from the Musikmesse to Neu Anspach and back again. Please make an appointment for a demonstration with a sales consultant at info@adamhall.com.
Wednesday,
10 April 2013, 5.00 pm
Thursday,
11 April 2013, 11.00 am & 5.00 pm
Friday,
12 April 2013, 11.00 am
For additional information, go to:
http://adamhall.com/
or
http://pls.messefrankfurt.com/frankfurt/en/besucher/ausstellersuche.exhibitordetails.html/adam-hall-gmbh.html