Palmer Pocket Amp – For your wish list – Test Report by gitarist.nl
The Palmer Pocket Amp is multi-purpose and yet inexpensive. The ideal Christmas gift for the electric guitarist? Palmer made its name with the PDI 03 speaker simulator, which you can find in many professional guitarists' racks. You can therefore happily assume that they know exactly how to simulate the sound of an amplifier. And that is precisely – but not only – what this compact Pocket Amp does.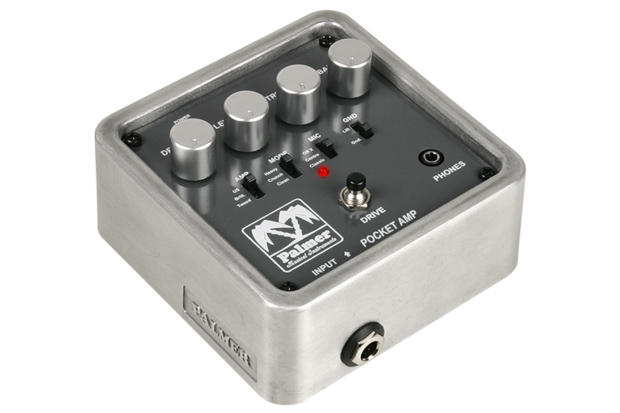 Design
You can still practice with it courtesy of the headphone input and aux-input (for an mp3-player). You can also connect it between your guitar and amplifier using the jack output. You can also connect it directly to a mixing desk or audio-interface using the XLR-output. Finally it also functions as a normal DI-box if the drive circuit is switched off. Once the battery is installed and a guitar cable is plugged in, the green LED lights up. Pushing the small, black switch activates the drive circuit, indicated by a red LED. The switch is clearly intended to be operated by hand, which is logical as the Pocket Amp is a true desktop unit. The drive section consists of four rotary controls and the same number of switches. The drive-, level-, treble- and bass controls are used to set the amplifier set-up selected with the switches. There are three amplifier types (US, Brit and Tweed), each with three 'channels'' (Clean, Crunch and Heavy). A third switch selects the microphone placement (Classic, Centre and Off X) and finally you can activate ground lift to get rid of an earth loop.
Sound
The names of the amp sounds give a good general idea of their nature. Tweed has a good deal of compression and stays clean for longer, Brit has a full middle and more gain. US doesn't differ greatly from Brit, but there is a bit less emphasis on the midtones. The microphone positions seem quite extreme to me but give a kind of extra EQ. So the Off X-position is good for metal, with its harder sound with a scooped middle.
Conclusion
The Pocket Amp is a handy piece of equipment, as usable on the sofa at home as in the studio. We were especially impressed by the clean (Tweed) sound, with which we were able to dial up some fairly convincing funky riffs and ballads. The shred sounds were a little on the threadbare side (it would have been nice if one of the settings had a more rounded sound). but certainly sufficient to hone your shredding technique in peace and quiet. Put it on your list.

TEST RESULTS
PALMER MI PEPAMP – POCKET AMP
– We liked: Connection options; varied sounds
– We didn't like: Shred sounds a little threadbare
RECOMMENDED PRICE: € 87.-
COUNTRY OF ORIGIN: China, designed in Germany
TYPE: analogue amplifier modeller and DI-box
DIMENSIONS: 55 x 100 x 100 mm (hxbxd)
CONNECTIONS: guitar input, jack output, XLR output, aux in, headphone output
ROTARY CONTROLS: drive, level, treble, bass
SWITCHES: drive, amp (Tweed, Brit, US), mode (Clean, Crunch, Heavy), mic (Classic, Centre, Off X) gnd (Gnd, Lft)
POWER: 9-volt battery or adaptor (not included)

For more information go to:
http://www.palmer-germany.com/mi/en/PEPAMP-Pocket-Amp-PEPAMP.htm
Source: http://gitarist.nl, Netherlands, July 2011