Discrete looks, utmost stability – Adam Hall unveils TÜV-certified Wind Up Stand
With the SWU375, Adam Hall is unveiling a new, highly professional wind up stand in a matte black version that prevents disturbing light reflections. This makes it suitable for a wide range of applications: in event technology, film, and photography in both mobile and stationary use.
The TÜV-certified design is engineered for maximum safety and stability. The cable pulls and steel tubes of the SWU375 are generously dimensioned. There are dual locking mechanisms in the form of a safety catch and locking screw.
The built-in safety catch in the crank casing prevents unintentional and uncontrolled lowering of the load. Steel-cored rubber feet ensure that the stand stays put. One of the three legs is extendable, permitting compensation for uneven floors. The stand is designed for a maximum load of 30 kg.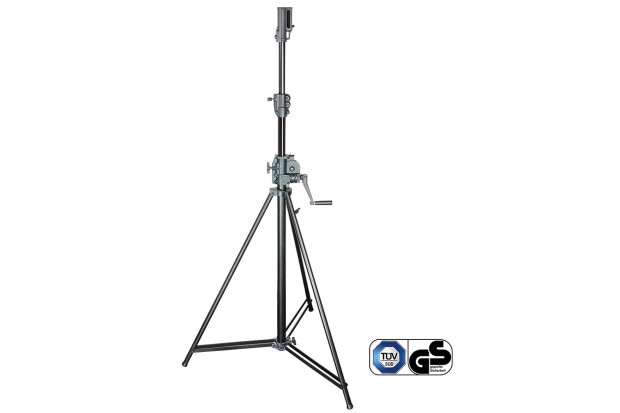 For attaching lights, the SWU375 has adapters for 16mm and 28mm spigots as well as a 16mm spigot. It extends conveniently to a maximum height of 3.75 m and weighs 21 kg. An accessory step is available separately.
The professional Adam Hall wind up stand is already available at a price of € 399.00 (RRP).
Click here for more information about this product:
http://www.adamhall.com/en/Adam_Hall_Stands_SWU_375_-_Wind_Up_Stand_black.html
Click here to download the Press Package (Press release in Word format in 4 languages + pictures and logos) !