Adam Hall enters into European distribution partnership with platform manufacturer 2M
Effective immediately, Adam Hall's product category "Truss & Stage Accessories" includes a wide selection of professional stage platforms. With the German manufacturer 2M Theater & Veranstaltungstechnik GmbH, Adam Hall GmbH has gained as a partner a modern company with a successful past and a promising future for the Europe-wide distribution of professional stage technology.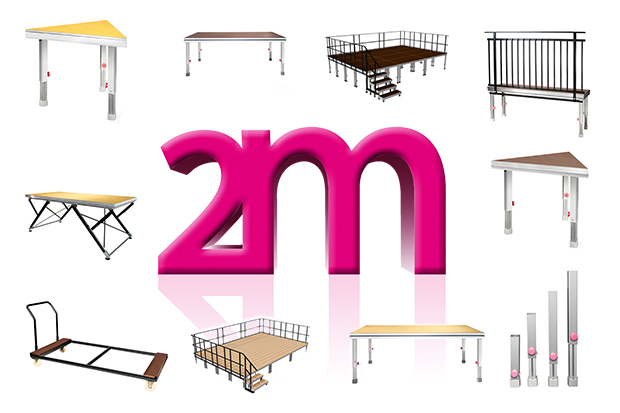 "After a long search, in 2M, we have found the right partner for professional stage platforms. Quality, compatibility, support, exceedingly fast delivery with outstanding value for money, and all made in Germany – with 2M, is in an ideal position Europe-wide," says Markus Jahnel, managing Director and Authorized Officer at Adam Hall GmbH.
New at Adam Hall are the stage elements ERGOcom, ERGOtrend and ERGOflex, which, by virtue of their varying support mechanisms, are suitable for various applications. These include, for example, open-air events, theatres, studios, community and multipurpose centres, trade fair and industrial halls, hotels, and much more.
The ERGOcom stage element is a scissors-type platform with an aluminium profile – and a steel scissors structure. High-quality, diecast zinc parts connect aluminium and steel to form an extremely convenient, smoothly functioning, and durable unit. Generously dimensioned load distributors permit stability at any height.
All information about the ERGOcom stage element can be found here:
http://www.adamhall.com/en/ERGOcom_Series.htm
The lightweight among stage platforms goes by the name ERGOtrend. The ergonomically shaped aluminium upper frame permits carrying even over extended distances. Both the outer and inner multifunctional channels are used to attach system accessories and ensure compatibility with all standard platforms. The platform is individually adjustable for height and capable of levelling even uneven floors perfectly.

All information about the ERGOtrend stage platform can be found here:
http://www.adamhall.com/en/ERGOtrend_Series.htm
The ERGOflex stage element has a frame made of hollow sectional aluminium with a smooth visible surface and flush-mounted 22mm thick floor panels that are available in many versions. Especially light and flexible in use.
All information about the ERGOflex stage platform can be found here:
http://www.adamhall.com/en/ERGOflex_Series.htm
The offer is rounded out by innovative and time-tested accessories for the professional stage: stage railings, stair elements, stage legs, adjustable-height telescoping legs, and practical spare parts. The platforms can be connected to one another with plastic hooks, leg connectors or connecting clamps. The high-quality surfaces meet the highest standards.
"We invest continually in the refinement of our products and our own know-how. That is why one of our most important principles is: 0-defect strategy despite continual innovation. Our business philosophy revolves around this claim and absolute customer satisfaction," declares 2M Managing Director Dip.-Ing. Dirk Mettler.
More information about 2M stage platforms can be found here:
http://www.adamhall.com/en/2m_Mobile_Stage_Platform_System.htm
or
http://www.2m-deutschland.de/en.html
Click here to download the Press Package (Press release in Word format in 5 languages + pictures and logos) !