Pedal from Phaser, Flanger and Kaputt range – Test Report by guitarrista.com
Another small sample from the Palmer's extensive catalogue: two modulation pedals and an octaver in screw-on format to adapt to your pedal board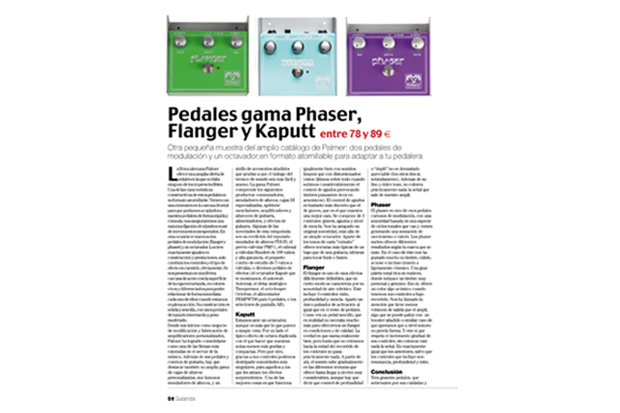 The German company Palmer offers an extensive range of pedals which leaves out none of the essentials. One of the design characteristics of these pedals is their screw-on format. They are supplied with an extension on the front casing so we can quickly and easily connect them to our pedal board, thereby ensuring the best possible attachment enabling us to forget unexpected movements. On this occasion we bring you two modulation pedals (flanger and phaser) and an octavator. The three are exactly the same in design and performance, only the controls are different along with obviously, the effect concerned. They are presented in a sturdy steel casing and the surface of the box is textured in vivid and differentiated colours so we can immediately recognise each one when we are in action. It is solid and simple in design with medium-sized pedals of moderate weight.
Since its beginnings as a manufacturer and modifier of personalised amplifiers, Palmer has managed to establish itself as one of the most highly appreciated companies in the music sector. In addition to its pedals and and guitar combos, we must not forget its wide range of personalised loudspeaker boxes, its famous loudspeaker simulators and an endless number of added accessories which make the sound technician's work easier and more pleasant. The Palmer range consists of the following products: switchers, loudspeaker simulators, specialist DI boxes, splitters/ mixers, amplifiers and guitar loudspeakers and feeders, and guitar effects. Among the new products for this season are the reissued highly regarded PDI-05 loudspeaker simulator, its previous tube PMP-1, the 100-watt Hundert tube amp head with high gain, the small studio 5 tube studio combo or diverse effect pedals (the Kaputt octaver [shown], the automatic Autowah, the analogue Timepressor, the Octobus octo-looper, the PRMPWT06 feeder for six pedals or the AB screen selectors).
Kaputt
Here we have an octaver, although its more than it seems to be at first sight. On the one hand we have the typical duplicated octave effect, which makes our notes sound thicker and more compact. But, on the other hand, using its controls we can rip out more peculiar and rare sounds for those of us who are attracted by surprising effects. One of its best qualities is that it functions equally well for producing clean sounds as well as distorted ones (the latter type above all when we greatly turn up the treble to produce rich piercing sounds in harmonics). The treble control is considerably more restrained than the bass control, which is the one which shows its best side. It consists of three controls: bass, treble and mix balance. We were captured by original tone beyond that of a simple octaver. Besides the "odd quality" tones, it offers textures which are more typical of a bass than a guitar, ideal for playing funk or fusion.

Flanger
The flanger is one of those effects which are difficult to define, which to some extent are characterised by their robotic-like tone. This includes three controls: ratio, depth and mix. Besides there is a single activation button like the rest of the pedals. As can be seen, a simple pedal which in reality does not need much more to offer us a functioning and high quality flanger. In reality it sounds really good, but until we get half way along the line of controls practically nothing happens. From then on the sound gradually increases in the various textures it offers until arriving at quite considerable levels, although it must be said that the depth control is not so noticeable (the other two do, more than enough). In addition to its fine, sweet tone, it practically doesn't colour the signal emitted by our amplifier.

Phaser
The phaser is yet another of those strange modulation pedals with a tone based on a kind of tonal cycles which come and go creating a sensation of movement or rocking. The phasers usually offer a variety of results according to the brand in question. In this case we liked the pitch very much, which was warm, liquid and even tending towards the slightly cosmic. A wide palette of rich tones in shades with a highly personal and genuine underlying pitch. However, it does have a somewhat acoustic colour when we have the controls down low. Our attention was caught by it having less output volume than the amplifier, something that can palliated with an added booster or the like, if we wish to prevent the sound losing force. And indeed it respects the gradual increase in its controls with practically no colouring of the signal. It is exactly like the previous ones except that controls included are resonance, depth and ratio.

Conclusion
Three great pedals which score top marks for their careful and elegant sonorities. They are simple with few features, but in the case of this type of effect, no more is needed to offer a high quality sound rich in shades and nuances. Without doubt, another of their great virtues is that they are supplied in screw-on format so they can be comfortably and simply connected to the pedal board.
The final word
We like:
Their impeccable and varied tones, the screw-on format
We don't like
Small things such as the different ranges of some controls.,..but nothing of importance
Guitarrista says:
Three interesting alternatives in pedals in a somewhat larger format than the products offered by other brands, but this is not important given their elegant and warm sonorities
Phaser: http://www.palmer-germany.com/mi/en/PHASER-Phase-Pedal-PEPHAS.htm
Flanger: http://www.palmer-germany.com/mi/en/FLANGER-Flanger-Pedal-PEFLA.htm
Kaputt: http://www.palmer-germany.com/mi/en/KAPUTT-Kaputt-Octaver-PEKAP.htm
Source: www.guitarrista.com, Spain, August 2012