LD Systems – the perfect line array solution for the Harlequin Theatre
Andrew Richardson is a field representative for Adam Hall Ltd. On Thursday, 9th August, he was in the town of Redhill in order to install an LD Systems line array together with his customer Philip Bashford from the Harlequin Theatre.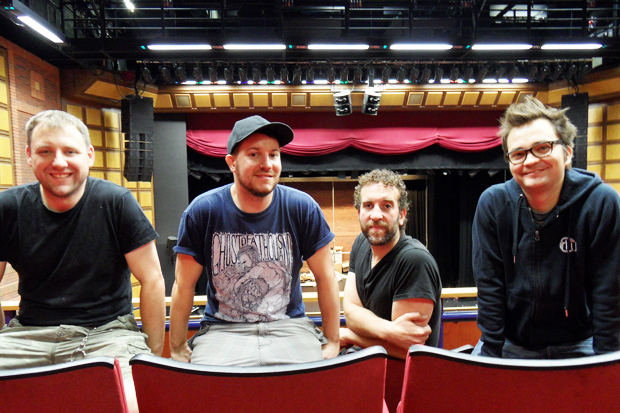 Andrew Richardson: I first met Philip at Plasa 2011. He was looking for a line array solution for the Harlequin Theatre where he is the technician. Philip needed a solution that would fit within budget whilst not compromising on quality and also from a supplier that would be able to guide him through the decision and specification process

He had already gained good experience with LD Systems products, previously using LDV15's and Stinger series for sound reinforcement at the front of the stage.
In total, we decided on 6 X LDVA8 tops, coupled with 2 X LDVAPS215 band pass sub woofers per side. Amplification was provided by 3 X LDSP6K, 1 X LDSP2K4 and 1 X LDSP1K8. We also used 2 X LDEB82 and 2 X LDV12 for a small reinforcement in the band pit area.

The installation was supervised by our R&D acoustic engineer Markus Torvinen. Being my first experience of install into a theatre, this was a challenge, not only to ensure that everything sounded great but also to make sure everything was covered in terms of health and safety.
Being up on the overhead gantry making sure all the safety cables were applied was good fun and I certainly got to see areas of the theatre I have never seen before.

The line array was suspended using a traditional manual block and tackle system making it really easy to make some small changes even if it did mean our biceps were bulging at the end of the day.
Following a successful check of SPL, frequency response and speech transmission index , double check of all the safety straps and a few small adjustments, we were able to enjoy the transformation of the theatre that the LD Systems line array enabled. In the future, this will be used to entertain a 500 strong audience who will see anything from live bands, amateur dramatic societies, and burlesque dancers to the traditional British Christmas pantomime.

For more info about the products, go to:
http://www.adamhall.com/en/LD_Premium.htm
More information about the Herlequin Theatre in on:
http://www.harlequintheatre.co.uk/