Show us your ears: Backstage PRO and Adam Hall are giving away in-ear monitors by Earbombz™
Adam Hall is one of the leading global wholesalers of professional audio equipment. With EarBombz™ by MultiSonus Audio, Adam Hall is adding yet another strong brand to its range of products. We'e giving away high quality in-ear monitors from the Pro Series, and you and your band can win – if you show us your best "ear photo"!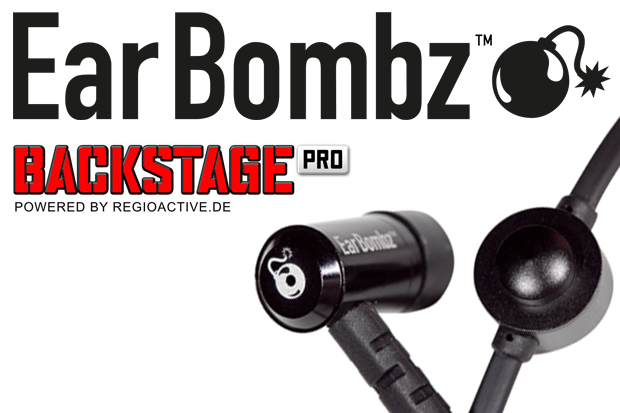 The EarBombz™ series encompasses three professional in-ear monitor systems for tablets, smart phones, music players and computers as well as for in-ear monitoring on stage and in the studio. The in-ear monitors are painstakingly crafted using extremely high-grade metal and the finest components. The unique acoustic chamber design permits an astounding depth of audio field and note-by-note clarity when listening to music.
The premium models in the EB Pro Series combine outstanding audio reproduction with superior wearing comfort, excellent noise isolation, and rugged workmanship. The in-ear monitors, which are available in four colours, come with silicon cushions in three sizes as well as a practical aluminium designer pouch. The sophisticated driver design and the unique tubular pressure chambers ensure a frequency response curve with extended bass, warm mids, and crystal clear treble. The flat cable used in the EB Pro Series reduces twisting during transport.
We are giving away the Pro Series EarBombz™:
1st prize: A complete set for the entire band 2nd prize: EarBombz™ Pro Series for one person
Winners can take their pick of black, green, blue or pink colours.
More product information is available here: http://www.adamhall.com/en/EARBOMBZ_Headphones_p2.htm
Terms: Show us your ear at its best: Upload pictures to your musician's profile in which your ears are clearly visible – live on stage, backstage with your band mates, after a strenuous concert.
To enter, go to: http://backstagepro.regioactive.de/earbombz