"A stroke of genius" – MAUI 28 is best in test in the category "compact DJ systems" – Test Report by Beat Magazine
This month, Beat Magazine named the LD Systems MAUI 28 "best in test" in the category "compact DJ systems".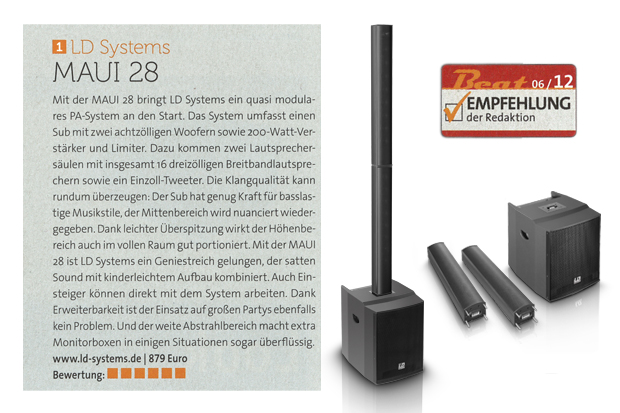 According to the test:
"The MAUI 28 by LD Systems is a quasi modular PA system. The system includes a subwoofer with two eight-inch bass speakers as well as a 200-watt amplifier and limiter. It also comes with two speaker columns with a total of 16 three-inch full-range speakers and a one-inch tweeter. The sound quality is thoroughly impressive: The subwoofer has enough power for musical styles that are heavy on the bass; midrange response is nuanced. Thanks to slight emphasis, the treble is well-proportioned even in packed rooms.
The MAUI 28 is a stroke of genius on the part of LD Systems, which combines rich sound with foolproof setup. Even novices can begin using the system right away. Thanks to expandability, the system can also be used at large parties without problems. Moreover, the wide angle of dispersion even eliminates the need for extra monitors in some situations."
Source: DJ Guide by Beat Magazine, Germany, June 2012.
For more info about the MAUI 28, go to: http://www.ld-systems.com/356-0-ld-maui28.html