Palmer Fat 50 Guitar Amplifier – Test Report by rycooder.nl
I'm hooked on this amp!
The Palmer FAT50 guitar amplifier delivers what the specifications suggest. And more! This state of the technique work of German engineering exceeds all expectations. An amp that follows me through my musical styles, from Country, Country Rock, Southern Rock, to Blues and Blues Rock.
The standard footswitch panel really emphasizes it's versatility on stage, with:
Gain (Low Gain / High Gain) High Gain being Crunch mode on the Clean channel & Heavy Lead mode on the Drive channel.
Channel select (Clean / Drive)
Reverb (On / Off)
Volumeboost (On / Off) This functions as a Boost switch. "On" following the Master Volume of the amp, "Off" following a reduced Master Volume which can be set on the back of the amp. A nifty feature, that works great!
The Clean channel has plenty volume, loads of headroom and, if needed, a smooth and subtle crunge for rhythm guitar (real country rock). An excellent configuration which supplies the whole spectrum from "country clean" to "country rock" styles.
I tend to use an ever changing and large variety of pedals. Luckily the FAT50 is extremely pedal friendly (it even has a tube driven effects-loop). The dry / wet knob accommodates dialling in the amount of effect (from parallel to series). 100% Wet being all effect.
Since the FAT50 is a very "straight and tight" sounding amp with good articulation and tone separation, it'll make your effects standout well, especially on it's Clean channel.
I have used this amp for acoustic guitars on several occasions and it sounded surprisingly good. The equalisation on this amp, combined with my guitars controls, provides me a really good acoustic sound. This goes for my dual source (piezo- / magnetic-pickup) resonator guitars as well. The crunch setting even gave it a nice edge.
So, the Clean is awesome.
Yet, the amp can deliver a nasty Blues overdrive as well. From the the most subtle Crunch available on the Clean Channel, it flows over into the crunch tones of the Drive channel, which reaches into a really fat Overdrive.
From Clean to a medium Overdrive are the two opposites I use. The amp offers much more sounds though. The Drive channel can be taken into the Metal zone by using the High-gain setting.
The FAT50 has a subtleness that allows smooth changes in atmosphere and character within my sounds. Due to it's overwhelming amount of headroom, it's possibilities are limitless. A true blessing.
Physically, it's a robust. The known Palmer sturdiness, made with German precision. I have little knowledge about the electronics, tubes and such, but I'm 100% convident that only the best quality parts are used by Palmer.
As I opened the back, it showed the effort that has been put into this amp to get quality, even in the smallest details. An extremely neat amp, no worries for rattles or hum here. The Reverbtank neatly wrapped and all panels and grills dampened and securely fitted. The Footswitch (with long solid leads) comes standard with the amp, but the cover is optional. The weight reflects the sturdiness of this amp without it breaking my back.
It'll withstand the rigours of the road easily. Operating this amp, you can tell Palmer made the right choices. Speaker, knobs, cabinet, gril, tubes, it all works as one like clockwork. The ease of tweaking the amp to your own preferences is a real treat. No rocketscience!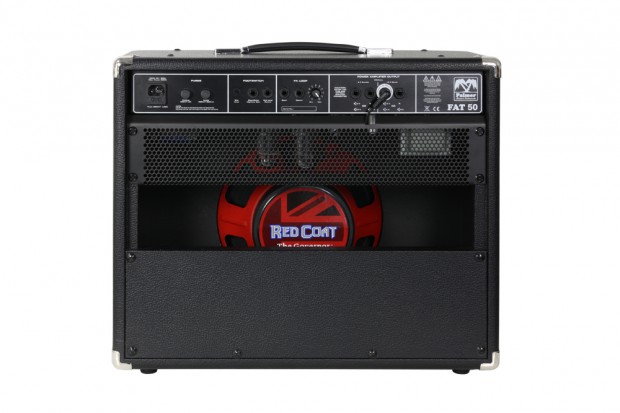 "Dialling in" is the magic word.
I discovered it has this "from left to right logic" to it. Going from Clean to Metal.
It'll accompany me to whatever gig I play, as it suites all my needs and styles. It might even be taken on Metal gigs by friends. No sweat, for this amp.
Mind you: this amp is loud! Really loud! This is not a guitar amp to use at home, but it's all you need for any gig. It's my believe that most guitarists can play any gig with 50 watt amps, especially if they are versatile and have much headroom. So this FAT50 is the thing.
Naturally, Palmer has thought of all the practical things like, fuses, different cab- and speaker loads and connections, a well placed handle for good portability and feet that keep this amp fixed to the stage. For all the technical specs and to see the head version of this amp as well as possible speaker cabs to use with it, please visit the Palmer website.
For more information go to http://www.palmer-germany.com/mi/en/FAT-50-Tube-Guitar-Combo-50-W-PFAT50.htm
Source: http://rycooder.nl/pages/palmer.htm, Netherlands, January 2012