News from Adam Hall Open Days 2011 – Outdoor Demo of the LD Premium Line Array systems thrills the visitors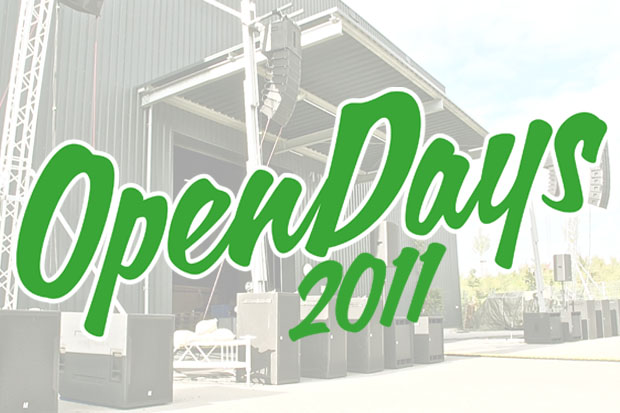 On 5 and 6 October 2011, the Open Days at Adam Hall corporate headquarters in Neu Anspach near Frankfurt am Main were held for the fourth time. A successful event with many informative presentations, workshops, and product demonstrations.
This year, too, there was a great deal of interest – dealers from all over Europe travelled to Germany's Hochtaunus region to find out about new products and participate in the workshops, for example, Planning & Implementing Sound Reinforcement Systems with Prof. Dr. Anselm Goertz and Prof. Dr. Alfred Schmitz. Individual demonstrations of Palmer, Audac, and LD Systems products rounded out the event.
Dealers were probably also very interested in the reorientation of Adam Hall cables. The new cable series are called 3 Star, 4 Star, and 5 Star. For dealers, this means not only a coordinated marketing concept, but also a clearly structured range of products with even more cable variants, types, and lengths.
All attendees had plenty of time to explore the building where the company took up residence in 2008 or find out more about Adam Hall in personal discussions with employees.
"These are the events I like the best", said David Kirby, CEO of Adam Hall GmbH. Personal contact with our dealers and customers is very important to us and I am glad that we have a chance once a year to talk with them in peace and quiet. Often there just isn't time for this in the course of day-to-day business."
The high point was an outdoor demonstration of the LD Premium line array systems.
More information about the line array systems can be found at: http://ld-premium.com/1-0-home.html
Here you can find out about all new products at Adam Hall: http://www.adamhall.com/de/Neue_Produkte.html
http://youtu.be/9olUHB1av4s