WS 1000 & WS 1616 – Wireless Chaos Part 1 – Test Report by tools4music
UHF Wireless Microphones in the 300-Euro-and-Under Price Class
I can recall a time when using a wireless mic was still a big deal. Mics of that era still used the good old VHF band, which was dropped a few years later in favour of the now common UHF band. While those early wireless systems cost a small fortune, today there are systems available even for just under 100 Euros. Our test of systems in the 300-Euro-and-under price class is intended to show just what they are all about.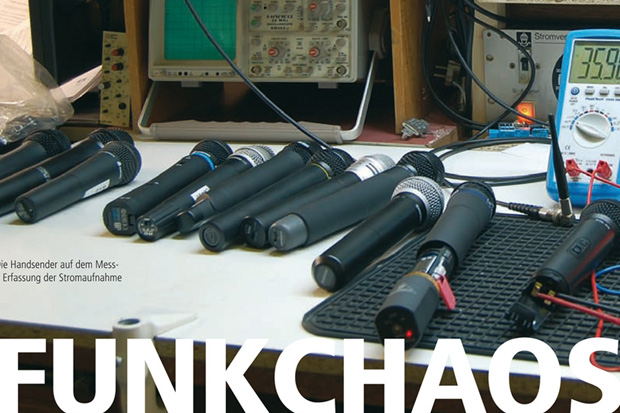 Our list of candidates includes the following models: Audio Technica ATW-702, Behringer "Ultralink 2000 M", DAP COM-31, dbTechnologies PU-860, dbTechnologies PU-901, dbTechnologies PU-910, IMG Stage Line TXS-810 set, LD Systems WS-1000, LD Systems WS-1616, Samson "Airline 77", Samson "Concert 77", Shure PG-24 E and the two Thomann models t.bone EWS-16 HT and TWS-16 HT.
Significant differences in construction and features are apparent right out of the box. Some models make a much better impression, thanks to their high-quality presentation with metal housings for the handheld transmitter and receiver, than many models in plastic housings. We saw later, in the further course of our "crash test", in which the handheld transmitters were dropped onto a wooden stage floor from microphone stand height to test their stability, whether this subjective attitude toward the group of systems tested remained tenable. In addition to looks, however, there were also clear differences in handling – for example, with regard to the displays and controls.
Accessories like gig bags or carrying cases for holding all of the required components of a wireless system rounded out many packages and were rewarded with points in the category "Equipment". The instruction manuals also captured my attention. Manuals in German with advice on optimal operation of the system increased the Performance rating.
In terms of batteries, the main focus was on systems with 1.5 V type AA batteries. Only one system required 1.5 V type AAA batteries. The tried and true 9 V block battery still isn't obsolete either. Six of the systems tested were powered by batteries of this type.
The receiver housings were all in the popular 9.5″ format, which is easy to expand into a 19″ unit consisting of two receivers thanks to accessories. All of the receivers were powered by external power adapters. Here, I would like to give special mention to the switching power supplies that make it possible to use mains voltages between 100V and 240V. Regrettably, only the Behringer and Shure packages included universal power adapters of this kind.
The issue of how a wireless system behaved in conjunction with multiple systems in simultaneous operation was also an interesting one. Because only one system of each model was available to us, we were unable to check the manufacturers' statements in this connection. One can, however, draw conclusions from the bandwidths of the respective systems. A broad transmission spectrum is always a clear indication for trouble-free simultaneous operation.
Only the systems from dbTechnologies and LD Systems were equipped with removable antennas. This can be advantageous when setting up multichannel systems and separate antennas. These antennas, which look like life raft paddles and are available as accessories, are distributed to the individual receivers via special cables and separate mixer stages to improve reception quality.
Measurement time In Fig. 1, all of the handheld transmitters were gathered together to measure their power consumption. I also took this opportunity to determine when the low-battery warnings triggered. To do this, I used a lab power supply, the output voltage of which was documented by a multimeter. Additionally, I observed the RF signal on the HP Spectrum Analyzer, which is clearly visible on the left side of the photo. The two peaks on the screen indicate two active handheld transmitters with neighbouring frequencies. The power consumption at nominal voltage was measured and noted.
In the second step, I reduced the voltage on the lab power supply and observed the display of the handheld transmitter. A glance at the analyzer was all it took to see what happened as the voltage continued to drop. Most handheld transmitters reacted to the dropping supply voltage with a constant reduction in RF amplitude; some abruptly quit working. I would have really liked to measure the output power of the transmitters directly. This, however, would have required a precisely specified 50-ohm analyzer connection instead of the small internal antennas of our microphones. This would not have been a problem technically, but was out of the question because of the difficulty of disassembling the handheld transmitters and the related risk of permanently damaging the microphones. So I chose the indirect method of using a receiving antenna connected to the analyzer to display the transmission amplitudes.
All receivers were additionally exposed to the interference field of a CD player. This discipline was good for a surprise or two in the past. Some receivers are so perturbed by immediate proximity to a CD player that normal reception becomes impossible. Of course I didn't use just any CD player, but instead my old Sony CDP-M 75, which is renowned for its jamming ability in the vicinity of UHF receivers. None of the systems presented here let itself be bothered by this "troublemaker". Fantastic!
To determine battery life in the respective handheld transmitters, they were all loaded with alkaline batteries made by same brand name manufacturer. The test started at noon; all of the microphones were exposed to music in order to give them something to do. An initial check was made at 6.00 pm, with subsequent hourly checks to record the results after four hours, eight hours, and more than eight hours of "transmission time". The operating time was determined according to the low battery warning of the respective handheld transmitter. All of the systems were good for at least four hours of operating time; eight of the test candidates were still transmitting more than eight hours later.
Live test I was busy providing sound reinforcement for a big gala event right during the testing period. Fig. 2 provides a good picture of the test environment in which the candidates had to prove themselves. Luckily for me, the concert was held on two consecutive days. This meant that at midday on the second day of the concert, there was enough time to audition the systems individually. We used a Shure UC system with a "Beta 87" condenser capsule as a standard of reference. The systems were evaluated first onstage in front of a GAE 4475-M monitor and, in the second round, at a front-of-house location at a distance of 30 meters. In addition to subjective impressions, we also assessed factors such as handling noise, susceptibility to popping when the microphone is held too close or susceptibility to feedback. The listening test also took insufficient bass or treble response into account, as well as unbalanced mids.
When operating the systems, I paid attention to intuitive operation without a manual, which was also not a problem with most systems. The advantage of infrared synchronization between receiver and handheld transmitter, as found in both of the systems from LD Systems, is of course a special treat in situations like this one.
Having gained some initial impressions, it was time for the athletic part of the program. Together with our trainee Jan (Fig. 3), we prepared for the range test. The venue offered a sufficiently long test course for this in the form of a parking lot. Because there were also a few cars around on this sunny afternoon, there was plenty of "sheet metal" in the way. What looked like a leisurely stroll turned into a half-marathon for me. There were systems in the field of candidates that managed distances far in excess of 120 meters! Jan stood at the starting point, with one ear cocked toward the hall, from which the Audio Performance SL-2 (Meyer MSL-3) PA sounded forth my constant distance reports. Much to the amusement of the venue personnel who, visibly having a chuckle about the two strange guys outside, were setting tables for the evening's festivities.
Before we packed up the test systems a few days later, there was final test left to run: the "crash test". What looks like wanton destruction here happens more frequently in everyday use that many owners of wireless systems would like. In order to ensure realistic conditions in this discipline as well, I dropped the mics onto a wooden floor in my house. A procedure which motivated our curious dog to view the falling mics as an invitation to play. Before man's best friend could make off with his new found bones (Fig. 4) however, I quickly gathered up the "booty" and observed the aftermath in the studio. The result was respectable: there were no busted grilles or malfunctioning electronics. Only the battery compartment cover of the Thomann EWS-16 HAT sprang open.
So much for the preliminary remarks. Here now, in alphabetical order, are the candidates with the individual strengths and weaknesses that we found.
Continue to the evaluations of the LD Systems WS-1000 and LD Systems WS-1616 "Sweet Sixteen" here!