Affordable Freedom – LD Systems WS 1000 HHCX – Test Report by Tastenwelt Magazine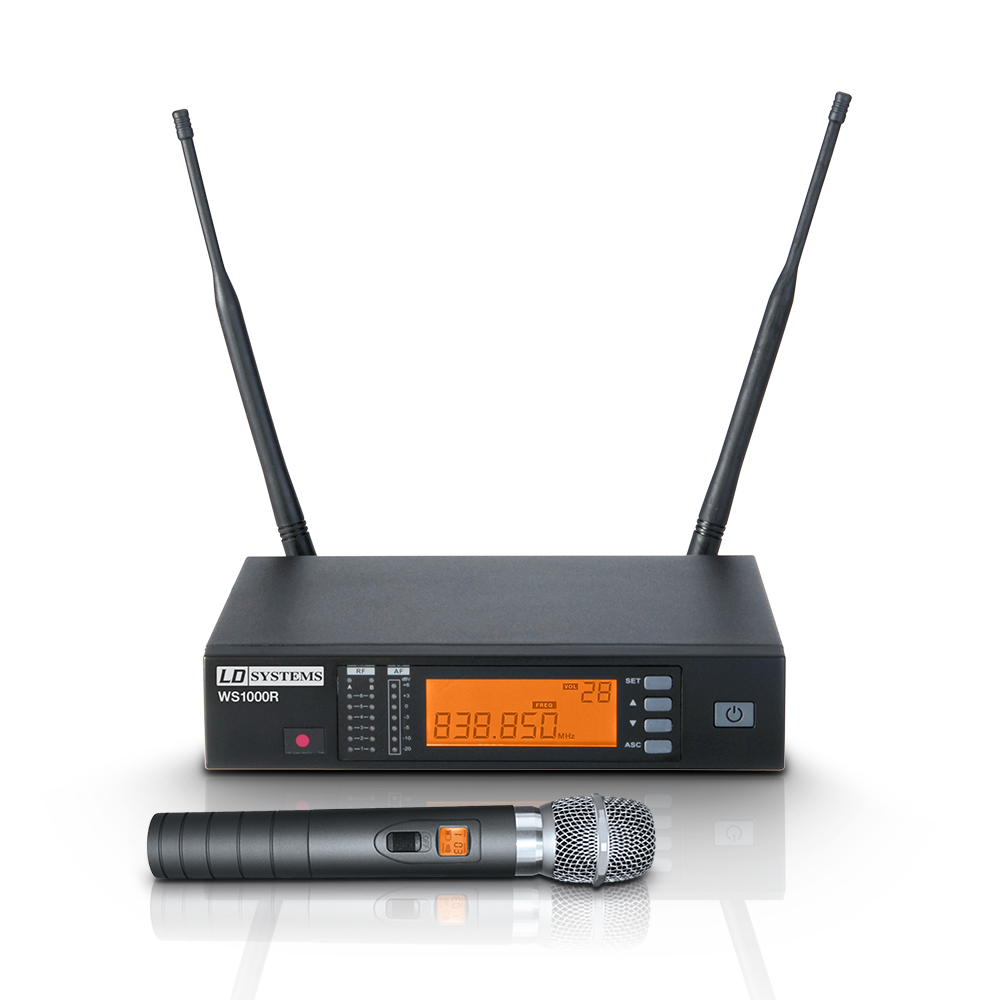 LD·SYSTEMS WS1000 HHCX
With its WS1000 series, LD Systems is presenting an additional family of wireless microphones which, while affordable, is not without some minor weak points in the HHCX configuration with a condenser capsule.
For years now, the WS100 family from LD Systems has stood for affordably priced, reliable wireless microphones. Now the successor WS1000 series promises to make everything even better – a claim for which the representative HHCX set, consisting of a handheld wireless microphone with a condenser capsule and a receiver, has the chance to deliver the proof.
The series includes receivers, body pack transmitters with headsets, lavaliere microphones or instrument cables, and handheld transmitters with dynamic or condenser microphone capsules. All of these are offered in various combinations. The "X" in the name of the set being tested indicates the UHF frequency band of 838.850-861.800 on which the system operates. Alternatively, there is a UK version for the 845.050–864.950 MHz frequency band.
Technology
According to the manufacturer, the WS1000 series uses selected components intended to ensure improved transmission reliability. Indeed, no dropouts or interference were encountered during the test. This is because the system uses True Diversity. The two antennas for this are screwed onto the rear panel. For rack installation, panels with antenna connectors on the front are available.
The receiver scores points with its clearly designed user interface. The orange illuminated display provides output volume and transmission frequency information. LED meters indicate the field strength of the two diversity channels as well as the audio level. Four buttons permit configuration of the system. A trim pot on the rear panel lets users adjust the mute threshold.
The audio signal is forwarded via the user's choice of a balanced XLR or unbalanced jack connection. The WS1000 set comes pre-configured. In the event of conflicts with other wireless systems, it is easy to use the free channel scan feature to search automatically for vacant channels that are free of interference. The receiver and the handheld transmitter agree on which channel to use via an infrared interface. The handheld transmitter has a display that shows the frequency group to which it is set, the channel, and the battery status.
Praxis
The system sounds warm and a little stingy with the treble – a job for the mixer EQ. Get too close to the microphone head grille and you must reckon with distortion, even if the gain level is turned way down on the handheld transmitter. The WS1000 HHCX should also be handled with care with a view to feedback. The system is well made and comes in a foam-lined plastic case.
Specifications
Price 309 € Carrier frequency 838.850-861.800 MHz Frequency range 56-16 kHz Power supply 2 x AA batteries (handheld transmitter); power adapter (receiver) Dimensions/ weight 25.5 x Φ 4.7 cm; 380 g (handheld transmitter); 21 x 4.5 x 16 cm; 800 g (receiver) Info www.ldsystems.com
Rating
LD SYSTEMS WS1000 HHCX Wireless Microphone Set
+ Sound workmanship
+ Highly reliable operation
+ Easy to use
– Slightly sparse treble response
– Distortion in cases of excessively close micing
Complete product information is available here: http://www.ld-systems.com/188-1-ld-ws-1000-hhc-set-with-condenser-microphone.html
Source: Tastenwelt Magazine, Germany, February 2009