Put Paid to Transport Problems – Gruv Gear V-Cart Solo – Test Report by Soundcheck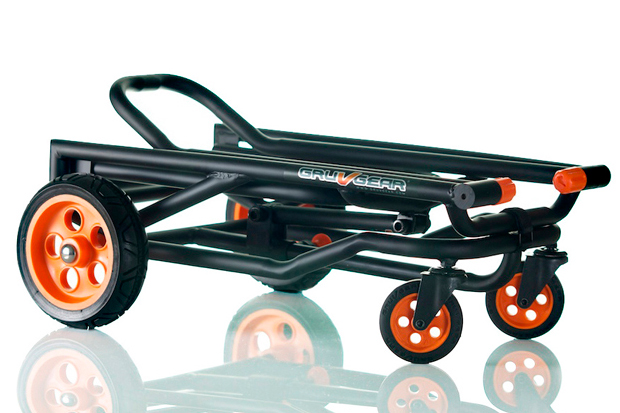 Amps and speakers, drum set and guitars, plus a plethora of boxes and crates for all kinds of equipment – and they all have to be moved before and after a gig. No wonder many musicians feel more like furniture movers before and after a gig. Now Gruv Gear promises relief with a cleverly designed multifunctional personal utility cart. We gave the practical transport aid a try.
This is just what generations of musicians have been waiting for: a transport solution that finally puts paid to exhausting post-gig load outs. One capable of mastering steps and stairs at the venue in both directions (even when loaded with equipment) that also stows away compactly when not in use.
The V-Cart Solo, which has an almost delicate appearance at first glance, is capable of transporting up to 230 kg of equipment. That is a lot, and should permit transport of any equipment needed for a band gig. The transport aid is very solidly built and made of steel, which also gives rise to only disadvantage of this hi-tech hybrid of handcart, push cart and stage dolly: its imposing empty weight of 10.4 kg.
Other than that, however, there is nothing to complain about. Even when fully loaded, the cart makes good progress on practically any surface and is extremely manoeuvrable. In addition to the two large wheels, the V-Cart Solo also has two smaller swivel casters which assist in climbing stairs when the cart is used as a dolly. The V-Cart Solo rolls extremely well on smooth floors, but also on carpeted surfaces and rough asphalt. In the test, it proved to very manageable even on a wet gravel path when fully loaded with around 65 kg. When empty, however, the cart can be fairly loud because of the rattling of the frame.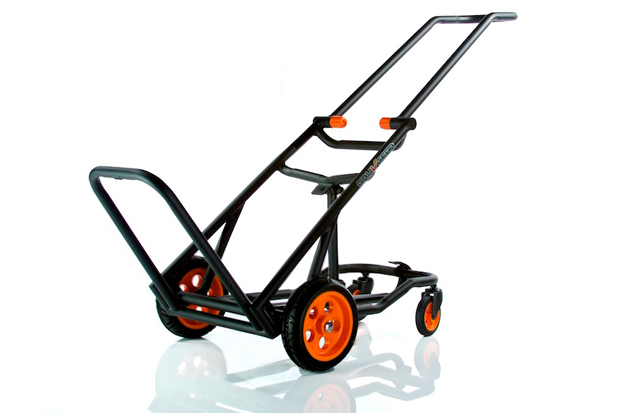 The best thing about this transport aid, however, is its versatility. In just a few easy steps, for example, the V-Cart Solo transforms from a cart into a two-wheel or four-wheel dolly ("V" mode). Each mode has its own particular advantages. The 2-wheel dolly, for example, is good for mastering stairs, while the platform mode lets the user stack cases neatly and transport them very easily without straining his or her back. The "V" mode quickly turns out be one of the most interesting, because it is in this form that the V-Cart Solo is most manoeuvrable. The tilt angle can be locked in two positions. The only thing lacking is a padded handle that would make the cart even more comfortable to grip.
Would you like a little more? With intelligent add-ons, the V-Cart Solo can be expanded and thus used even more flexibly. The XL extension frame, for example, is interesting. It makes it possible to expand the loading platform easily from the standard 60 centimetres to more than a meter, whereby an additional pair of small casters provides the necessary stability. For transporting more narrow equipment, Gruv Gear also offers carpeted decks for both the Solo and XL configurations.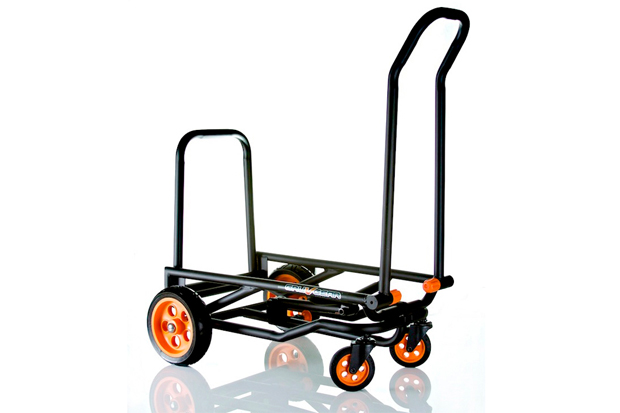 With the V-Cart Solo, Gruv Gear makes it easier than ever for musicians to move their equipment. It becomes immediately apparent that the designers have drawn on and distilled practical experience. The V-Cart is a great companion and an incalculably valuable relief for any live musician. While the price is considerable, every last detail of the product is well thought out. For example, the transport cart doesn't have to sit empty in a corner during the gig. With the help of a special designed stage wedge add-on, it can even be used as an angled monitor stand right on stage. What a great thing!
When folded for storage, the V-Cart Solo is extremely compact.
In 2-wheel classic dolly mode, it is even possible to transport heavy gear up and down stairs with the V-Cart Solo.
The "V" mode is especially effective. With a corresponding add-on, the V-Cart Solo can even be used as an onstage monitor stand.
ADVANTAGES
•    High load capacity of up to 230 kg
•    Extremely high flexibility
•    Very compact storage dimensions
•    Also useable as a tilted monitor stand
•    Useful accessories available
DRAWBACKS
•    Fairly heavy when unloaded, more than 10 kg
Read more about the Gruv Gear products: http://www.adamhall.com/en/Gruv_Gear.htm