Press: Adam Hall Group at ISE Amsterdam, Booth 7-K200
Neu-Anspach, Germany – January 24, 2017 – From February 7th to the 10th, the RAI trade fair and congress centre in Amsterdam opens its doors to "Integrated Systems Europe (ISE). The world's largest trade fair for AV technology and system integration will be the international industry meeting point for the fourteenth time, and this year expects 65,000 visitors. As a leading German manufacturer and sales company offering event technology solutions for business-customers world-wide, the Adam Hall Group will present a comprehensive portfolio from the areas of installation technology, PA and lighting systems at Booth K200 in Hall 7.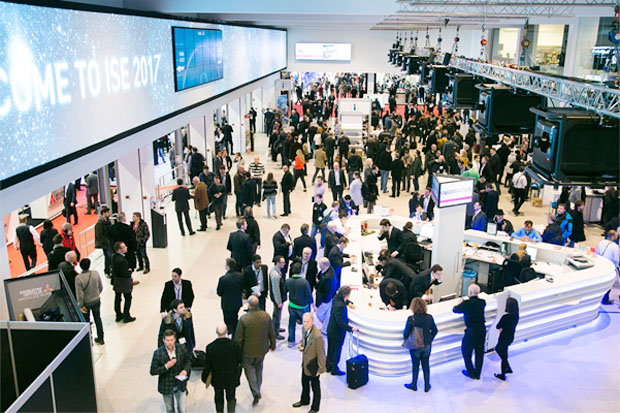 The brand LD Systems® is focussing particularly on its installation products at the ISE, such as the U500® Wireless Conference Set. This wireless True Diversity UHF conference system ensures excellent and faultless voice reproduction for conferences, meetings or in discussions. Up to five U500® receivers can be cascaded to expand your system, creating a maximum of 20 available terminals. The U500®conference system is available in three versions, working in three frequency ranges: 554 – 586 MHz, 662 – 694 MHz or 823 – 832 MHz + 863 – 865 MHz. The 4-channel class D installation power amplifier CURV 500® iAMP has been specially developed for CURV 500®systems, and the 10-inch installation-subwoofer CURV 500® iSUB (available in white and black) with low-profile wall and ceiling bracket provides streamlined, dynamic bass response with punch and clarity. LD Systems® DSP 44 K pro audio power amplifier meets your complex PA and control system requirements. The four-channel power pack featuring 4 x 1200 watt output power (@ 4 and 2 ohms) and an integrated Dante™ interface can be easily integrated into networks. The comprehensive range of LD Systems® speakers also ensures optimum sound quality and security for the systems.
Particularly suited to installation are the two new models of the LD Systems® MAUI® series. The MAUI® 28 G2 and MAUI® 11 G2 portable column systems are available in white and black, and in addition to providing superb sound with integrated Bluetooth® mixers, they also deliver excellent performance at significantly reduced weights (Maui® 28 G2: 2,000 watts class D peak; MAUI® 11 G2: 1,000 watts class D peak). For permanent installations, the removable two-part columns can be used with separate wall-mounting kits M G2 IK 1 (available in white and black) featuring tilt and swivel mechanisms for convenient positioning and optimum sound. Matching-coloured floor-stand kits M G2 SPS enable independent placement of the subwoofer and speaker columns.
Cameo® – the Adam Hall Group brand for professional lighting equipment – has extended its Auro®series with two powerful LED moving heads, Auro® Spot 300 and 400. For outdoor use, the Zenit® P 130 and Zenit® P 40 IP65-rated professional PAR spotlights provide a diverse range of options for creative lighting design. Both PARs are supplied with two diffusers and feature a robust cast aluminium housing as well as innovative, locking 5-pin DMX sockets and power input and output sockets to facilitate problem-free series connection. A modern OLED display with four touch-sensitive control panels ensure simple, intuitive configuration.
Professional light shows: By utilising the DMX interface Cameo® DVC 4 and the associated D 4 software, DMX-compatible lighting units can be controlled via PC or Mac to create professional light shows. In Live mode, the plug-and-play interface offers 512 DMX channels. Used in stand-alone mode with 256 channels, programmed light shows can be copied to the integrated Flash memory. The free Cameo D 4 software package contains over 15,000 device libraries and a scan library editor to create and edit your own device profiles. A free App – "Easy Remote" (download from Cameo® web site) facilitates remote control by iPhones, iPads and android devices via Wi-Fi.
New additions to the Gravity® brand product range include the straight microphone stands GMS 231 HB and GMS 431 HB with base plate or folding feet. Single-handed operation enables rapid adjustment to the desired height (108 cm to 175 cm). The TÜV-and-GS-approved speaker elevating tripod GSP 4722 B can handle loads of up to 50 kg and is height-adjustable from 1.5 m to 2.2 m. And in conjunction with the clamping rod GLS Varipole 01 B, a variety of solutions can be implemented quickly and simply. With its secure locking clamp mechanism and adjustable length of 2.1 m to 3.7 m, the Varipole can be simply installed between ceiling and floor. Recently presented with the German Special Design Award 2017 and numerous other design awards worldwide, premium stands from the brand Gravity® meet all stage and studio requirements with the highest quality. Gravity® provides a five-year product guarantee on its diverse and ever-increasing range of intelligent detailed solutions.
The ISE-highlights from the brand Palmer® audio tools include the new active 2-channel DI-Box Palmer® Pro PAN 04 A and the 8-channel microphone splitter box Palmer® Pro PRMMS 8. With its three balanced XLR-outputs, the PAN 04 A enables distortion-free, safe transmission of stereo input signals to the FOH mixing console and, at the same time, provides a mono mix of both stereo inputs for the floor monitoring system.
#EventTech #ProAudio #ProLighting #StageManagement
Click here to download the Press Package (Press release in Word format in 6 languages + pictures)!
Information about the exhibited brands:
www.ld-systems.com
www.gravitystands.com
www.cameolight.com
www.palmer-germany.com
Information about the Adam Hall Group:
www.adamhall.com
blog.adamhall.com