Press: New Gravity multi-guitar stands now available
Neu-Anspach, Germany – 15 November 2016 – Gravity® expands its range of guitar stands with the new Vari-G-Series. Three models of the multi-guitar stand (design registered) are available to safely accommodate 3, 5 or 7 instruments.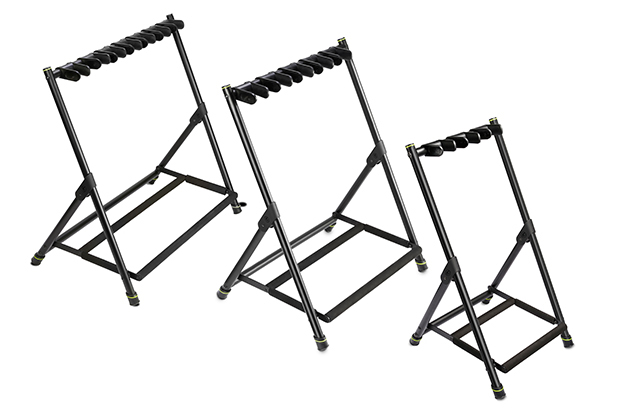 With its new Vari-G-Series, Gravity® has expanded its range to include multi-guitar stands. Like all Gravity® brand products, they are positioned in the premium sector. The modern guitar stands provide a safe location for acoustic and electric guitars as well as electric basses, both on stage and in the studio. Easily adjustable and detachable neck supports allow the multi-guitar stands to be tailored to individual requirements. Soft padding on all contact points protects instrument from scratches or nicks. Strong steel tubes and a black powder coating guarantee excellent stability and long-term durability. The stands can be easily assembled and dismantled, and also folded to save space during transport. The Vari-G-Series can be personalised with different coloured G-Rings (available separately). A small detail that makes Gravity® brand products unique, and which has already attracted attention in numerous applications.
Robin Henlich, Product Manager, Pro Audio, Stands, Accessories: "The development of these multi-guitar stands into the simple, functional and beautiful products that they are was quite a challenge. From countless drafts, designs and prototypes, this version evolved as the most sensible, robust and aesthetically pleasing. We are proud of the result."
For further product information and pricing, please visit the Adam Hall Group's B2B Webshop at www.adamhall.com/shop
Click here to download the Press Package (Press release in Word format in 6 languages + pictures)!
Further information:
www.gravitystands.com/