Palmer Pedalbay 40 and 60 ‒ product review by guitarrista.com
German company Palmer presents these interesting pedalboards with unique extras such as mobile modules or a height-adjustable base.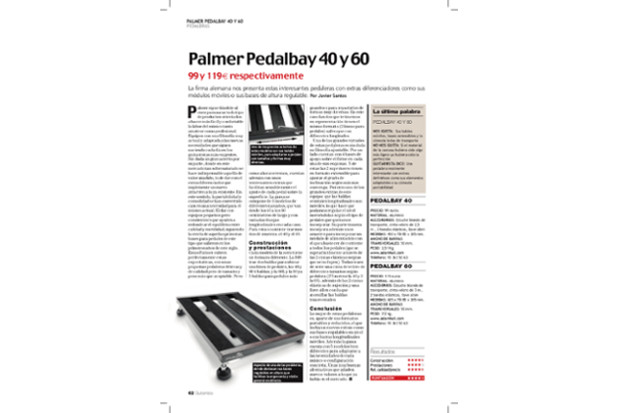 As always, Palmer has hit the nail on the head with products that are designed to make sound work child's play for hobby or professional musicians. Devices with modern design, adapted to the ever-changing challenges faced by discerning guitarists. Definitely a big success for Palmer, who have made themselves indispensable in this overcrowded market segment through value for money and extraordinary extras that make the products even more attractive than anything seen before.
This is why Palmer's mobility and convenience has become a must-have for the musicians of today. The range includes small devices in the same quality as ever and which strike a balance between quality and mobility and are reminiscent of the first pedalboards of this type, which came on the market at the turn of the century. These Palmer devices excellently fulfil all expectations with their own small, solid and high-end pedalboards, whose weight and size are still more than acceptable.
But as we'll see in the following, they also have some interesting extras, which make each pedal much easier to adjust. The series consists of 5 models, which vary from 45 to 80 cm in length and have unique vertical strips. We have looked at two of them in more detail: Pedalbay 40 and 60.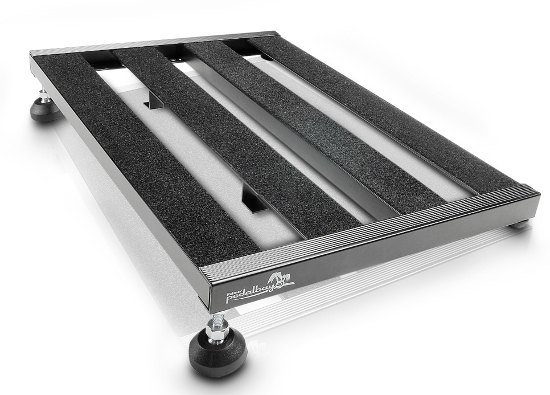 Construction and extras
Each model in the series has a different format. The 50S has two crossbars for one row of pedals, the 40 and 60 have four crossbars and the 60L and the 80 have 5 crossbars for larger pedals or for a varied arrangement of the pedals. We will present two models in more detail that have the same format (2 pedal lines), but which are different sizes.
One of the biggest advantages of these pedalboards is, without a doubt, the adjustability. They have 4 carrying feet, one in each corner. Both upper feet are expandable and can be tilted as one wishes.
Another big advantage of these boards is that the middle crossbars are moveable so they can be adjusted according to the pedal used. On the rear side, there are also catches for attaching a module that supplies power to all the pedals (these can be easily secured using the 2 black elastic bands included with delivery). All are fitted with a Velcro strip, which comes in varying sizes depending on the pedalboard (2.5 metres in the 40 and 3 metres in the 60), as well as 2 elastic bands and an Allen key to secure the crossbars.
Summary
Aside from the portable format and light weight, the best thing about these pedalboards, are the new extras such as height-adjustable feet or mobile vertical mounting rods. In addition, the series consists of 5 very diverse models that will suit the requirements of every musician and every individual configuration. Some really good alternatives that complement the models already for sale.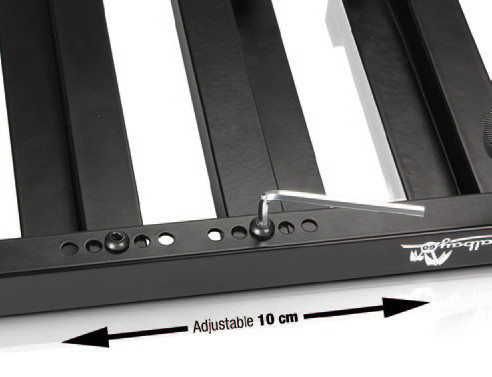 Closing words
What we liked: Mobile crossbars, adjustable feet and the convenient carrying case
What we didn't like: The housing material could be a bit lighter
Our opinion: A very attractive pedalboard with great extras such as adjustable elements and easy to transport.
Pedalbay 40
Price: EUR 99
Material: Aluminium
Accessories: Soft carrying case, Velcro (2.5 m), 2 elastic bands, Allen key
Measurements: 450 x 70/85 x 305 mm.
Width of crossbars: 50 mm.
Weight: 3.51 kg
Pedalbay 60
Price: EUR 119
Material: Aluminium
Accessories: Soft carrying case, Velcro (3 m), 2 elastic bands, Allen key
Measurements: 605 x 70/85 x 305 mm.
Width of crossbars: 50 mm.
Weight: 3.2 kg.
______________________________________________
Source: guitarrista.com, Spain 2015: http://www.guitarrista.com/
Author: Javier Santos
You can find complete information about the products described at
http://www.palmer-germany.com/mi/en/Products/Pedalboards-and-Accessories/PEDALBAY-40-Lightweight-variable-Pedalboard-with-Protective-Softcase-45cm-PPEDALBAY40.htm
http://www.palmer-germany.com/mi/en/Products/Pedalboards-and-Accessories/PEDALBAY-60-Lightweight-variable-Pedalboard-with-Protective-Softcase-60cm-PPEDALBAY60.htm