Press: Adam Hall Group strengthens Indonesia presence with PT Citra Intirama
German Manufacturer Adam Hall Group has appointed PT Citra Intirama as their exclusive Distribution Partner for Indonesia. The Agreement includes the group`s Brands LD Systems®, Cameo®, Gravity®, Defender®, Palmer®, Adam Hall® Hardware and Adam Hall® Stage Equipment & Cables.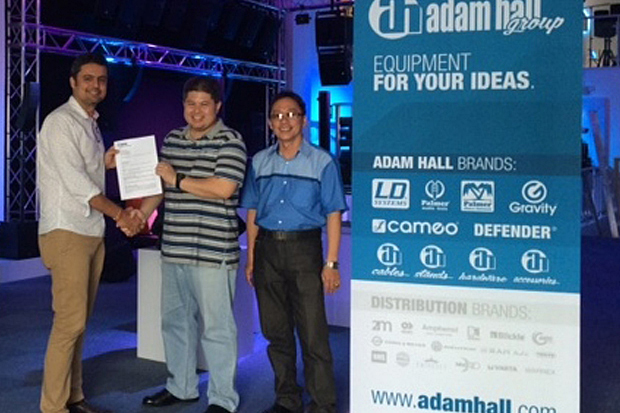 "Adam Hall and his wide range of brands is fitting very well with our portfolio offering professional products from most modern technology in the field of Audio and Light" , commented Eric Haslim, Managing Director of PT Citra Intirama. "The extensive live demonstration of the comprehensive product lines in their Singapore Showroom could prove the high performance, impressive quality and the outstanding professionalism of Adam Hall`s R&D and Engineering supported by the Hallmark "engineered and designed in Germany". "We are confident that all Brands will be very well-received by the Indonesian Audio and Light Clients and the Retailers as well".
As part of the Manufacturer`s strategy for the APAC Region "Indonesia plays a major role as one of the most important and biggest AV Markets" added Bodo Falkenried, Head of Business Development of Adam Hall Group. "I know Eric and his team for a long time and I was always impressed with their determination to act as a professional and successful key player in their business areas."
Chandan Mahtani, Managing Director of Adam Hall Asia Pte Ltd, Singapore and his team are in charge to support the new Distributor: "We clearly expect to see great opportunities evolve and particular Rental Companies, System Integrators, Installers and many other participants in the fields of Live Sound, Event Technology, Leisure Industry and Retailers in Indonesia will now have access to an extended range of Products. It is exciting that our four award winning new sound systems LD Curv500 and LD MAUI5, the LD Vibz Mixers and the all new Gravity® Stands Line are now available in Indonesia by Citra Intirama."
Click here to download the Press Package (Press release in Word format in 4 languages + pictures and logos)!
Further information is available on the Internet
http://www.adamhall.com/de/Home.html
http://blog.adamhall.com/en/
http://www.citraintirama.com/