Press: Adam Hall Group exhibits at two more trade fairs: Prolight + Sound, hall 3.1, booth E60, and Musikmesse, hall 11, booth E48
In line with its global corporate strategy, Adam Hall Group will exhibit its well-known own brands LD Systems®, Cameo®, Defender®, Palmer®, Adam Hall® Hardware, Adam Hall® Stage Equipment & Cables as well as its new stands brand Gravity® at Prolight + Sound, the international trade fair for event technology. The new concept for the Frankfurt trade fair introduces a clear division between the two events for the first time.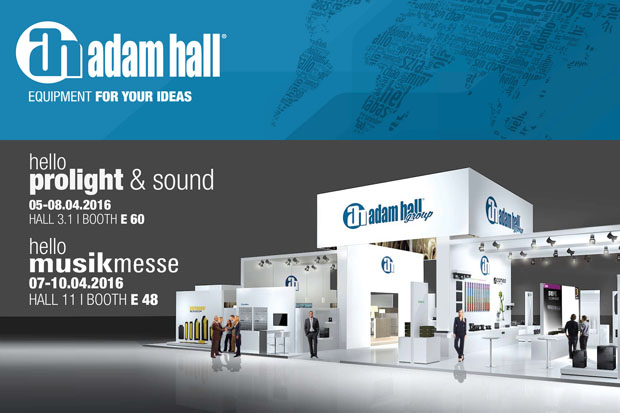 From Tuesday 5 to Friday 8 April, the manufacturer will exhibit its full range of own and exclusive distribution brands at Prolight + Sound in hall 3.1 at booth E60, spanning almost 400 m2.The new stands brand Gravity® will also have its own booth at the trade fair in hall 11 (E48), where product experts will explain the special features and innovative elements of the premium brand. Musikmesse takes place from Thursday 7 to Sunday 10 April and is open to both trade and private visitors. Gravity® stands distinguish themselves with their interchangeable colour-coded labelling system, numerous new features and outstanding production technology. Gravity® is also the official stand provider for the 2016 Musikmesse stages and the new business lounge in hall 11.
The winners of multiple prestigious design awards worldwide, the ultra-compact LD Systems® MAUI® 5 column system from the extensive Maui range and the innovative new CURV 500® array concept will be just two of the many highlights at the Adam Hall Group stand.
A new generation of the Maui range will also be revealed for the first time in the form of the MAUI® 28 G2 and MAUI® 11 G2. The MAUI® 28 G2 is a compact, active column PA with DSP-based signal processing, Bluetooth and a four-channel mixer. Both the overall sound and dispersion have been improved plus the weight has once again been significantly reduced. The MAUI® 28 G2 will be available in black and white.
The slender MAUI® 11 G2 will also be available in two versions, with a black or white enclosure. DSP-based signal processing again provides enhanced sound and dispersion. Further features include Bluetooth and a four-channel mixer. The main new feature of the MAUI® 11 G2 is its two-part speaker column, which makes it far easier to transport.
Further exhibits will include numerous new products from the Adam Hall® Cables range for prefabricated and bulk cables as well as Adam Hall® Hardware components for flight case production. A further new innovation is the in-house developed FliteCAD® 2016 design and software platform, which is being presented live at a trade fair for the first time. This not only enables the flight case manufacturer to quickly and easily design cases in line with customised requirements but also to visualise and offer customers its entire range of products on its website in a device-independent manner with the FliteCAD® Online Marketing Module.
Markus Jahnel, COO Adam Hall Group: "Prolight + Sound and Musikmesse in Frankfurt are among our most important international events. In 2016, we will be exhibiting with a brand-new stand concept. A wide array of innovations as well as the opportunity for personal discussions await our business partners, customers and other interested parties."
Click here to download the Press Package (Press release in Word format in 4 languages + pictures and logos)!
Information about the exhibited brands
http://www.ld-systems.com/en/home/
http://www.gravitystands.com/
http://www.cameolight.com/en/home/
http://www.palmer-germany.com/
http://www.adamhall.com/en/Cable.html
http://www.defender-protects.com/1-1-home.html
http://www.adamhall.com/en/AH_Hardware_and_Fittings.htm
Information about Adam Hall Group
http://www.adamhall.com/de/Home.html
http://blog.adamhall.com/en/