A Paragon of resilience – Eminence 50th Birthday
How Eminence, now celebrating its 50th anniversary, successfully adapted to a changing market and remains the only large-scale speaker manufacturer still operating in the U.S.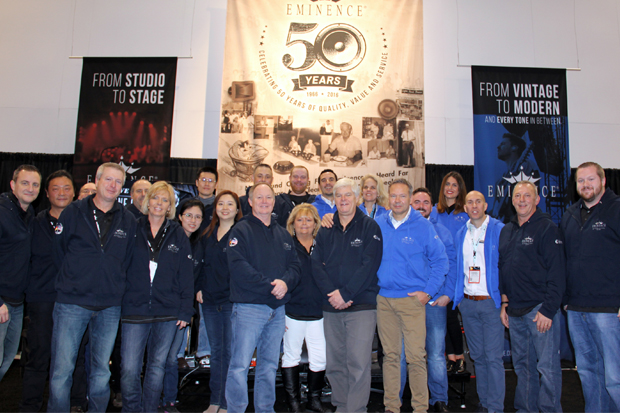 Currently observing its 50th anniversary, Eminence Speaker has been a leading manufacturer of quality loudspeakers since the formative years of amplified music. Navigating every conceivable market trend and turn, Eminence has consistently delivered distinctive, high-quality products at reasonable prices. Based in Eminence, Kentucky, Eminence Speaker LLC runs under the direction of Chairman Rob Gault, whose father, Bob Gault, founded the company in 1966. The company cut its teeth as an OEM manufacturer, over the years supplying guitar amp and pro audio speakers to top brands including Yamaha, Peavey, Community, Gibson, Epiphone, Marshall, Ampeg, Fender, Gallien-Krueger, Kustom, and Crate.
A former chief engineer at the CTS speaker factory in Paducah, Kentucky, Bob Gault set out on his own to offer the music products industry better, more affordable loudspeakers, choosing the small town of Eminence for its proximity to the customers he expected to supply.
Production began in 1967 with about 35 employees manufacturing voice coils and assembling loudspeakers. In those heady early days, not long after the market for amplified musical instruments had been set on fire by the birth of rock 'n' roll, the fledgling Eminence could barely keep up with demand. In short order it had begun to carve its niche as a trusted OEM producer, creating custom speakers for Fender, Ampeg, and newcomer Peavey. Another of its early partners, Sunn, was the preferred amp of Jimi Hendrix, whose signature guitar tone shaped the pop music of not only his own generation, but of every generation to follow.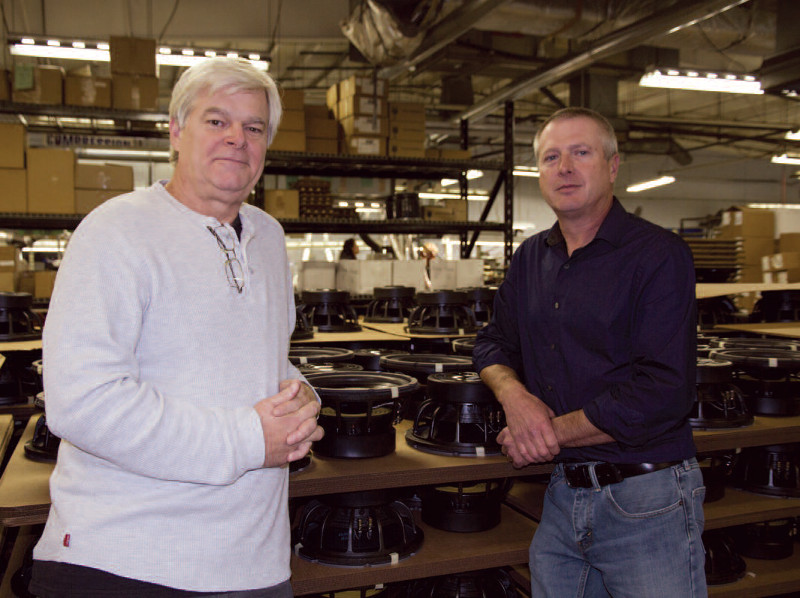 By 1972, market demand had exceeded the capacity of the original Eminence factory. Bob purchased a new property and built a new 28,000-square-foot production facility that remains in use today. Business continued to grow throughout the '70s, and in 1976 Bob expanded the factory again to 46,000 square feet, incorporating new features aimed at improved efficiency and flexibility. For example, a pressroom was added for making top plates and back plates of multiple sizes that could be used with many different chassis, reducing the number of components needed to produce the growing Eminence product line. Development of other new capabilities including stamping, coining, and chassis modifications further enhanced the company's efficiency.
A seemingly modest yet significant development in 1974 brought the addition of a warehouse and tool room. Over the years, Eminence's ability to build and maintain its own, often
proprietary, speaker making tools has contributed to its ongoing abilities to customize and efficiently fine-tune its product designs. In 1989 this area was expanded and a new steel warehouse was added, bringing the location's total size to nearly 57,000 square feet.
Learning from his father, Rob Gault literally grew up with the business, assimilating its many technical and commercial intricacies and helping forge alliances with top OEM customers.
Rob Gault took the helm in 1992.
Throughout the early '90s, with the economy climbing out of recession and a growing interest from international buyers, Eminence enjoyed stronger sales and a much more broadly recognized brand name. It made its Frankfurt Musikmesse debut in the early 1990s and hasn't missed exhibiting there since. In 1991 its factory was expanded again to incorporate an improved electrocoat paint line, an environmentally friendly and reliable coating process. This upgrade provided greater control over production, yielding higher-quality finishes, more
consistent coating thicknesses, and tighter loudspeaker gap tolerances.
From around 1992 until 2000 Eminence enjoyed a boom in aftermarket automotive audio sales. OEM partners on both sides of the Atlantic requested specialty speakers, creating both challenges—including more complex international shipping requirements—and opportunities to fuel expansion and further burnish the brand. Driven in part by "insane" growth in the car audio market, a new final assembly area and administrative complex were completed in 1995, bringing the total Eminence factory footprint to just over 86,000 square feet.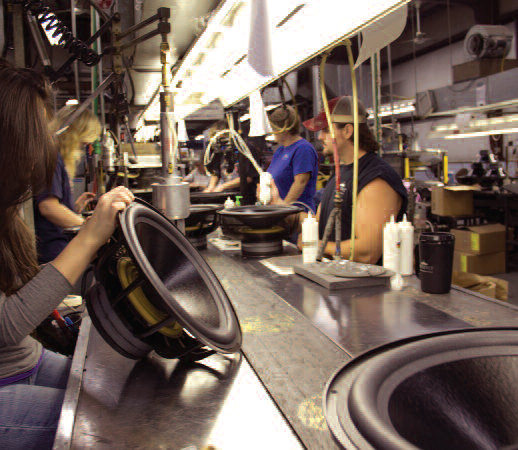 In 2003, Eminence explored an opportunity for manufacturing OEM car audio speakers, a venture that required ISO 9000:2001 certification for quality management systems. The business never materialized, but the changes the company had implemented were applied to many aspects of the operation.
The tone of the market had begun to change in the mid-1990s, as first the lure, then the pressure, to establish offshore production began taking an unexpected toll on Eminence's sales. The exodus started with the car audio business, but it didn't end there. "Many pro audio manufacturers in the U.S. and other Western nations were dismantling their own manufacturing capabilities and having their products made by sub-contractors in Asia," recalls current Eminence President Chris Rose, who joined the company in 1997. "That left us at a distinct disadvantage in terms of price and margin." Competing with companies suddenly enjoying slashed labor costs was only half the battle. Equally significant, many of Eminence's OEM partners were moving their production to Asia, and supplying them from the U.S. created new hurdles in terms of customer service, shipping costs, and warehousing.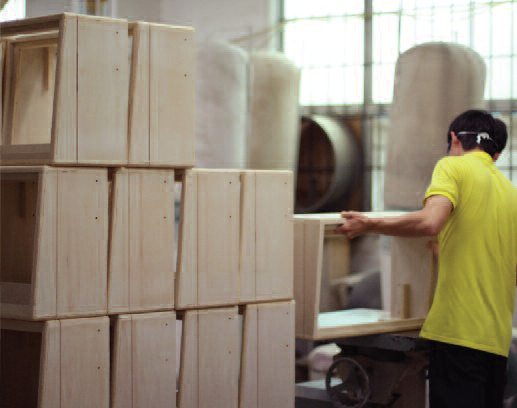 Starting in 2001 Rob made many trips to China and visited some 30 speaker factories with the intent of finding one that could produce a new generation of Eminence speakers for its OEM partners based or operating there. But by the end of 2004 his plans had changed. "I came to the conclusion that they weren't doing anything we couldn't do better," says Rob. "I also realized that if we took that course of becoming merely a middleman to our OEMs, there would come a time when we wouldn't be needed, and we'd get bumped out of the way. It was clear that we needed to invest in our own factory."
While conscious of their competitors' head start in Asia, management was careful not to rush into binational production. The company invested heavily in meticulous training and quality control at its modern 9,000-square-foot factory in southern China, determined to produce speakers whose quality is indistinguishable from the ones made in the U.S. Eminence Dongguan Enterprise Co., Ltd. finally became a reality in 2007.
Back in 1999, well before it had ventured east, Eminence began to sell its own branded products in the USA through dealers and distributors. Around the same time it launched an extensive worldwide Eminence marketing campaign. Eminence made its first winter NAMM Show appearance in 1999, followed by a summer NAMM debut two years later. Up to the present, the plant in Eminence, Kentucky has produced all "Genuine Eminence"-branded speakers, whose labeling distinguishes them from the ones produced in China. All sales, engineering, and product development operations remain in Kentucky. "Our OEM customers can choose which of our lines they want," says Rob. "In most cases it's more cost-effective for customers located in the U.S. to buy from our Kentucky plant, and customers located in China to buy from our
Dongguan plant."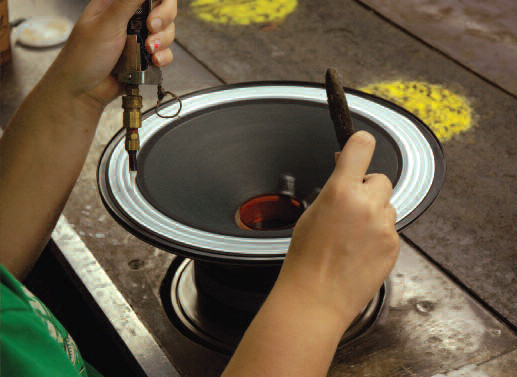 When Eminence Dongguan was launched, Chris explains, it used Asian components—magnets, chassis, top plates, and back plates from China and soft parts such as cones, spiders, and dust caps from Malaysia. Today, some OEM specifications are identical for speakers made in both Kentucky and Dongguan, because, for logistic efficiency, some of Eminence's OEM customers need to source from both locations to serve global markets. This capability, which was crucial to maintaining and expanding the company's OEM relationships, developed organically at the Dongguan location, where key aspects of the production process mirror their counterparts at the factory in Kentucky.
The huge undertaking of running parallel manufacturing operations went a long way toward meeting new market demands, but Rob and Chris soon found that an additional challenge
remained. "Many of [Eminence's Chinese competitors] were operating as 'one-stop shops,'" Chris explains. "They built both speakers and the finished products that used them." With
this new market reality tempting some of its longstanding OEM customers, in 2009 Eminence responded by establishing its own cabinet production facility within the Dongguan factory. It now produces finished guitar and bass amps and loudspeaker enclosures for some of the industry's most recognized brands.
Steadily rising labor costs in China's major industrial areas have required Eminence to keep pace with higher wages to maintain a trained workforce. "We have the same philosophy in China that we have in Kentucky," says Chris. "We love our employees; they make our business." In Kentucky, in addition to paying a competitive wage, Eminence offers its employees profit sharing, the rare combination of a 401k plan and a defined benefit pension plan. It also pays for all single health care plans and "a huge portion" of its employees' family plans. Another attraction of talent and source of job satisfaction is the company's four-day work week.
Not all of Eminence's development stemmed from operational changes; technological advances played a role as well. For example, in 2009 it acquired the exclusive license for the pro
audio and musical instrument markets for a unique digital loudspeaker protection technology called D-Fend. This technology was designed to protect passive loudspeaker systems from overpowering and general abuse. Eminence spent two years developing a configuration to be sub-licensed to its OEM customers along with a standalone unit designed to serve the needs
of the systems contractor arena.
Throughout its history, the company's bread and butter have been speakers for guitar amps and various pro audio applications. While benefiting from the healthy pro audio market—the latter with robust sales in the worship, permanent installation, and touring sectors—Eminence remains cautiously optimistic about the recovering electric guitar market.
An ongoing mission for the Eminence sales team is to help music retailers recognize aftermarket loudspeakers' true nature as high-margin accessories, more akin to boutique effects pedals than the replacement parts typically found around their service center's workbench. Chris contends that aftermarket loudspeakers represent a new product category— and profit opportunity— for many retailers. It's also a category that thrives when a tight economy, for example, makes customers reluctant to part with the full freight for a new amplifier, and one Eminence Marketing Director Cobi Stein points out offers dealers "really good margins."
"To succeed in today's tough market," says Chris, "retailers have to offer some value that their customers can't find by shopping on Amazon and at the big box stores. They have to know what they're selling, and they won't sell speakers that they don't have on display. How many strings and tuners would they sell if they kept them on a shelf in the back of the store? Dealers who actually display our products sell them in really significant numbers."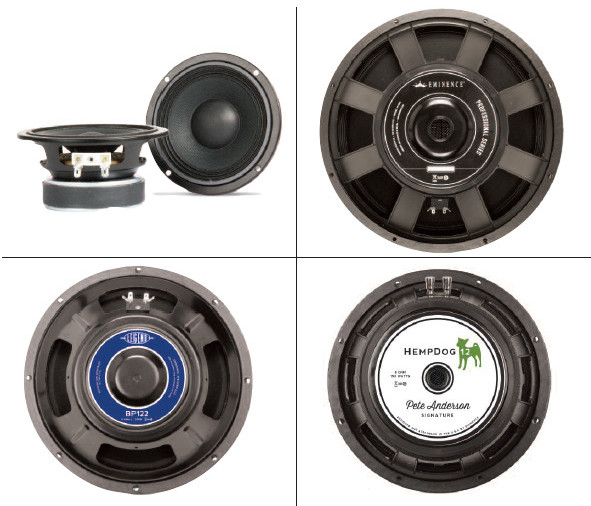 In another example of Eminence's extra-mile efforts to support its dealers, when consumers order speakers on the Eminence website, through Shopatron the order can be fulfilled at the nearest stocking dealer's store. The Tone Guide on the Eminence site helps end-users select the right product with audio clips and an array of parameters such as low end shape, breakup mode, power handling, etc.
Eminence has spent 50 years responding to tone-crazy guitarists' quest for the "perfect" guitar sound in all its diverse forms and incarnations. One recent example of its product development expertise can be found in the Travis Toy Signature Double T-12 Pedal Steel Guitar Speaker, designed in collaboration with the Rascal Flatts steel guitarist. According to Chris, Eminence has been a leader in the steel guitar market for years "partly because we recognize it and work at creating products specifically for steel players, with the sonic qualities they're looking for: a lot of gain and super clean, bell-like tone."
For this year's NAMM show, Eminence is pushing the selection even further. In the Alpha 4, it's debuting a 4″ version of the popular Alpha 6 in the American Standard series, perfect for pro audio line arrays and car audio applications. The Kappa Pro 18LF, a 1,600-watt, low-frequency 18″ cast-frame woofer/subwoofer, joins its offerings for pro audio and bass guitar applications. In the Hempdog 12, a signature guitar speaker created in collaboration with multi-platinum, Grammy Award-winning producer/guitarist Pete Anderson, the company has combined the tones from two of the artist's favorite speakers—the Cannabis Rex for its warmth and the Legend EM12 for its neutral, clear tone. From the Legend Series, two new bass guitar drivers join the lineup: the Legend BP122 and BP1525, both delivering warm, rich bass tone for the user's sealed cabinet.
The Basslite SC10, a new neodymium 10″ speaker from Eminence's high-performance and ultra-light weight Basslite series, has been designed to excel in sealed cabinets and is available in 16 and 32 ohms. Finally, the CV-65, rated at 65 watts, joins the Redcoat series, offering classic British tone with warm, throaty mids, sweet, articulate highs, and nice, detailed harmonic complexity.
About two years ago Eminence was sponsoring a benefit for Relay for Life, a cancer research charity that the company supports with activities throughout the year. Between performers, the venue owner interrupted the proceedings to present to Rob the first speaker Eminence ever made. (It turned out that the man had purchased his home from the bank officer responsible for approving the loan Rob's father had received to launch the business back in 1966.) For Chris, that speaker was a symbol for all that Eminence has achieved. "It reminded me of all the people who have worked here over the past 50 years," he recalls. "Many of them have spent their entire lives here, feeding their families, forming friendships, and making American products in a town of about 3,500 people for hundreds of thousands of musicians in more than 100 countries all over the world.
"It's times like this that we reflect on the impact we have had not only on our industry, but on our community and all the people who have worked here," he concludes. "There are so many people here who make a difference in the lives of our customers and the lives of their fellow employees. It's the culture that Bob tried to instill in this company 50 years ago, and it still lives on to this day."
Win an Eminence 50th Anniversary Stratocaster and Blues Jr. Amplifier:
http://www.eminence.com/50/
_________________________________
Source: Music Trades Magazine, Feb 2016: http://www.musictrades.com/
For more information about Eminence, visit:
http://www.eminence.com/
http://www.eminence.com/2016/01/eminence-celebrates-50-years/