Palmer PWT08 – Universal power supply for effects pedals – A test report by Bonedo.de
The Palmer PWT08 is a universal power supply from the German manufacturer with a maximum power output of 2000 mA and eight 9 V connections. Two of these can be switched to 12 or 18 volts. Furthermore, the overall system is highly compact and weighs a mere 300 grams. This sounds extremely promising as there is never enough room on a pedalboard and guitarists are happy about every gram less they have to lug around with them.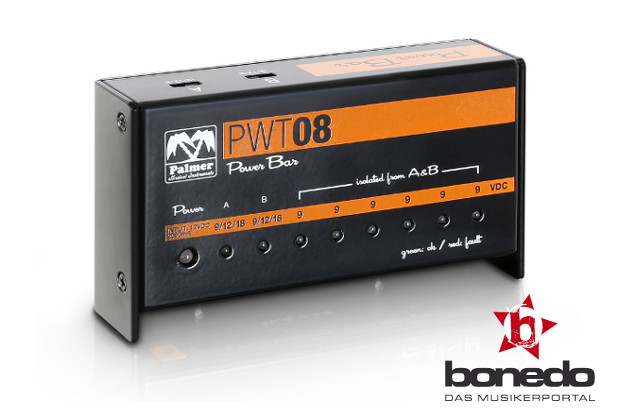 If you also look at the street price of around 100 euros, the device seems to be really cheap and a well-rounded product through and through. Our test reveals whether these first impressions can be confirmed in practice or sights actually need to be lowered.
Details
Enclosure/appearance
The PWT08 comes in a lightweight, stage black metal enclosure with orange stripes. When you pick it up, you may initially suspect that you've been given an empty box as a universal power supply weighing 300 grams can almost be classed as featherweight. But when you connect the supplied 12 V adapter to the power supply and the orange LED lights up, all is well with the world once more. In addition to the control LED, there are also several other little lights that indicate the status of the individual connections. Green means okay; red indicates a problem. This can be a short circuit or a connected pedal with the wrong polarity. In this case, the PWT08 goes into protection mode and switches back on again two seconds after the problem has been resolved.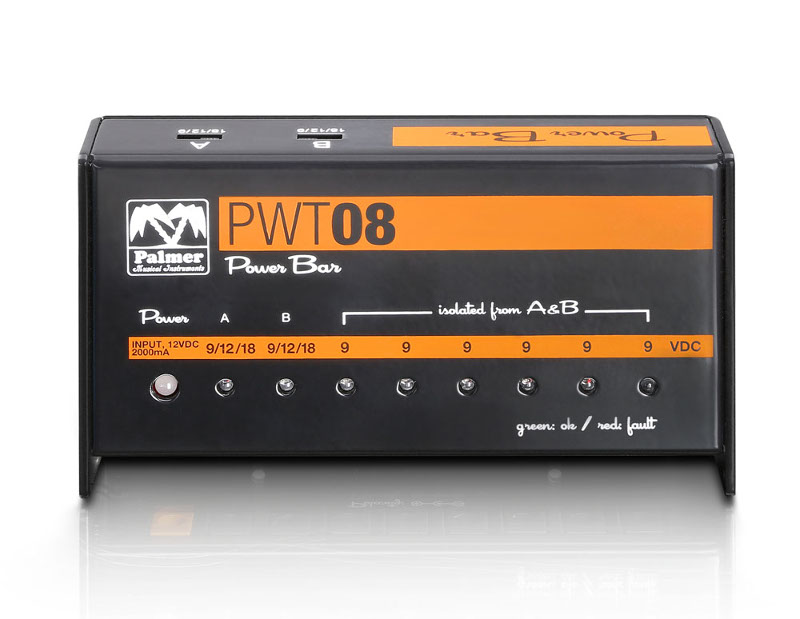 The PWT08 has eight connections, some of which have adjustable voltages. Outputs A and B are galvanically isolated from one another and can each be set to 9, 12 or 18 volts using the slider switches on the back of the device. If necessary, the Y-cable supplied also combines the two outputs so that even pedals with a voltage of up to 36 volts can be used without issue. The amount of cabling is otherwise reasonable; there are eight standard cables with 2.1 mm connectors (negative tips). Anyone using pedals that need special connectors must purchase these separately. However, at this price level, you can't expect everything to be included. Outputs A and B each have a maximum power output of 500 mA. The other six outputs are galvanically isolated from A and B but not from one another. According to the manufacturer, each of these has a power output of 150 mA.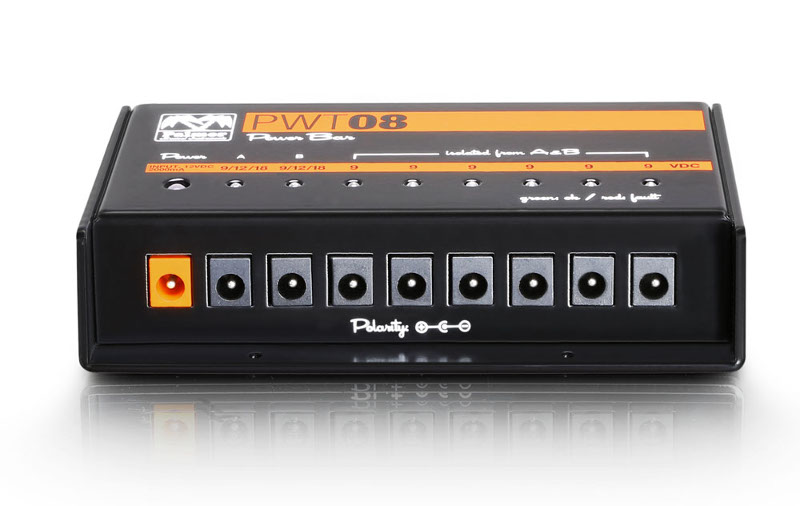 Test results
The Acy's Guitar Lounge test laboratory thoroughly tested the PWT08 to determine the voltage stability under load. Here are the values and results.
Initial set-up
The PWT08 is connected to the power outlet and an alternating voltage of 237.5 volts is measured at the power supply's input.
Open-circuit voltage
With the PWT08 running without a pedal, we record the following values at the individual outputs:
A: 9.41 V, 12.3 V, 18.2 V;
B: 9.35 V, 12.2 V, 18.14 V.
The 9 V outputs have the following open-circuit voltages: 9.51 V (A, B), 9.76 V (C, D), 9.55 V (E, F).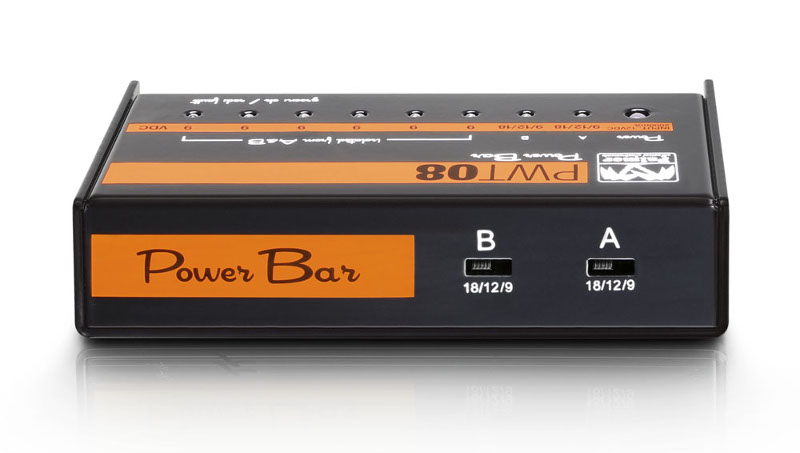 Voltage under load
A Lehle SGoS switch, which requires 160 mA power, is now connected to the PWT08. This was connected to each individual output, which was then re-measured. Under load, the 9 V outputs at 160 mA decline to 9.1-9.2 V. These are the outputs with a 150 mA load capacity. As such, everything is within the tolerance range. The A and B connections are also stable and do not have any major voltage drop. The following results were recorded:
A with 160 mA load: 9.3 V, 12.17 V, 18.06 V;
B with 160 mA load: 9.01 V, 11.85 V, 17.85 V.
In the tests with several pedals, there were no problems from a sound perspective or in terms of the individual outputs overloading – which is something that should not permanently happen in practice anyway. Combined with my Cry Baby, the PWT08 produced very positive results. The wah pedal normally quickly captures ambient noises if a power supply is placed nearby. This did not happen here; I was even able to place the PWT08 on the pedal and nothing hummed. Anyone who has this problem should definitely try the PWT08.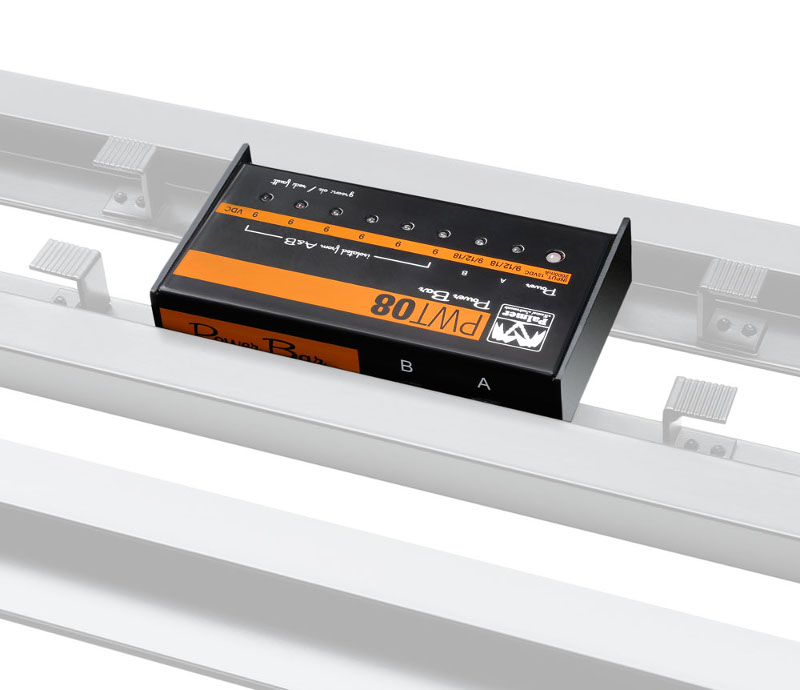 Summary
The PWT08 is an excellent way of powering the pedalboard. It has eight connections, two of which can be used with adjustable voltages (9, 12 and 18 V). These two connections each supply 500 mA of power and are galvanically isolated to prevent interference or ground loops. There are also six further 9 V connections, which are galvanically isolated from the aforementioned two. The overall power capacity is around 2000 mA, a level which can easily feed even power-hungry pedals. In the test laboratory, the PWT08 proved to be extremely voltage stable even under load. It also has a low weight, a compact size and a low price.
Pros
+ adjustable voltage (9, 12 and 18 V) at two outputs;
+ 2000 mA maximum output current;
+ stable current at all outputs;
+ galvanic isolation of outputs A, B and the 9 V outputs;
+ low weight;
+ no interference in proximity to wah pedal (tested: Cry Baby)
Cons
None
Technical specifications
Manufacturer: Palmer
Model: PWT08
Type: universal power supply for effects pedals
Power connections: 8
Voltage: 2x 9/12/18 V (selectable), 6x 9 V
Output current: 2000 mA
Cable: 1x 9 V DC Y-cable, 8x 9 V DC
Dimensions: 140 x 80 x 32 mm (W x D x H)
Weight: 300 grams
Price: 119.00 euros RRP
________________________________
Source: Bondeo.de, Germany: http://www.bonedo.de/artikel/einzelansicht/palmer-pwt08-test.html
Author: Thomas Dill
For more information about the Palmer PWT08, please visit:
http://www.palmer-germany.com/mi/en/PWT-08-Universal-9V-Pedalboard-Power-Supply-8-Outputs-PWT08.htm