Adam Hall Sales Partner Day in Poland
Adam Hall is a dynamically growing company with the ability to swiftly react to market requirements. Its products can be seen and heard both on stages and as built-in solutions in buildings. In addition to sound equipment, the company also offers complete stage lighting solutions as well as laser technology and musical accessories, such as cases, Gravity stands, amplifiers and guitar equipment.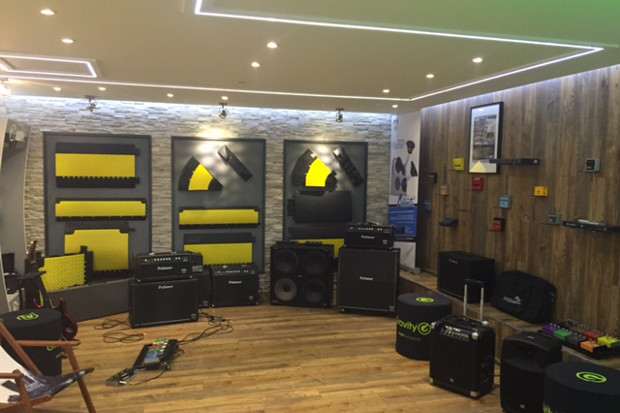 Such a broad product range naturally needs a multifaceted marketing campaign and an appropriate sales network. Last week, Adam Hall's Polish office therefore held an event to showcase new products to retailers and selected guests. This was also attended by CEO Markus Jahnel from Germany. The first product innovation presented was the CURV 500, a new 'mini' line array system. Bolesław Bernacki's presentation can be viewed here (in Polish).
LD Systems CURV 500
Next came the Maui 44 system and several speakers from the DDQ and Stinger series. The attendees were also extremely interested in a mobile PA system catchily named the Road Buddy 10, which is not only impressively loud for its size but also enables wireless Bluetooth transmission. It is consequently equipped with a wireless microphone and has an impressive battery life of up to eight hours.
LD Systems Road Buddy 10
In terms of accessories, Adam Hall presented the new Gravity series with its ultra-light stage stands and a broad range of attachment options.
Gravity stands
Finally, after the audio equipment, the lighting technology products were presented. These included a range of items from the lighting technology manufacturer Cameo with many new stage lighting products such as spotlights, moving lights, PAR lights, LED lights and the latest series of laser modules from the Star Wars universe with product names such as IODA, LUKE and WOOKIE. Please note that the series has received all important European safety certificates. As emphasised by the manufacturer, when purchasing the Cameo products, you can therefore rest assured that you will not need to replace the lights due to non-compliance with the strict EU standards. In the near future, selected specialist music stockists will also offer the 'Cameo tree' demonstration system, a central solution that enables customers to see the benefits of all Cameo technologies for themselves. We will provide you with further details shortly.
____________________________________________
Source: infomusic.pl, 15 September, Poland
Further information about Adam Hall and the aforementioned products can be found at:
http://www.adamhall.com
http://www.ld-systems.com/en/series/curv-500-series/
http://www.ld-systems.com/en/series/road-series/road-buddy-6-battery-powered-bluetooth-speaker-with-mixer-and-wireless-microphone/
http://www.gravitystands.com/