Palmer PDI 03 JB – A test report by delamar.de
Palmer PDI 03 JB In this Test Report you'll discover why you can just forget about miking up your guitar speakers if you want to – and avoid having to buy the equipment required. The reason? The popular Joe Bonamassa DI box provides speaker simulation with three filters for replicating a vast spectrum of cabinet sounds. We've got the lowdown on how the DI box fared so well in our practical test right here for you.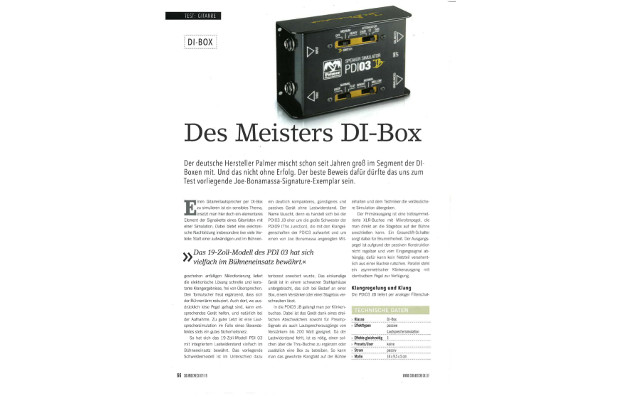 What is it?
The Palmer PDI 03 JB is a passive DI box that balances high-resistance signals (from guitar and bass) or from line level equipment. The output sound comes courtesy of XLR connectors and/or jacks to the mixer, audio interface, etc. A special feature of this DI box is that it has a speaker simulator that replicates the different tones from guitar speakers or overdrive effects, and has 3-position switches for bass, mids and treble.
As is standard for this equipment category, a ground lift switch eliminates hum and other interference. The input level can be adjusted down by up to 24 dB to accommodate the varying outputs of amplifiers and other signal sources.
The box is available to buy from German high-street retailers for €179.00 (incl VAT).
Concept
Palmer has sold its PDI 03 (without the "JB" for "Joe Bonamassa") for many years now – a combination of a load box and a speaker simulator for the 19-inch rack. Bonamassa has used this for a long time but wanted to come up with a more compact version. Why?
Here's why: The master connects between 1) the sound from the miked-up cabinet and 2) the amp output, and produces a balanced and rectified overall signal. The amp therefore doesn't have to function muted, making a dummy load superfluous and enabling this pocket-format interpretation of a standard DI box.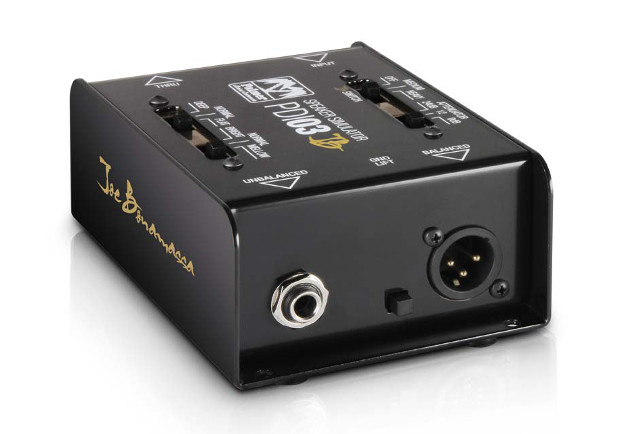 Equipment
The signal comes from the loudspeaker output of your amp or a pedal output and enters the box's 6.3-mm input. If required, you can adjust the input level down by 12 or 24 dB – it all depends on how much punch your amp is packing, with attenuation by 24 dB the right amount for any 200-watt monster equipment. The input signal can be immediately directed back out again via the THRU jack in order to allow the amp sound to be formed in the traditional way by a cabinet alongside the speaker simulator.
The "JB Switch" brings the mid-range output to the fore and has two strength settings. Two other 3-position switches allow bass and treble responses to be adjusted up or down. Details in the practical info section below.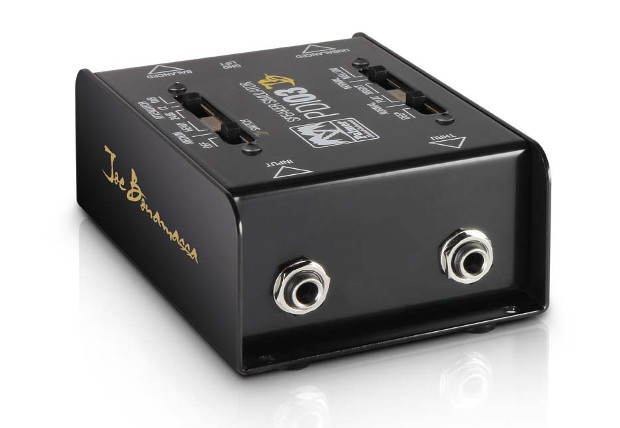 Taking things to a real (semi-)pro level, the box's XLR connector with transformer-balanced output signal ensures the best-quality signal is fed to the mixer, interface, etc. Also featured is an asymmetrical jack output. And the icing on the cake: Both of these can be used at the same time.
First impression and workmanship
The powder-coated steel chassis looks very solid and capable of handling a good many years of day-to-day use both on stage and in the rehearsal room. The switches are quite loosely fitted but slot into their setting positions nicely and offer convincingly solid resistance to the touch when you maneuver them into place. All sockets are screwed to the housing in exemplary fashion, and jack sockets also have a casing for more solid fitting. Four self-adhesive rubber feet provide firm and protective stability when the box stands on smooth surfaces. Alternatively there are four holes for screwing the box onto another surface if secure assembly is wanted.
In practice with the PDI 03 JB Test Report
The diminutive box's basic settings – OFF, NORMAL and NORMAL for mids, bass and treble responses – let it produce tones that resemble a halfway neutral microphone in close miking mode. In other words here, the signal is not simply looped through. Instead, as is typical for guitar boxes, the signal is slightly attenuated in the treble range and sounds more distant
Similar to an overdrive effect, the JB switch allows mids to be emphasized, giving a more present, more tangible sound. The "HEAVY" setting intensifies the effect but to a more moderate degree than the "MEDIUM" setting – both settings greatly impressed me, they're perfect for example for blues or other more crunchy sounds.
So how did the two filters shape up at the upper and lower ends of the spectrum? Amplifying the treble range never causes the sound to be too shrill, while attenuating them allows overly harsh sounds to be softened. Performing just as convincingly and naturally is the switch for the bass. Excellent all round.
All these timbre pre-settings are performed by hand in a flash thanks to the 3-position switch, and in most cases your desired sound is produced very quickly exactly how you want it. The three filter switches complement each other excellently, all in all creating a remarkable tonal range.
This way for the audio samples: http://www.delamar.de/test/palmer-pdi-03-jb-testbericht/2/
All that remains to say is the box delivers a very clean sound, and the ground lift does an admirable job too.
For:
+ Impressive sound ("in your face") thanks to the JB switch
+ Well-tuned, flawless-sounding filter for bass and treble ranges
+ Side-by-side functioning outputs, XLR transformer-balanced
+ Ultra-robust designed chassis and stable sockets
+ Screw-holes and rubber adhesive pads for stability
Against:
– No balanced output of the non-adjusted amp signal
Summary of Palmer PDI 03 JB Test Report
This small-size box fulfills its remit – the Palmer PDI 03 JB actually performs so well that in many cases there is no need for microphoning and the mixer/interface receives excellent cabinet sound. This spares you the much more complex process of using a guitar speaker, microphone and stand, which can be of invaluable benefit, for public performances in particular. The sound impresses on all fronts.
The JB switch brings the sound right forward, the mids jump right out at you without an unwelcome raucous boost. The 3-position filter switches for bass and trebles perform equally impressively. Also excellent is that a) in addition to the THRU socket, two other outputs are simultaneously available to use (XLR is transformer-balanced).
Last but not least, also deserving praise are the box's superbly finished housing, its solidly-screwed-on sockets, the screw-holes for fixing the box in place, and the four self-adhesive rubber feet. The only factor detracting slightly from the overall analysis of the box would be the lack of an option for balanced output of the unmodified amplifier signal.
Which leaves me still happy to award an excellent four-and-a-half stars to delamar for the Test Report for its Palmer PDI 03 JB. The box is a highly impressive partner, offering flexible and top-quality sound options to anyone seeking a super-compact alternative to, or a complement to, the microphoning route. And it doesn't even need a power source.
At a glance
Summary "A robust and sound-wise a flexible and high-quality alternative (or add-on) to the occasionally complicated process of miking up cabinets."
Key features:
+ Passive DI box with speaker simulation
+ 1 input (6.3 mm, asymm.)
+ 2 outputs (XLR, transformer balanced + 6.3 mm, asymm.)
+ output impedance: 600 Ω
+ Max. amp output: 200 W, depending on load
+ Input reduction by 0/12/24 dB
+ Filter with three settings each for the bass and treble ranges
+ Cabinet surface: powder-coated sheet steel
+ Dimensions: 140 x 95 x 50 mm
+ Weight: 0.53 kg
Aimed at: musicians and producers on stage, in rehearsal studios and doing home recording, who want to avoid the hassle of miking up a guitar box.
___________________________________________
Source: http://www.delamar.de/test/palmer-pdi-03-jb-testbericht/
Author: Philipp Mahler
Find out more about the Palmer PDI03 JB here:
http://www.palmer-germany.com/mi/en/PDI-03-JB-Joe-Bonamassa-Signature-Model-Guitar-Speaker-Simulator-DI-PDI03JB.htm