Cameo Control 6 – Test report by Delamar.de
A small tool for a low price: Learn where this compact DMX controller can be used in the Cameo Control 6 test report, and which types of spotlight can be controlled with it. You can find out everything about its functionality and practical uses right here…


What awaits you?
The Cameo Control 6 is a 6-channel DMX controller, with which you can control one or more DMX spotlights. In total you have seven faders available (six channel faders + master fader). The controller also has a 9V battery compartment for mobile use. At German dealers the Cameo Control 6 is available for a retail price of €49.
Features
Six channel faders + master fader, and a DMX output. The Control 6 offers no more and no less than this. The configuration is all you need for small lighting setups, e.g. on the stage or in a basement party room. Why buy a complex DMX control panel with 32 channels and programming function if you're only using your spotlights for certain purposes, and mainly use automatic or music mode?
In this design the motto is: Compact and clearly arranged, without limiting the ease of use. At 16×13 cm and weighing 0.7 kg, the DMX controller fits in anywhere, and can even be held in the hand if needed. Despite its low weight, the device appears robust thanks to its metal housing. The faders have a little too much play for my taste, but are firmly and securely built in, and work cleanly in operation.
On the back is the power connection for the included power adapter, an on/off switch and the DMX output for the connection of a 3-pin XLR cable which can be connected to the (first) spotlight. If you are ever in a situation where no power point is available then the Control 6 can also be operated with the (included) 9V block battery. The associated connection is on the bottom of the device.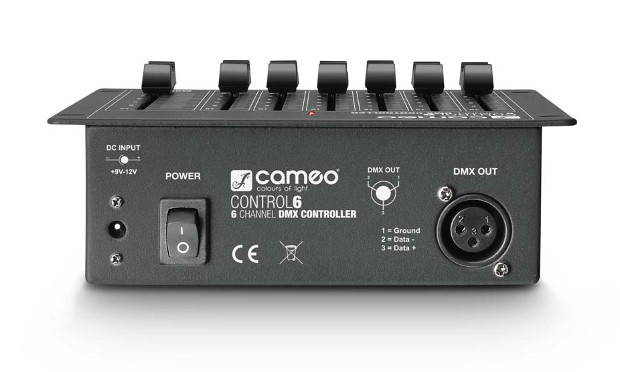 In practice
With the Control 6 you can either control one DMX spotlight with a maximum of six DMX channels or multiple spotlights of the same type, if these have the appropriate DMX modes.
An example setup: To light a dance floor you have three effect spotlights which you want to run in automatic or music mode. Each of these spotlights can be controlled in 2-channel DMX mode – the first channel is used to control the dimmer, the second to switch between automatic and music mode. It is only for more complex set-ups, especially those involving moving heads with many more channels, that the Control 6 has to make do.
Conclusion to Cameo Control 6 test report
For a retail price of €49, the DMX controller Cameo Control 6 offers everything that basic mobile spotlight setups need – it is compact and can also be operated with a standard 9 volt block battery if required.
The device is also sufficiently robust to be used "on the road", and not give up the ghost at the first sign of hard work. The faders do their job cleanly and reliably, the only issue being that they could sit a little more tightly.
Rating: 4 out of 5 Simple DMX mixer for six channels.
At a glance
Cameo Control 6 test report
"This small DMX controller works reliably, is road-ready and can be battery operated."
Key features:
– DMX controller (DMX 512)
– Mixer for 6 channels
– Output: XLR 3-pin, female
– 6 channel faders, 1 master fader
– Power supply via power adapter or 9V battery
– Size: 167 x 56 x 134 mm
– Weight: 0.7 kg
– Power adapter and battery included
– Best for: Organisers of small parties.
__________________________________
Source: Delamar.de, April 2015, Germany: http://www.delamar.de/test/cameo-control-6-testbericht/
Author: Alexander Cevolani
Learn more about the Cameo Control 6 here:
http://www.cameolight.com/en/products/dmx-controllers/control-6-6-channel-dmx-controller/