Come and visit LD Systems at Prolight+Sound 2015
From 15 to 18 April 2015, Prolight+Sound 2015 will take place in Frankfurt, as usual. This time, LD System is represented with two stands. You will find us and our top products in Hall 8 / C48. On the outdoor stage, the Agora area, you will find the LD Systems Club Lounge, where we invite you to enjoy a cold drink while chilling out to some cool music.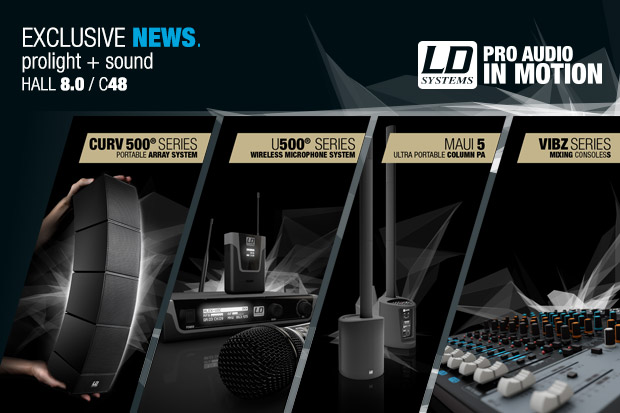 Here is a glimpse of what to expect from LD Systems:
Array reinvented – the CURV 500® Array from LD Systems®
After three years of intensive development, LD Systems presents the CURV 500®, the world's most compact active Curved Array.
In spite of its small dimensions, it harnesses the WaveAhead® Line Array sound technology to create a homogeneous high-definition sound pattern across the whole room.
Furthermore, the LD Systems SmartLink® adapter makes the system absolutely flexible, scalable, and wireless. The subwoofer control unit of the CURV 500® array has an integrated 4-channel DFX mixer with Bluetooth® wireless connectivity and controls up to 8 CURV 500® satellites at the same time. With its unusual and extraordinary design, the utmost importance has been placed on usability and highest value. Through the exclusive use of aluminium and wood, a very special Look & Feel has been achieved.
Send a strong signal. The new U500® wireless microphones from LD Systems®
The HF systems of the U500® Series from LD Systems convince through their technology and attractive appearance. They work with a transmitting power of up to 50 mW in the free duplex gap and are professionally equipped with automatic channel search, one-touch frequency synchronisation and high-contrast OLED displays.
The Right Mix of Features – the new VIBZ mixer series from LD Systems®
In the VIBZ series, LD system offers 4 new mixers with practical features and a professional sound. The features include high quality microphone preamps, a precise 3-band EQ, a compressor with comfortable 1-button controller and 24-bit effects.
A featherweight in the Maui® series – the MAUI® 5 is one of the world's lightest column PA systems
The ultra compact MAUI 5 system boasts all the advantages of the MAUI family from LD Systems: far-reaching and wide sound dispersion, wireless structure and excellent portability. Due to its extreme resistance to feedback, and featuring an integrated 3-channel mixer and LECC signal processing, this Junior combines both active PA and monitor system in one, while fitting comfortably on any car seat.
Invisible Audio – the Contractor® Series installation speakers from LD Systems®
Black, white, ultra flat, frameless: the speakers from the LD Systems Contractor series provide discreet, elegant installation solutions. All models are designed for safe installation in ceilings and walls and as assembly speakers; they are also available as 100 V versions to accommodate ELA systems.
The ideal front passengers – Road Buddy 6 and 10 with Bluetooth and wireless radio system
Equipped with on-board FM radio receivers and Bluetooth players, the two battery powered Road Buddies from LD Systems are fully wireless solutions for mobile music and voice transmission. Integrated class-D power amplifiers, 6″or 10″ woofers and a 1″pressure driver provide a powerful sound, and the Road Buddies are equipped with all necessary connections for wired devices. Wireless microphone or headset, and an infrared remote control are included.
Automatic, digital and versatile – the LD Systems® AM 8 Matrix mixer
Network capability, remote control and monitoring of critical functions, and extensive connection options make the automatic 8 x 2 Matrix mixer AM 8 from LD Systems a versatile professional audio device. The software of the mixer includes configuration and control options such as compressor, EQ, phantom power, and the switching matrix; on the device, encoders allow for an intuitive manual setting.
_________________________________________
On both stands, you'll also get the opportunity to take part in a prize draw. With a little luck, you will win a weekend with a BMW i8 or i3 and one of our exciting product highlights or a €500 Adam Hall voucher.
We look forward to sharing the excitement with you at Prolight+Sound 2015.
For more information on Prolight+Sound: http://pls.messefrankfurt.com/frankfurt/en/besucher/willkommen.html
For more information on LD Systems:
http://www.ld-systems.com/en/home/