Cameo Flat Pro Can series, left out in the rain – test report by Event Rookie
Outdoor events are a frequent occurrence, especially in summer. There is something special about open-air concerts and they always attract large crowds. Partying under the open sky is and remains something fascinating. Yet, just because they are outdoors, people don't want to do without first-class lighting and sound technology; they have got used to finding professional technical equipment at almost all events. But technical service providers have to focus on different things for the open-air sector than for the indoor one.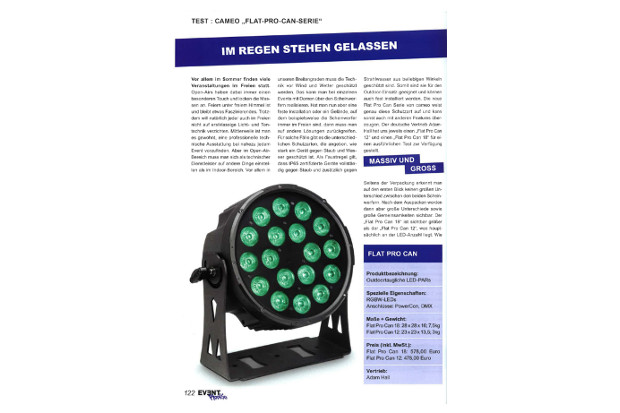 At our latitude, one of the key factors is ensuring protection against wind and bad weather. At some events, this can be achieved by covering the spotlights with domes. But if you have a fixed installation or a site where the spotlights are always outside for example, other solutions become necessary. For such situations, the different protection ratings specify the extent to which equipment is protected against dust and water. As a rule of thumb, equipment certified with an IP65 rating is fully protected against dust as well as against spray water from any angle.
It is therefore suitable for outdoor use and can be permanently installed. The new Flat Pro Can series from Cameo has precisely this protection rating, as well as several other impressive features. The German sales team from Adam Hall provided us with a Flat Pro Can 12 and a Flat Pro Can 18 so that we could put these to the test.
From a first glance at the packaging, there aren't any obvious differences between the two spotlights. However, once the devices have been unpacked, major differences, but also great similarities become clear. The Flat Pro Can 18 is visibly larger than the Flat Pro Can 12, mainly due to the number of LEDs. As the name infers, the Flat Pro Can 18 comes with eighteen LEDs, whereas its little brother only has twelve. This is the main difference at first glance.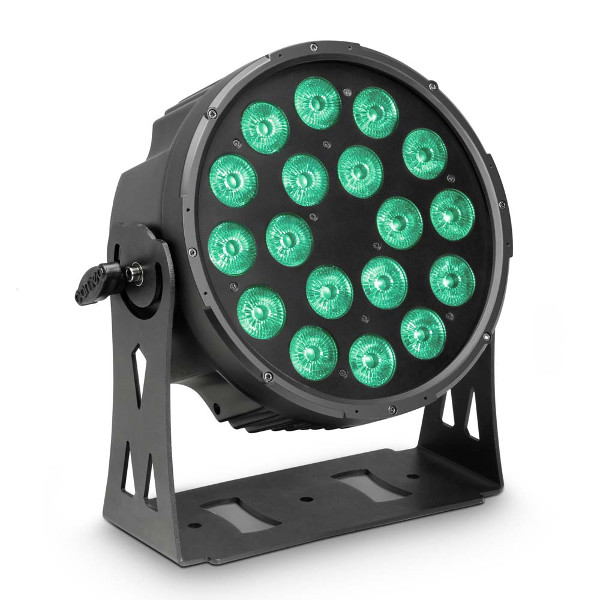 Both versions have heavy die-cast metal housing with cooling fins, eliminating any need for a fan. Thanks to the universal mounting bracket attached to both spotlights, the devices in the Flat Pro Can series can be hung, stood up or suspended. The high-quality, professional-looking connections are also instantly striking. Data and power ports are provided as inputs and outputs so that several devices can be connected in a daisy chain series. Screw connectors are also provided on all ports so that water cannot penetrate the spotlights here either. Protective caps are provided for the unused ports. This enables the spotlights to be used without problem even in heavy rain.
The spotlights in the Flat Pro Can series can naturally be DMX controlled but also used in master/slave mode and as stand-alone devices. We decided to connect the Flat Pro Can 18 and the Flat Pro Can 12 and test them in master/slave mode. Connecting the devices together was easy and the connection points appeared watertight.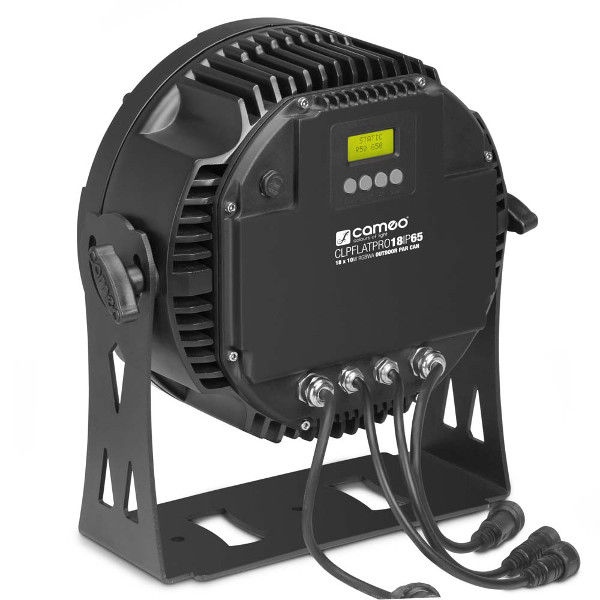 Even the display and its buttons on the back of the device are waterproof. However, the buttons are very hard to push, making it laborious to configure settings. After working our way through the menu, we chose a colour transition with an average fade time in the aforementioned master/slave mode. This provided an idea of the colours shown – and they truly impressed us.
Thanks to the ten watt RGBWA LEDs, not only rich colours, but also pastel tones can be easily created. Both spotlights have a thirty degree dispersion angle but the Flat Pro Can 18 creates a wider beam thanks to its extra LEDs and larger size. According to the manufacturer, the Flat Pro Can 12 has an illuminance of 15,000 lux per metre and the Fiat Pro Can 18 of 23,000 lux per metre. In all events, both spotlights are extremely bright and can therefore also easily illuminate house facades, for example.
Summary In offering the two spotlights in the Flat Pro Can series, Cameo presents ideal devices for outdoor use. The workmanship appears to be of very high quality and you can leave either the Flat Pro Can 12 or the Flat Pro Can 18 out in the rain without any concerns. The 5-in-1 LEDs have a sufficiently high luminosity and produce rich colours. The buttons are the only things that the manufacturer needs to improve, as these are far too hard to press. Despite that, the devices offer good value for money.
Flat Pro Can
Product description: LED PARs suitable for outdoor use
Special properties: RGBW LEDs
Connections: PowerCon, DMX
Dimensions & weight:
Flat Pro Can 18: 28 x 28 x 16; 7.5 kg;
Flat Pro Can 12: 23 x 23 x 13.5; 3 kg
Price (incl. VAT):
Flat Pro Can 18: EUR 578.00;
Flat Pro Can 12: EUR 478.00
Sales: Adam Hall
____________________________________
Source: Event Rookie 7/2014, http://eventrookie.de/
Full information about the Flat Pro Can series can be found at:
http://www.cameolight.com/en/series/flat-pro-series/