Press: Built for eternity – the Palmer 8-channel DI Box PAN 16
When many signal sources with unbalanced output, such as elaborate keyboard rigs, are to be connected to a mixer, multi-channel DI boxes are the practical alternative. With the passive PAN 16, Palmer now presents a new helper for stage and studio operation, which is much more cost-effective than individual DI boxes.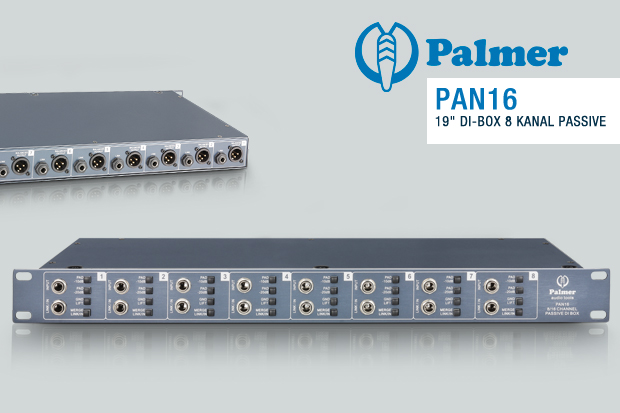 As a special feature, the 8-channel device in 19″ rack format on 1U, offers a maximum of 16 input terminals – the MERGE function makes it possible. It switches the parallel output of a channel as additional input and merges both signals to a mono sum. With two PAD switches, you can choose a 10, 20 or 30 dB attenuation; the ground lift switch disconnects the ground connection thus preventing ground loops.
The XLR outputs of the PAN 16 are electrically isolated and balanced by a high quality transformer. Their impedance is set at 600 ohms; the frequency response ranges from 10 to 40,000 Hz. They are equipped with 8 additional parallel outputs in 6.3 mm jack format arranged on the back panel of the device, that comes in a rugged housing made of powder-coated steel.
Developed in-house by Palmer, the high quality transformers and other selected components offer absolute reliability and easy handling in addition to a first rate audio performance.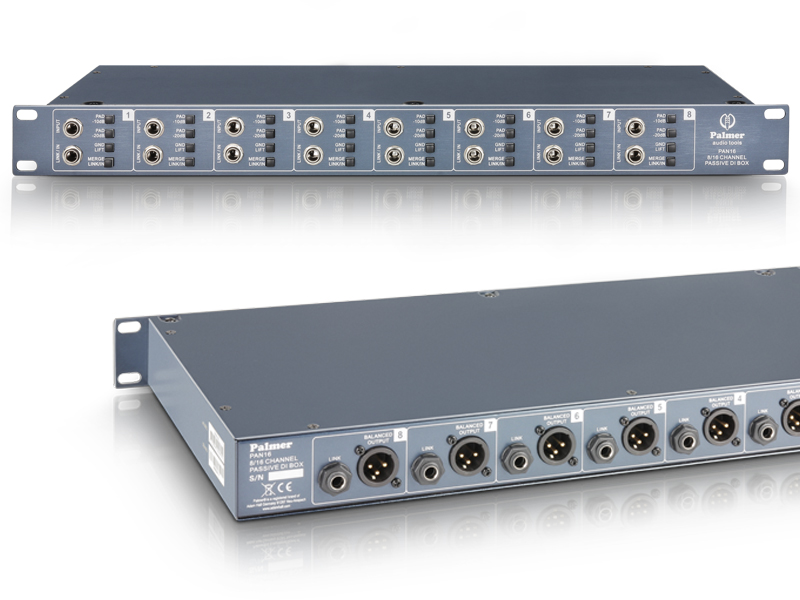 Additional information is available at:
http://www.palmer-germany.com/pro/en/PAN-16-19-DI-Box-8-channels-passive-PAN16
Click here to download the Press Package (Press release in Word format in 4 languages + pictures and logos) !