Designer column packing the ultimate punch – LD Systems MAUI 44 – Product review from Amazona.de
Have you ever experienced that? The van arrives. The first, comparatively small sound element is being unloaded and already you hear from the far corner "Oh God, I hope this is not too loud." The fear expressed by the regular participant at corporate party events regarding excessive sound pressure can almost be felt at 3 in the afternoon. It may be that the same corporate chap is fully loaded by midnight and is down on his knees on the dance floor playing air guitar, and complaining that the final "Smoke On The Water" is not loud enough. Although, according to the neighbours, volume levels have already approached those of "Motörhead at Wacken".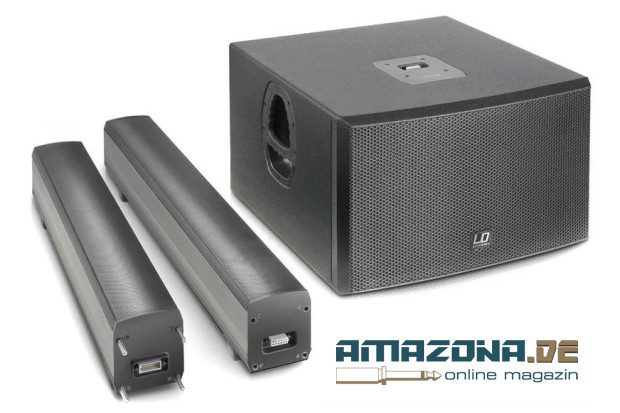 So, what do you need to make customers happy? A small, possibly sexy-looking P.A., which despite its unassuming appearance, can churn out a hearty performance in the kilowatt department without risk of sending the installed loudspeakers to their electrical doom. With the LD Systems MAUI 44, we now have a column system on the market that should convince both in the aesthetic, as well as in the acoustic domain. Yabba-dabba-doo!
Construction
The first impression of this German system is outstanding for several reasons. The system consists of three relatively small elements that connect via a plug & play connection to form an impressive column in a minimal amount of time. Perfectly milled slots and the matching steel pins provide a firm hold, while the signal flow is ensured through centrally installed connectors. Let the clutter be gone! Carrying handles are mounted on the back of the columns for easy handling. For indoor operation, however, make sure that you have at least a ceiling height of approximately 2.50 m in order to assemble the system. What about a party cellar or basement with approx. 2.20 metres of ceiling height? in your dreams!
The actual system consists of a subwoofer and two column satellites with different speaker elements providing an RMS performance of 1600 watts with a peak of 3200 watts at an SPL of 129 maximum dB. As always, Class D power amplifiers are at work here, otherwise it would be almost impossible to achieve performances of this magnitude. For the bass range, there are two 12″-neodymium speakers with a load of 800 watts, while the column elements also provide 4 x 200 watts with a total of 16 3.5″ mids and two 1″ HF drivers.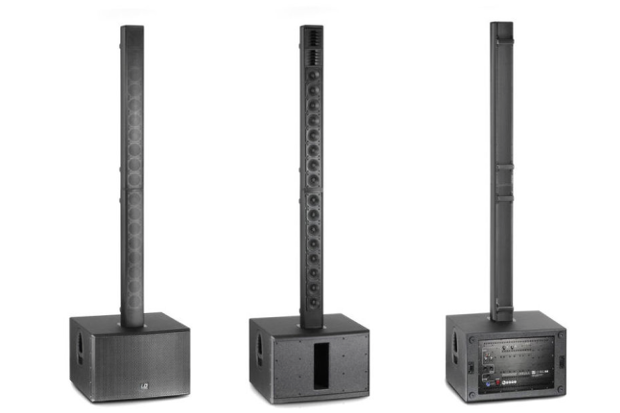 Regarding portability, the system sets real standards. In terms of weight, the upper column (10.2 kg) and the middle column (7.4 kg) can easily be moved by one person, while the subwoofer, despite the lightweight magnets, will require some muscles to lift the 40.8 kg due to its massive 15 mm birchwood construction and the control electronics. Fortunately, the ergonomic LD Systems Evolutive carrying handles allow access from all angles for a courageous carrier.
The dimensions are also very compact. The subwoofer (620 mm x 412 mm x 615 mm), upper column (120 mm x 973 mm x 144 mm) and lower column (120 mm x 838 mm x 144 mm) can easily be stowed in the trunk of a small car, mind you, without any wiring. It is important, however, to bring an additional PowerCon power cable which is lockable since the classic IEC cable provided with the LD Systems MAUI 44 is not particularly helpful. For the ultimate transportation comfort, you can buy a separate castor board that can be attached directly to the subwoofer via butterfly latch. All elements are protected from external impacts by massive, black steel grilles.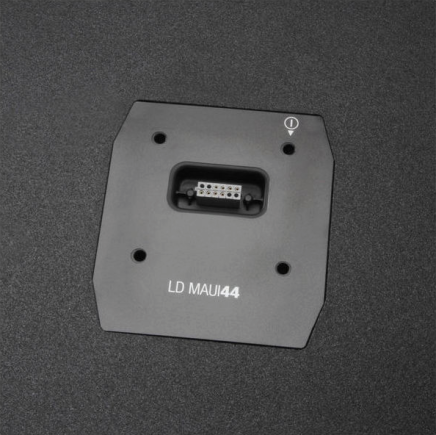 The entire connection area is built into the subwoofer, so that the infamous, unsightly cables do not hang down from the satellites. A treat for the eye! For the input, both combo jacks (XLR/TRS) and RCA sockets are available in double, so any signal can be processed. If several systems need to be connected in a daisy-chain, two XLR outputs are also available. If you really enjoy those deep bass sounds, the system also has a separate woofer XLR output.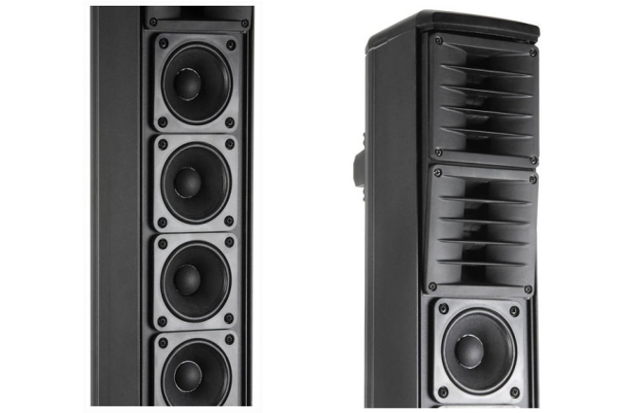 Thanks to two separate volume controllers, the subwoofer to master ratio can be adjusted as well as the total volume. This is handy if you want to give your sound a personal touch or adjust the subwoofer output to the signal. Four small LEDs indicate the most important operating conditions, such as power, peak, signal and the activation of the integrated limiter.
Practice Run
If your wife comes into the test room and casts an admiring eye on a PA system, then the designer must have done something right! Indeed, in the right light, the system might even pass as a designer piece in a modern residential complex. But those who believe that LD Systems have sacrificed efficiency or even sound quality in favour of looks, would be seriously mistaken.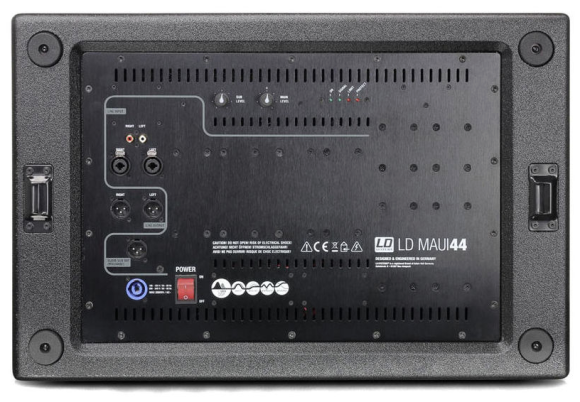 The first impression is very punchy with an excellent dispersion pattern. Due to the speaker equipment, the unpleasant beam found in some other brands is here reduced to a minimum and the sound radiates very well throughout a room or open air area. It is striking that both the near and distant listening zones are equally well catered for. Personally, I feel that the separately adjustable subwoofer to master ratio is of great help, in order to provide more thrust to the basic sound, depending on the incoming signal or the room acoustics, or to save it from dangerous roar effects.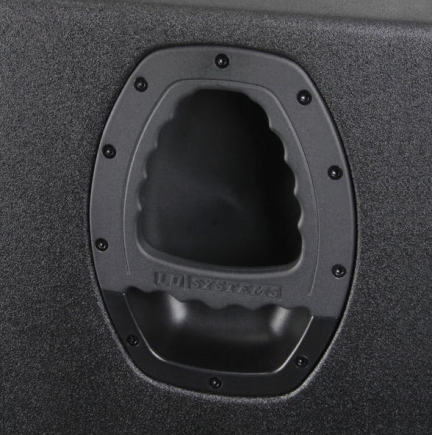 Due to the massive number of mids, LD Systems MAUI 44 has its own sound colouration, which is not to be taken in a judgemental way. As expected the medium/high mid-range is extremely present, which by direct comparison, makes the highs appear more "discreet" with a linear filter position. Here, I would maybe add a touch of "Shine" with a sum filter. The infamous bass centre hole in the crossover section of the subwoofer is present in this construction, but only barely perceptible and can easily be concealed if required.
In terms of range, the system is absolutely convincing both as a sound system in a room or for sidefill applications. Its beam angle of 120 degrees can also reach areas that are otherwise not acoustically targeted by comparable systems. The processor of the amplifier system also has a well tuned system with EQ, compressor and limiter, to form a very dense sound through the connected power amplifier, a task in which it also impressively succeeds.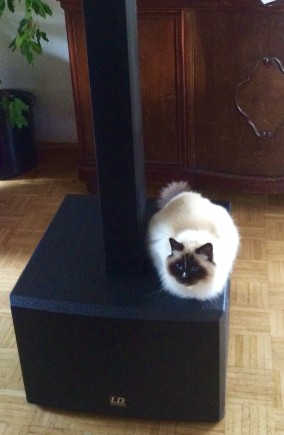 Conclusion
With the LD Systems MAUI 44, an absolute top P.A. of the compact class has been launched onto the market. I have never before come across a system that combines such excellent sound values with an exquisite appearance while at the same time offering sophisticated detail solutions in this form. Once more, it shows that German engineering means more than just a geographical indication expressed by "Made in Germany". The countries that can provide this level of quality and attention to detail, can be counted on one hand worldwide.
Whether you are a band, a solo entertainer or a DJ looking for an ultra-compact, very good sounding and smart looking small P.A., you should definitely consider the LD Systems MAUI 44.
Absolute Best Buy!
Pros
– design
– sound
– looks
– craftsmanship
– portability
Cons
–
Complete product information is available here:
http://www.ld-systems.com/en/series/maui-series/maui-44-column-pa-system-active/
Source: http://www.amazona.de/test-ld-systems-maui-44-kompakt-p/
Author: Axel Ritt