Palmer Fab 5 Combo – Homemade Blues-Rock – Test report by Guitar Part magazine
It is often said that tube amps are the best because of their warmth, grit and perfect playback. The German company Palmer also shares this view because, after twenty successful years, it provides a very nice 5 Watt combo, the Fab 5, that combines the best of modernity and retro look. We had the Fab 4 from Liverpool. So what is the deal with the "Fabulous 5" from Germany?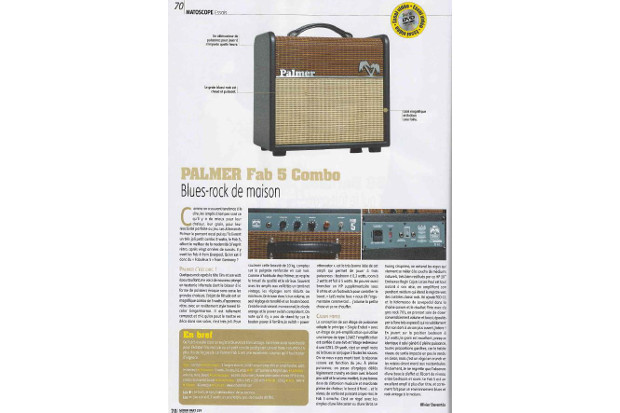 Palmer is chic!
A few months after the Palmer Eins with its breathtaking power performance, I'm dealing again with an infernal Teutonic machine, bearing a coat of arms in the form of a palm tree is always reminiscent of great heat. The test object is a first-class 5 watt combo with retro look, and a two-colour beige/maroon coating in the Tweed style. It is so compact and stylish, that you can place it right in your living room for decoration, very nice. To lift this beauty with its weight of 10 kg, use the handle that is reinforced with black leather. As usual with Palmer, this model also gives the impression of quality and seriousness. Often, with amps displaying a little touch of retro, the controllers are reduced to a minimum. So here we find three controllers for volume, single tone and boost. The instrument input has one channel; it is supplemented by an orange LED and power switch. It is worth noting that there is no standby function on the power switch. On the back, there is a "powersoak" switch, an excellent idea on this amp as it allows you to play in three performance classes: Bedroom level at 0.2 watts, Room level at 2 watts and Full power at 5 watts. You can also connect an external 8 ohms speaker and a footswitch to control the boost. "Let's make love", says the advertising…I switch on the small box and things start to heat up.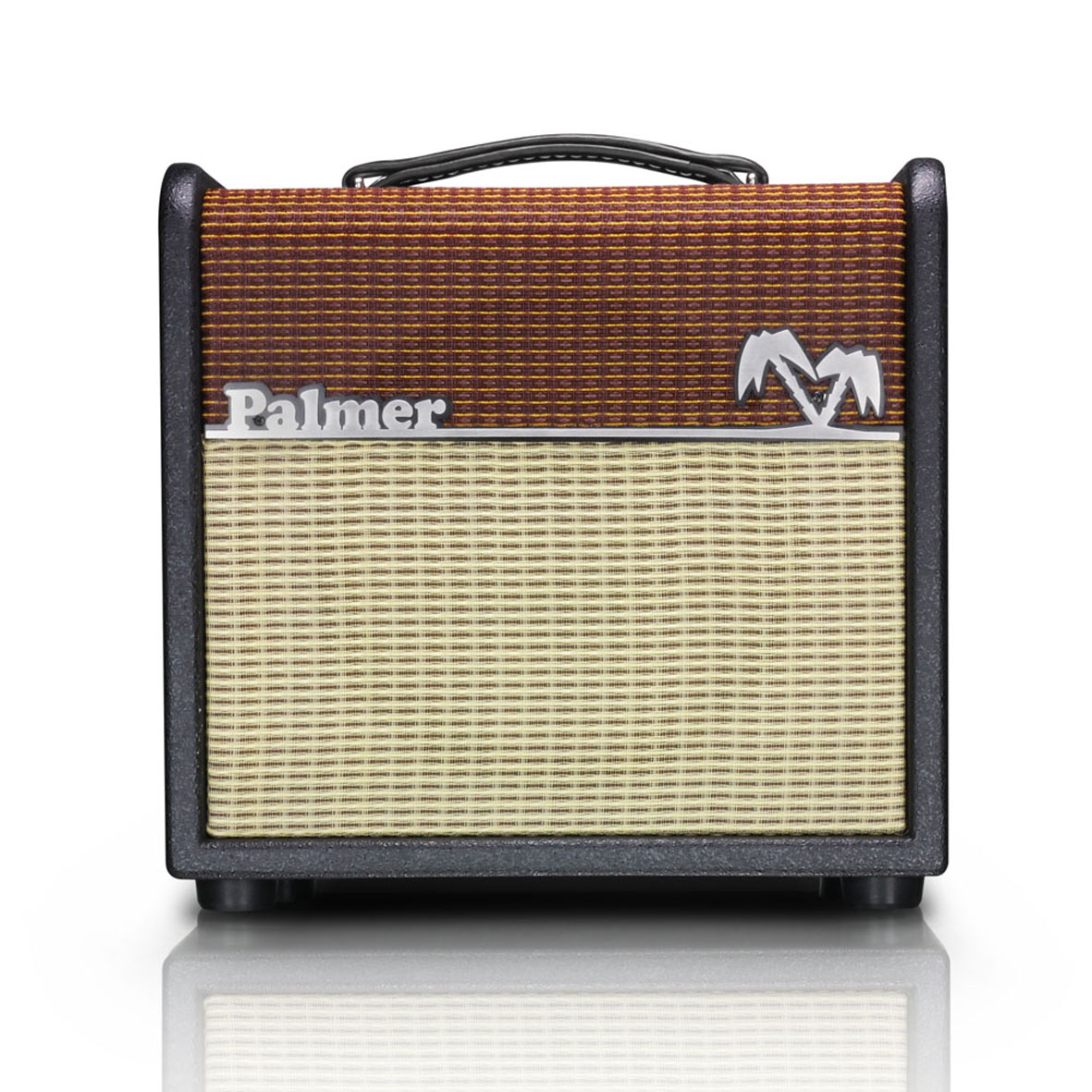 The power of Cajun
The design of the power amp relies on the "single ended" principle (a clock pulse tube circuit), with a 12AX7 type preamp tube, the power amplifier is equipped with a 6V6 tube, and an EZ81 is used as tube rectifier. Yeah, it really is a root-amp where Blues comes alive. Concerning the tonal response, they weren't lying. At full power, with little active boost and medium volume, the slightly crunchy arpeggios are cleanly brought over, with a good musical distortion, biting and full of warmth, the boost fully turned up…and the power output is top notch, believe me, you will be swept away by the Fab 5. A real pleasure with a simple Telecaster or Strat. The harsh tones are really expressed, you can clearly pick out the highs which blend in nicely with the natural sounding mid-tones, that this 10″ Ragin Cajun speaker from Eminence is able to reproduce so well. The Les Paul feels just as comfortable, its preference for mid-tones is amplified, so as to expand the sound spectrum towards Classic Rock. I inserted the OD-11 and the Kalamazoo from Lovepedal in the chain of sounds and the result is approaching the great rock of the 70s; careful attention is taken to appropriately dispense volume and boost, supported by the very expressive LeTone, which subtly moves from a dark sound to a more open sound, I'm thrilled! When you play in the Bedroom setting at 0.2 watts, the grit is excellent, almost identical to that generated by the Full power setting: all proportions are preserved, since the low output power affects the clear playback only a little, but as far as the crunch is concerned, it is a real treat, and the neighbours will be grateful to the late night revellers. In conclusion, the only things I can grumble about are the absence of an effects loop and the level difference between Bedroom and Room. In more ways than one, the Fab 5 is an excellent amplifier and really designed for homemade vintage Blues and vintage Rock.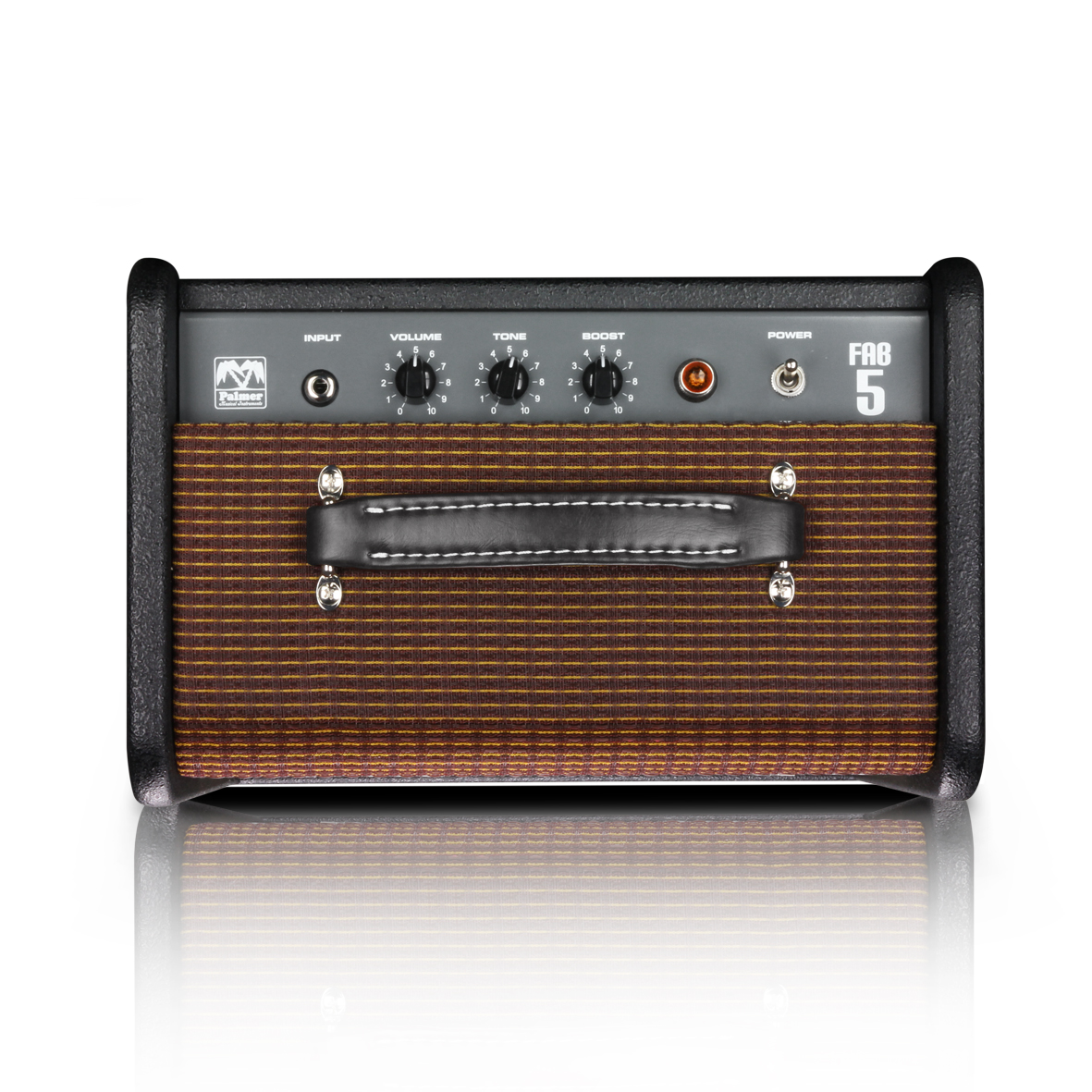 Summary
This Fab 5 shines especially brightly when playing vintage-Blues and vintage-Rock. It is not only designed to have fun at home or to really enjoy its beautiful sound in a small group, but it also looks really hot. The Fab 5 is an excellent surprise that you should absolutely test for yourself.
Type: Combo
Technology: 3 class A tubes, 12AX7 as preamplifier, 6V6 as power amplifier, EZ81 as tube rectifier
Performance: 5 watts, 2 watts, 0.2 watts
Speakers: 10″ Ragin Cajun from Eminence
Controller: Volume, Tone, Boost
Connectivity: instrument input, power soak switch, 8 ohm speaker, foot pedal input for boost
Dimensions: 360 x 345 x 230 mm
Weight: 10 kg
Price: € 499
Country of Origin: Germany
Pros +: the look, the sound and the power controller.
Cons -: the sound is a little weak at 0.2 watts, no effects loop.
For more information on this product: 
http://www.palmer-germany.com/mi/en/FAB-5-5W-All-Tube-Guitar-Combo-PFAB5.htm
Source: Guitar Part Magazine, France, February 2014
Author: Olivier Davantès