The Highlights up Close and Personal – Adam Hall presents its latest products at the prolight+sound 2014
At both the main stand in Hall 8.0 C50 and directly opposite in Hall 8.0 C48, Adam Hall and LD Systems will once again be presenting a selection of their exciting new products from their comprehensive brand and product portfolios.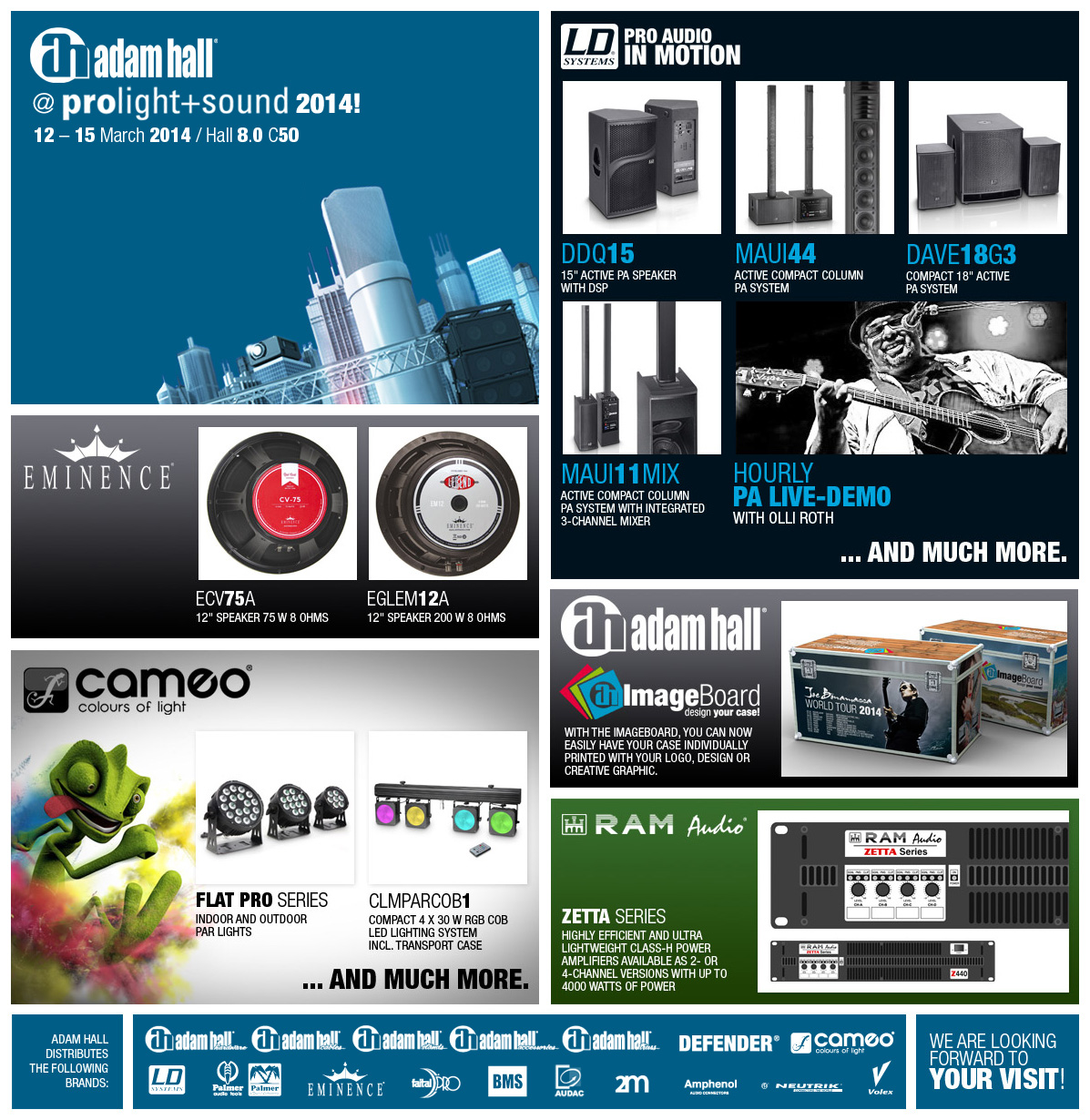 Your customers will be amazed — Adam Hall now offers customised printed birch plywood for the construction of flightcases. It is now possible to add logos, graphics and photos to each case from a minimum order of one. Adam Hall image boards are effective advertising that promote corporate identity and lend flightcases a distinctive personal touch.
Cameo Light will be there with its Flat Pro Series — a new series of PAR spotlights featuring RGBWA colour mixing, which are available in both indoor and IP65-classified outdoor versions. These offer a variety of DMX modes and numerous features. Their high refresh rate of 3,000 Hz eliminates flickering, making them ideal for use in TV and video productions. The Flat Pro Series PAR lights boast particularly even black cast housing, and are fully passively cooled and extremely quiet, thanks to their special convection cooling.
After a development period of ten years, Eminence presents the CV-75 A — a guitar loudspeaker for vintage sounds that perfectly captures that typical British sound of past decades in rock.
The Spanish brand RAM Audio introduces its Zetta Series — a range of powerful and simultaneously light, compact power amps designed for professional use in installations and touring. Equipped with QuantaPulse power amplifiers, an efficient cooling system and all protective circuits, they supply up to a 2 x 1,800 and 4 x 1,000 Watt performance, while remaining incredibly cost effective.
Directly opposite, the LD Systems team looks forward to you dropping by
LD Systems has expanded its popular DDQ Series and is bringing the DSP-controlled full-range system DDQ 15, plus two impressive DDQ subwoofers with it. These are equipped for configuring cardioid arrays.
The MAUI Series has a new flagship in the form of the active PA MAUI 44 column, which boasts both high performance and an elegant design.
Goliath Sound with 2,400 Watts comes from the new active 2.1 satellite PA DAVE 18 G3. The powerhouse behind the two 10" satellites with 1" HF driver is an 18" bass reflex subwoofer that houses all the electronics. With all the essential features and a powerful performance, the DAVE 18 G3 is perfectly equipped for all high-power applications.
These and many more highlights from Adam Hall await you at the prolight+sound 2014 in Hall 8.0 C48 and C50!
We look forward to seeing you!
Click here to download the Press Package (Press releases in Word format in 4 languages + pictures) !