Win a LD Systems STINGER G2 speaker and the current "Jacob & Phil Fill" CD!
Some time ago, we had the pleasure of supporting these two newcomers to the German singer-songwriter scene at a concert in Mainz. On 21 December 2012, LD Systems provided "Jacob & Phil Fill" with a complete STINGER G2 setup. The final gig of their 2012 tour was held in a brand-new venue called "Dicke Lillie, gutes Kind".


Uncharted ground for our compadres and for LD Systems. Our camera team was there to capture the whole thing on tape and, of course, to ask the two touring heroes what they thought of our LD Systems STINGER G2 Series.
The contest:
To celebrate the release of the new video, we are starting a big contest beginning first of July 2013. The band are giving away a signed copy of their album and a very attractive t-shirt. LD Systems isn't cutting any corners and is offering you the opportunity, with a little luck, to win a STINGER G2 Series speaker. (1 speaker or 1 subwoofer of your choice!)
Additional information about the series:
http://www.ld-systems.com/en/series/stinger-g-series/
The second generation of the successful STINGER speaker family has a new design while remaining uncompromising in terms of sound and dependability. The compact design is especially suitable for mobile use and for elegant mounting in permanent installations. Also nothing to scoff at: the outstanding value-for-money of this series of speakers!
How to enter:
Step 1: "Like" this blog post (Facebook, Twitter or Google+)
Step 2: Write a comment under this post by 11.59 pm on 14 July 2013. Of course we want you to tell us why you should be the winner and which model of the STINGER G2 speaker series you would like to win. Don't forget your name and e-mail address (which will not be shown):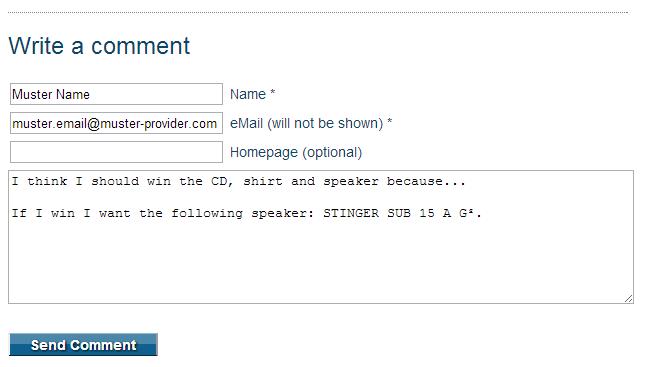 Step 3: Wait – we will announce the winner on 16 July: both here in the blog and on our Facebook page.
LD Systems and Jacob & Phil Fill wish you luck in the contest and hope you enjoy the video!
The world of LD Systems
www.ld-systems.com
The world of Jacob & Phil Fill:
http://www.facebook.com/JacobandPhilFill