Palmer EINS – Test Report by guitarristaonline.es
This time the folks at Palmer have outdone themselves: this tube amplifier in the form of a head with one watt output is sufficiently versatile for in all kinds of places and on all kinds of stages.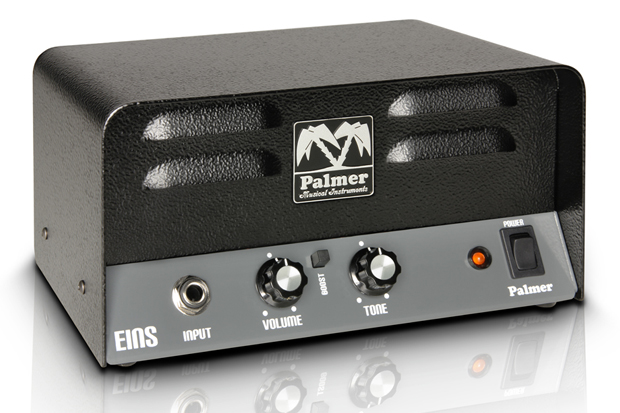 Since the company's beginnings in custom amp building and modification, Palmer has established itself as a highly regarded brand in the music business. One of the main reasons for the company's success is its close cooperation with musicians – a decisive factor when it comes to drawing on their first-hand experience live and in the studio in order to build the best possible equipment. Moreover, it should be added that Palmer offers optimal value-for-money: their product range includes first-class items to fit any budget. In addition to the pedals and guitar combos, they also have a wide selection of custom, load-your-own guitar speaker enclosures, as well as the familiar speaker simulators and numerous accessories that make work easier and more interesting for audio engineers. Palmer's line of amplifiers include the high-quality FAT50, which is available in combo or head versions, the aptly named Pocket Amp, and two preamps/mini-heads. We will present one of these two amps here, namely, the simpler version: the DREI is slightly more sophisticated.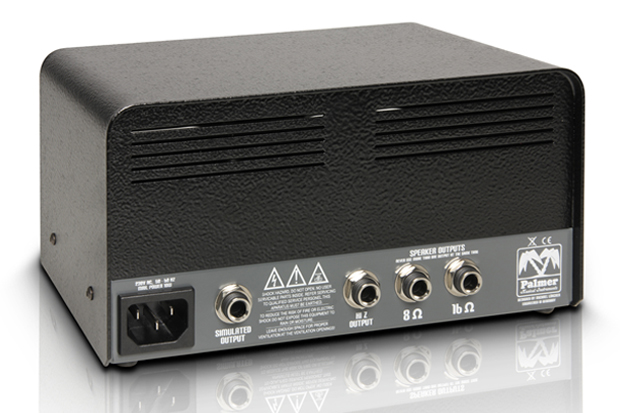 Design
The EINS and the DREI are modelled on the same architecture used in many other low-wattage (normally 5-watt) miniature preamps/heads. Amps of this type have become a very interesting alternative for a wide range of musicians. They are equally suitable for amateur musicians and professionals who are looking for equipment that offers both portability and high-quality sound. That makes these amplifiers ideal for use in the studio, in clubs, and even live (primarily with small and medium-sized audiences and provided that they are connected to guitar cabinets with sufficient output). The EINS is simply marvellous, because it is a genuinely small preamp in the form of a head (measuring just 20 x 12.8 x 10.8 cm) – which probably makes it one of the smallest devices on the market. It offers only a few capabilities and extras, but enough for an amplifier of this kind. With an output power of one watt, this preamp is designed mainly for practice and recording. Thanks to its tube design, however, it offers more than meets the eye. Another major advantage is its rugged design: like all Palmer equipment, it comes in an impact-resistant steel case. However, it is not out of place to remark that it would have been nice if they had attached a handle to the top or the side … The amp really is so small that you can manage even without a handle, but regardless of size, a handle would make it easier to get around while carrying the amp.
The EINS has just one channel, one input, two knobs (volume and tone), and a boost switch for pepping up the basic sound. On the rear panel are two speaker outputs that both work in the same way, one with 8 ohms and one with 16 ohms. The amp also has two additional TRS outputs. One is a simulated speaker output that simulates the Palmer PDI09 DI box and produces a tone equivalent to that device in its basic configuration (for connection to a PA system, power mixer, etc.). The other output is marked "Hi Z" and is a high-impedance output for connection to an amplifier with more power or a pedal board. This lets the EINS function as a preamp or as an additional amplification factor … truly practical and original. Thus this preamp can be used together with a PA system, a mixing board, a pedal board or simply with an amplifier.
The Sound
Considering that the amp has so little output power, it sounds very good indeed. That is because of its ECC tubes: the EINS has an ECC83 tube in the preamp stage and an ECC82 in the power stage. This is the way it comes from the factory, but you can also operate the amp in other configurations using these two tubes or the ECC81 tube. In this manner, Palmer offers four additional configurations you can use to tailor the amp to your taste: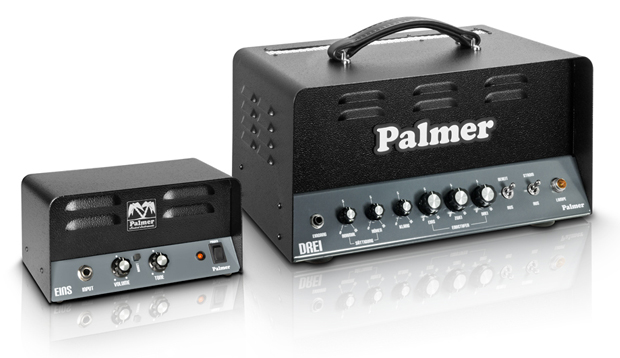 A. ECC83 and ECC83:
Quieter, distorts much faster, a little more gain, lead sound.
B. ECC83 and ECC81:
Louder than combination A, quieter than the standard configuration, more gain, distorts a little more quickly.
C. ECC81 and ECC82:
Stays clean a little longer, a little more headroom, darker distortion sound.
D. ECC81 and ECC83:
The quietest configuration; the distortion can be controlled more precisely.
The standard sound of the tubes is clean, rich in detail, and at the same time has a really interesting, slightly "busted" touch. When it is running full steam, the saturation is too strong and the amp maybe doesn't put its best foot forward, but there is no accounting for taste. You can be grateful for the boost switch, because it ensures a more compact tone within a fairly wide range. As long as we are offering criticism and suggestions for improvement: An additional hall switch would be a good thing; then you would be able to set the overall sound so that it is friendlier and warmer.
Conclusion
The Palmer EINS is an extremely practical and versatile little device that can be used with PA systems, mixers, amplifiers, and pedal boards. Its cultivated tube tone sounds best both clean and slightly crunchy. Its extra advantages are undoubtedly its rugged design and portability.
The last word
What we like: Its portability and the tube tone – both clean and crunchy.
What we don't like: Some kind of handle would have been advantageous.
The guitarist says: This preamp in mini-head format offers various connections that let you adapt to the situation at hand.
Additional information is available at:
http://www.palmer-germany.com/mi/en/EINS-Full-Tube-Guitar-Amplifier-1W-PEINS.htm
Source: guitarristaonline.es, Spain, January 2013