Palmer Octobus – Test Report by gitarist.nl
Are you looking for an affordable way of arranging your effects pedals into different patches? The Palmer Octobus might be just what you are looking for.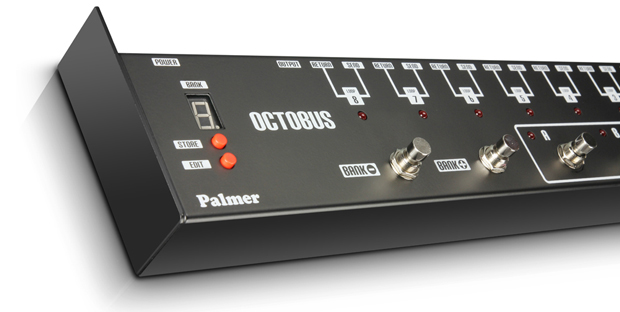 Some guitarists place (often) old-fashioned pedals in a true-bypass loop to prevent them affecting the sound – even when they are switched off. But what if you put each pedal in its own loop and then make those loops programmable? You can then go to a totally different combination of effects with one press of the switch. This is precisely what the Octobus does. And it does so whilst the pedals which are not in use are truly out of the signal path.
Use
The Octobus is made from sturdy steel plate and in addition to the eight loops, each with an individual send- and return connection, an input and output, six footswitches and a screen with two push buttons for edit and store functions. You can scroll through the memory banks with two switches. You then have four patches for each bank (switches A to D) at your disposal, 32 in total. In order to put a patch together you go to the desired bank and patch switch and press edit. You then select which loops are to be activated and close it all down with a press on the store button. Very simple. The system works superbly in a live situation. On the screen you see the selected bank and an LED lights up alongside the active patch switch. The active loops are also indicated by an LED. All you have to remember is which sound belongs to which patch, as the small screen only shows the bank number. So you can't give each patch a name.
Conclusion
With the Palmer Octobus your beloved guitar signal always takes the shortest route between guitar and amplifier via selected pedals. In addition to this you can also switch quickly between 32 pre-programmed combinations. A larger screen with the option to input names would be a nice touch, as would the option to switch to manual operation, but we realise that this is unrealistic at this price.
Info: PALMER OCTOBUS
Price: € 220.-
Type: 8-CHANNEL PROGRAMMABLE LOOP SWITCHER

For more information go to:
http://www.palmer-germany.com/mi/en/OCTOBUS-8-Channel-programmable-Loop-Switcher-PEOCT.htm
Source: www.gitarist.nl, Netherlands