LD Systems MAUI 28 meets virtuoso finger acrobatics
When it comes to the duo "Benson & Schaller", two times six strings equals more than twelve. With virtuosic delight, tremendous energy, and some downright acrobatic moments, the two acoustic guitarists ignite enthralling musical fireworks in their "Strings On Fire" concerts. We recently had the opportunity to speak with Benson (Thomas Kalb) about music and the MAUI system.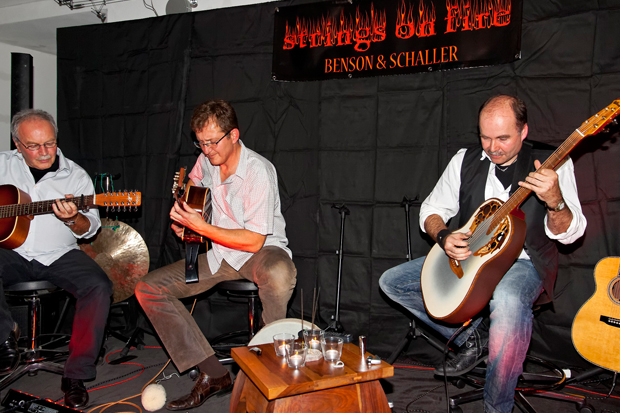 Baptiste: So tell us a little about yourself…
Thomas Kalb (aka "Benson"): I've had the nickname "Benson" since I was seven years old. My grandpa was a magnificent musician. He let me string his Martin and Gibson guitars when I was just five years old. So I was exposed to music at a very early age.
Your grandfather wasn't George Benson though, or was he?
No, no, of course not, but even at age seven I was already playing a lot of George Benson's stuff. So they started calling me "Benson", and the name has stuck ever since. I also have a music store called "Benson".
I was intensely devoted to the guitar, it was always my main focus. I also started repairing them very early on, and today I have my own repair shop. So then we practiced and played, gave concerts – lots of big concerts. We travelled the globe for more than twenty-five years, and now I put in eighty hours a week at the store. Once in a while, however, we still give concerts with acoustic guitars; one place where we played recently was the "Alte Vogtei" in Burgkunstadt. That was where we used the MAUI system for the first time. I tried it out at my store beforehand. I plugged in my Martin guitar and it sounded great. The value-for-money is also unbeatable. We bought the system right away and used it at the concert. Everybody who heard it was impressed.
Can you tell us a little more about "Strings On Fire"? Who else is playing?
I play together with Thomas Schaller. We call our duo "Benson and Schaller", and our concert is called "Strings on Fire". That comes from our shared role model Siggi Schwab. Back in the early eighties, he had a TV show with Peter Horton called "Café in Takt", and then he had his own TV show with a guitar workshop. I took part in this course and learned his technique. Today, we play a lot of Siggi Schwab's stuff, finger picking style on acoustic guitars. Schaller and I have become well known for that, and we have built it up to a certain level of perfection. He comes around on Friday evenings at about 8.30 and stays until around 2.30 in the morning, and we play two songs.
Just two?
Yeah, when we rehearse, we really dive into the material…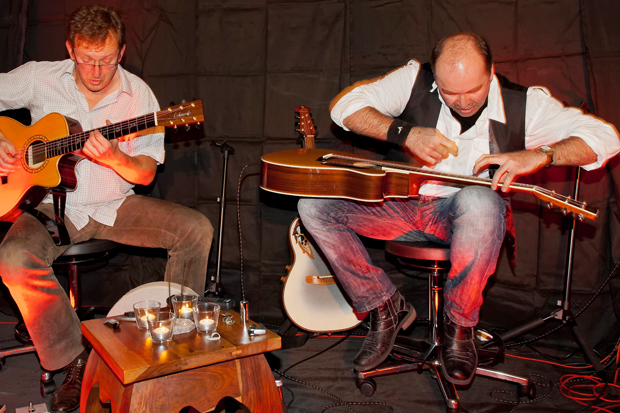 And one song lasts ninety minutes?
Sure, but only when we are practicing. In concert, a song generally lasts five to ten minutes, but there is a lot of improvisation involved. "Strings on Fire" is the title of a song by Siggi Schwab, and we call the concert that because it describes exactly what we do. We frequently play highly complex, up-tempo pieces, also in non-standard tunings and with four hands. Sometimes we turn the guitar belly-up on our knees like a zither, and we just play very unusual pieces, guitar acrobatics, in a manner of speaking. People like that. We only play a few concerts a year, and one of these was with the MAUI at the Vogtei in Burgkunstadt. I was totally delighted with the system and I still am.
That's great!
We used the MAUI a week later at a Christmas concert in a church with a women's choir, guitars, keyboard, and percussion, and you could hear everything really well, even all the way in the back!
How big is the church?
Maybe 15 metres wide and 40 metres long. There were around 700 people there, and still you could hear really well. The sound distribution was outstanding, not intrusive. There was virtually no feedback, and the dispersion angle of the system was so good that monitors were practically unnecessary. Everybody said thank you and told us that the sound was excellent. We had a normal mixer, and with everything set linearly, the sound was outstandingly transparent with no annoying rumbling bass tones. We only had to boost a few little things. Yes, that was outstanding.
Had you tried other, similar systems before?
Yes, H&K Elements and the Bose L1 with this heavy base.
What are the MAUI's advantages for you?
The MAUI is unbeatable in terms of value-for-money. For the cost of just a subwoofer from another manufacturer, you get an entire side. No fans…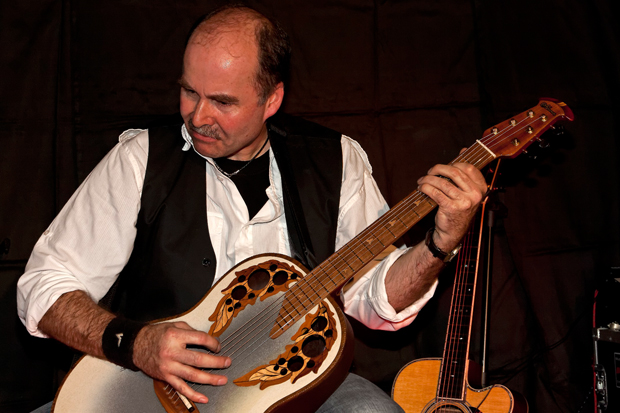 So no fan noise?
Precisely! Especially for quiet passages during a classical concert or in church, it is extremely important to avoid fan noise. Plus the satellites are made of aluminium, and the overall workmanship is outstanding. The plug connections and the handling are also great. Last, but not least, the protective covers are very practical.
Customers tell me over and over again how good the design is, that the MAUI looks really good and is just the right size, There are no confusing controls, just the volume and subwoofer knobs. The system is easy to operate. You don't have to spend a lot of time reading the user manual. This is very important, for example, in schools, where the janitor is frequently responsible for the system, but the teachers must also be able to operate it. That is no problem with the MAUI. So it is small, light, easy to use, and, of course, sounds great, too.
In your opinion, for what applications is the MAUI suitable?
Well, it's not exactly the right choice for a hard rock band that wants to rock the socks off of people standing fifty metres away. However, it is outstandingly suitable for normal applications such as acoustic bands and small groups, also for keyboard players. We just sold one to an acoustic guitarist who actually came in looking for an acoustic guitar amp. I told I had just the thing for him, and then he bought a second MAUI as well. So it is also great for use as an acoustic guitar amp.
So in your opinion, it has a very good balance of treble and bass?
Yes, it is very pleasant sounding, without any booming bass. And when you turn it up, the sound is simply there, but you don't have any horns blaring away in your ear like with normal PA cabinets. You can stand right in front of it. Okay, if you come closer than a metre away, some of the frequencies vanish. But I would say that you are always at least a metre away, and that is just how line arrays work.
I should also mention the sturdy front grille, and the paint also leaves a good impression, so I would give it an overall rating of "outstanding". I am delighted with this system! We will use it in our concerts and definitely feature and offer it here in our showroom. I am certain that we will sell quite a few of them in the near future. I wholeheartedly recommend them. We advertise with them in my store and at our concerts. What's more, I discovered that they also work great with your TV set at home!
Really? You've tried it?
Yes. My son watched "Jurassic Park", and the T. Rex and all of these sound effects were fantastic, so it is also great for home use!
You just have to have a ceiling that is high enough… Benson, thank you very much for this chance to talk with you!
More product information:
Adam Hall: http://www.adamhall.com/en/LD_Systems_MAUI_11_-_Compact_Column_powered_PA_System.html
LD Systems: http://www.ld-systems.com/370-1-ld-maui-28.html
Benson Music Store on the Internet: http://www.musikhaus-benson.de