CAMEO "LED PAR64" – Power with 183 LEDs – Test Report by Event Rookie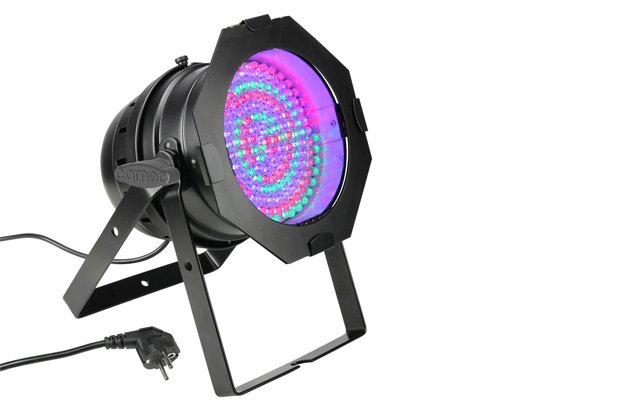 PAR lights were the first stage lighting instruments to be equipped with LED technology.
Since then, they have been joined by highly successful moving lights, blinders, and even Fresnel lenses. There are numerous different vendors who sell PAR cans. Adam Hall is the exclusive distributor for Cameo equipment and has been offering an LED-PAR can with 183 10-mm LEDs since December 2011. Both PAR56 and PAR64 variants of the light are available; the PAR56 version has only 108 LEDs. There is no difference between the two models in terms of technical features. The only difference is the size of the housing and thus the number of LEDs installed. We had a PAR64 spotlight at our disposal in order to test it for you.
Initially, LED-PAR lights were viewed as not being competitive with conventional devices of this type. In the meantime, however, LED technology has advanced to the point that high-output LEDs can be used. Thus LED-PAR cans now also attain the brightness of a conventional PAR light. The advantages of the LED technology are readily apparent. Besides a minimal power consumption of just thirty watts and the low weight of 2.3 kilograms, it is also possible for users to mix nearly every conceivable colour. Conventional lights required the use of colour filters and then the user also had only one colour available per PAR can. Now Cameo's PAR64 can makes it possible to create a light show that is not only interesting, but bright, too. The 183 LEDs are divided into 60 red, 60 green, and 63 blue LEDs. Unfortunately, the individual coloured LEDs are installed so that a very asymmetrical pattern is created if one looks straight into the "lens". This, however, is irrelevant for the functioning of the light.
Users have many ways of controlling the lights from which to choose. There are two DMX connectors, one input and one output each, on the rear of the unit. Any ordinary lighting console can be connected via these 3-pin XLR connectors. Furthermore, the lights are easy to integrate in an existing lighting setup. Using a small display with three buttons below it, it is quick work to configure all desired settings. If one chooses control via DMX, then there are two variants available to the operator. The first DMX mode only controls the red, green, blue, and master dimmer channels. The second mode, with six channels, adds the strobe, automatic colour mixing, and sound control functions and two colour changing functions to the colour channels. If you don't a lighting console handy and still want interesting lighting, however, then the Cameo PAR64 is the right light for you.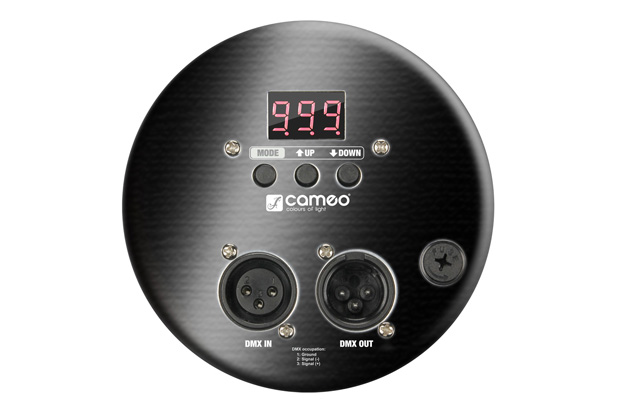 The unit namely also runs in several stand-alone modes. Like many other lights, this PAR64 also includes a sound-to-light function and thus also a small microphone. The reaction time of the light is surprisingly fast and precise. This function is absolutely recommendable, above all for use at small gigs or for hobby bands. What sets this light apart from others in this category are the respective stand-alone functions. For example, users can select not only a colour change mode, but also a colour change mode with fade. Additionally, the speed of all modes can be changed in order to create the appropriate lighting for any application.
Cameo provided the PAR64 with two brackets for installation, which makes the range of potential applications even more diverse. The light is also easy to use as a floor spot. Attaching a clamp or a bracket also makes it possible to mount the PAR64 on a traverse. The unit evidences really solid workmanship and looks like it can stand up to a great deal of punishment. Cameo's PAR64 offers outstanding value for money and is suitable not only for professional, but above all for amateur use.
Conclusion:
Cameo's PAR64 is absolutely recommendable for small events and spontaneous applications. Professional users will probably continue to rely on the conventional variant of the PAR64, but who knows for how much longer? The light yield is good, there more than enough operating modes available, and it also leaves nothing to be desired in terms of installation possibilities. When looking straight into the light, unfortunately, the individual RGB-LEDs seem to have been distributed too randomly, but this is irrelevant for the function of the spotlight.
LED PAR64 Product description:
LED PAR can
Special features:
183 x 10 mm LEDs
4 or 6 DMX channels
Dimensions + weight
Price: 74 Euros (plus VAT)
Distributor: Adam Hall
Additional information about Cameo products is available at: http://www.cameolight.com/
Source: Event Rookie, Germany, Januar 2012